Jueves 12 de abril del 2012 Tiempo Libre

Hodgson recordó los éxitos de la banda Supertramp

Roberto Rueda | QUITO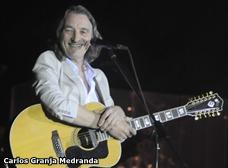 Ampliar imagen

QUITO. Acompañado de su guitarra, el cantante y compositor británico Roger Hodgson en el Ágora de la Casa de la Cultura.
Los seguidores de la época dorada del rock vivieron la noche del martes pasado una velada llena de recuerdos, emociones y buena música, en el concierto que el cantautor británico Roger Hodgson dio en Quito.

Los 9 °C de temperatura y la ligera pero pertinaz llovizna sobre Quito no detuvieron a los fans de Hodgson, quien volvía a los tres años al país.

En los graderíos del Ágora de la Casa de la Cultura Ecuatoriana se podía ver a familias enteras. En algunas había hasta cuatro generaciones reunidas para escuchar la aguda voz del vocalista de 62 años, quien se convirtió en el referente de la legendaria agrupación de rock progresivo y rock pop Supertramp, en las décadas de los sesenta, setenta y ochenta.

El concierto empezó a las 20:30 con la banda Flashback, que hizo un tributo a los también británicos Queen. Clásicos como Radio Gaga, Under Pressure y We Are the Champions subieron el ánimo de los presentes.

Una hora después, a las 21:30, las luces del escenario del Ágora se apagaron completamente y un golpe de teclado dio inicio al clásico Take The Long Way Home (1979), provocando la euforia de los seguidores de Hodgson, quien mantiene la voz intacta.

Con un español básico dijo "hola, Quito" y en inglés aseguró que Ecuador y su gente le parecían grandiosos, mientras se golpeaba el pecho. La segunda canción y con guitarra en mano fue School, de 1974.

Luego se dirigió al fondo del escenario, donde lo esperaba un piano fabricado por el luthier ecuatoriano Luis Verdugo, con el que interpretó la balada Lovers in the Wind y después vino Breakfast in America, tema con el que Hodgson dejó en claro que no experimenta con su repertorio.

Logical Song levantó de sus asientos a todos los asistentes, entre ellos al secretario de Comunicación, Fernando Alvarado, quien llegó cuando se había superado la hora del concierto y la sinfónica The Fools Overture invitó a más de uno a dejar volar su imaginación.

A las 23:00, la banda que acompañó al vocalista –compuesta por un baterista, un teclista y un saxofonista– abandonó el escenario, pero los silbidos de los fanáticos devolvieron a Hodgson, quien cantó Give a Little Bit y cerró el espectáculo con la romántica It's Raining Again.

Uno de los asistentes, Francisco Durán, agradeció que Hodgson interpretara las canciones que gustan a sus seguidores, mientras los hermanos Joaquín y Anabella Rodríguez discutían si este concierto superó o no al que el cantante y compositor británico ofreció en Quito en el 2009.
---
EL UNIVERSO
Please note that translated quotes are often not Roger's exact words - this may be a rough translation and the article may contain some inaccuracies.

Thursday, April,12th 2012
Hodgson recalled Supertramp band hits
Roberto Rueda | QUITO


QUITO. Accompanied by his guitar, the British singer and songwriter Roger Hodgson at the Agora of the House of Culture.

The followers of the golden age of rock lived on Tuesday night, an evening full of memories, emotions and good music at the concert that the British singer-songwriter Roger Hodgson gave in Quito.

About 9 ° C of temperature and the light but, persistent drizzle dropped on Quito did not stop fans from Hodgson, who was returning after three years to the country.

On the seats of the Agora of the House of Ecuadorian Culture it could see whole families. Some had up to four generations gathered to hear the high pitched voice of lead singer of 62 years old, who became the benchmark for the legendary progressive rock and pop rock band, Supertramp in the sixties, seventies and eighties.

The concert started at 20:30 with the band Flashback, who did a tribute to the also British band Queen .Classics like Radio Gaga, Under Pressure and We Are the Champions got high the spirit of the presents.

An hour later, at 21:30, the stage lights of tha Agora switched off completely and a keyboard hit, initiated the classic Take The Long Way Home (1979), causing the euphoria of Hodgson's fans, who keeps his voice intact.

With a basic Spanish he said "hola, Quito" and in English he said that Ecuador and its people seemed great to him, while beating his chest. The second song with guitar in hand was School, 1974.

Then he walked to the back of the stage, where he was expected by a piano, made ​​by the Ecuadorian luthier Luis Verdugo, in which he played the ballad Lovers in the Wind, and then came Breakfast in America, a song with which Hodgson made ​​it clear that don't make experiments with his repertoire.

Logical Song stood up from their seats to all attendees, including the Communications Secretary, Fernando Alvarado, who came when it had passed one hour from the start of the concert and The Fools Overture Symphony invited more than one to let fly their imagination.

At 23:00, the band that accompanied the singer-composed by a drummer, a keyboardist and a saxophonist, left the stage, but the fans whistles made Hodgson return , who sang Give a Little Bit and closed the show with the romantic It's Raining Again.

One attendee, Francisco Duran, thanked that Hodgson performed the songs that like so much to his followers, while the brothers Joaquin and Anabella Rodriguez discussed if this concert surpassed or not, the one the British singer-songwriter offered in Quito in 2009.