Den coolen "Superstar" von "Supertramp" treffen
aktualisiert am 03.07.2012 um 08:59:06
Jugendliche bei Roger Hodgson zu Gast

Darsteller des Musicals "2 Tage im Hinterhof" trafen Frontmann der Kult-Band.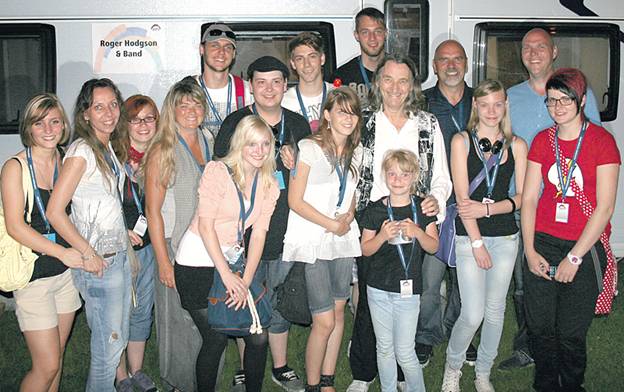 Etwas für die Ewigkeit: Die Musicaldarsteller von "2 Tage im Hinterhof" durften sich mit dem Mann fotografieren lassen, der die verwendete Musik ursprünglich geschrieben hatte und mit dessen Band "Supertramp" diese Songs zu Welthits wurden.
Aschersleben (WS). 17 junge Sänger, Tänzer und Schauspieler des Musicals "2 Tage im Hinterhof", dass im vorigen Jahr mit fünf ausverkauften Veranstaltungen die Besucher im Salzlandtheater Staßfurt begeisterte, besuchten am Samstag den Künstler Roger Hodgson während seines Konzertes in Potsdam. Roger Hodgson, Mitbegründer von Supertramp, gilt als einer der talentiertesten Sänger, Texter und Komponist unserer Zeit. 14 Jahre war er der Frontmann der Gruppe Supertramp und schrieb Hits, wie "Dreamer", "Give a little bit", "School", "Breakfest in America", "Take the long way home", "The logical song", "It´s raining again" und viele andere mehr. Die Jugendlichen vom Jugendverein "ELF e.V." Aschersleben waren einer Einladung des Londoner Managements gefolgt. "Da wir in unserem Musical die Musik der Band Supertramp aufführen, mussten wir uns dies natürlich von der britischen Agentur genehmigen lassen", erläutert Manfred Horn, Autor des Stückes. "In diesem Zusammenhang sind wir mit den Verantwortlichen ins Gespräch gekommen und die waren von der Umsetzung der Musik so begeistert, dass sie uns spontan zum Konzert nach Potsdam einluden." Die besondere Überraschung dabei war, dass die jungen Leute den sympathischen Künstler nach seinem Konzert hautnah im Backstage-Bereich erleben durften. Nachdem er sich den Fragen der Jugendlichen stellte, hatten diese ein kleines Geschenk für ihn. Sie sangen a ca pella den Song "It´s raining again" und überreichten eine DVD mit einem Lifemitschnitt des Musicals "2 Tage im Hinterhof". Hodgson war sichtlich bewegt und freute sich, dass seine Musik in solch jungen Menschen weiter lebt.
Für Artikel: Wochen Spiegel
---
WOCHEN SPIEGEL
Please note that translated quotes are often not Roger's exact words - this may be a rough translation and the article may contain some inaccuracies.
Meeting the cool "superstar" of "Supertramp"
Young people meeting Roger Hodgson
Performers of the musical "2 days in the backyard" met the frontman of the cultband


Something for eternity: the musical performers of "2 days in the backyard" had the chance to get a photo with the man who originally wrote the music they perform in their musical and who turned those songs into worldwide hits with his band Supertramp
Photo: private


Aschersleben (WS). 17 young singers, dancers and actors of the musical "2 days in the backyard", which had five sold out shows and enthused audiences at the Salzlandtheater Staßfurt last year, were visiting artist Roger Hodgson during his concert in Potsdam on Saturday. Roger Hodgson, co-founder of ST, is recognized as one of the most gifted singers, lyricists and composers of our time. For 14 years he's been the frontman of the band ST and he wrote hits like "Dreamer", "Give a little bit", "School", "Breakfast in America", "Take the long way home", "The logical song", "It's raining again" and many more. The teenagers of the youth club "ELF e.V" Aschersleben have accepted the invitation of the London management. "As we are performing Supertramp's music in our musical, we of course had to get permission from the British agency" explains Manfred Horn, author of the piece. "we got to talk to the people who are responsible and they were so enthusiastic about what we were doing with the music that they spontaneously invited us to come to the concert in Potsdam." The special surprise was that the young people had the chance to meet the kind artist backstage after his concert. After answering the young people's questions, they had a small gift for him. They were singing "It's raining again" - a cappella and they presented him with a dvd that contains a live recording of the musical "2 days in the backyard". Hodgson was visibly moved and happy that his music lives on in such young people.
For Article in German