Roger Hodgson Tollwood München

Roger Hodgson verzaubert das Tollwood Festival in München auf seiner Breakfast in America Tour

Geschrieben von Erika Urban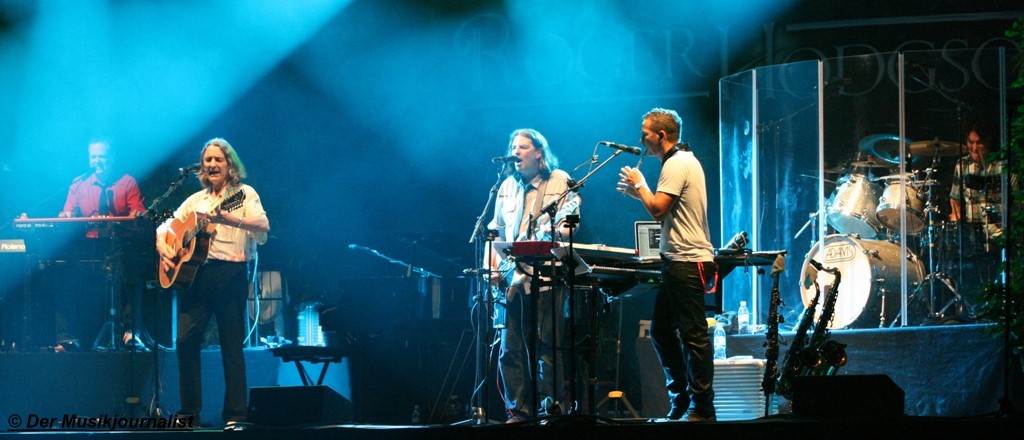 Lange Schlangen bildeten sich am 07. Juli 2013 vor den Einlasstoren zur Musik-Arena auf dem Tollwoodgelände, lange, bevor das Konzert des Abends beginnen sollte.
Es war eines der wenigen bestuhlten Konzerte und jeder wollte diesem Künstler so nahe wie möglich sein. Warum wieder bestuhlt worden war, wird wohl ein Rätsel bleiben.
Ist es doch gerade bei Roger Hodgson weder notwendig noch gewünscht und manch einer hätte aus dem letzten Konzert lernen sollen.
Und so stürmten pünktlich um 18:30 die ersten Zuschauer/hörer das Musikzelt. Der Run auf die besten Plätze hatte begonnen.
Über eine Stunde hieß es nun warten – geduldig – mit ein paar Zurufen, als es nicht
pünktlich um 19:30 begann. Doch endlich, gegen 19:45 betraten die vier Musiker die
Bühne, gefolgt von der großen Stimme der legendären Band Supertramp. Die meisten
Lieder dieser Band, die Jung wie Alt kennen, stammen aus seiner Feder.
"Dreamer", "It´s raining again" und "Give a Little Bit" sind nur drei der Evergreens, die
auch über 30 Jahre nach ihrem Entstehen noch immer Hits sind.
Viele seiner Zuhörer heute Abend waren noch nicht mal auf der Welt, als Roger
Hodgson diese und viele weitere Lieder schrieb.

Die Bühne glich im Wesentlichen der Bühne, auf der er ohne Band, nur mit seinem
Allroundmusiker Aaron Macdonald, 2010 auf dem Tollwood-Festival auftrat. Schlicht,
mit ein paar Pflanzen rechts und links.
Diesmal aber war er hier mit Band:
Aaron Macdonald Alt- und Tenorsaxophon, Wistles, Harmonica, Klarinette, Keyboard,
Vocal, der Drummer Bryan Head, Kevin Adamson Keyboard sowie David J.
Carpenter am Bass. Es ist ein unvergleichliches Gefühl wenn diese Stimme den Raum
füllt. Und eines merkt man sofort: Nicht seine Fans sind zu ihm gekommen – Roger
Hodgson kommt zu seinen Fans.
Sie gehören zusammen. Jeder gibt dem anderen das, was er braucht.
Der Abend ist eine Einheit aus Musik. Es dauerte nicht lange bis die ersten im Publikum aufstanden und tanzen begannen. Einige Herren der Security versuchten sie dazu zu bewegen, sich wieder
hinzusetzten.
Roger Hodgson beobachtete dies ganz genau, sprach sich ab mit den verantwortlichen Leuten über sein Headset und meinte dann ins Publikum: You want to stand up? Do it! Ab diesem Moment war die Bestuhlung genauso hinfällig wie drei Jahre zuvor. Roger Hodgson will Musik machen, seine Leute wollen singen und tanzen Nun war die Einheit perfekt.

Und es wurden zwei unvergessliche Stunden:

Zwei Stunden, die viel zu schnell vergehen.
Zwei Stunden in denen Roger Hodgson dieses Zelt und seine Besucher verzauberte.
Zwei Stunden die hoffentlich bald einmal wiederkehren.

Erika Urban © Fotos und Bericht

Für die Original-Artikel: dermusikjournalist.de
---

Roger Hodgson enchants the Tollwood festival Munich in the course of his Breakfast in America tour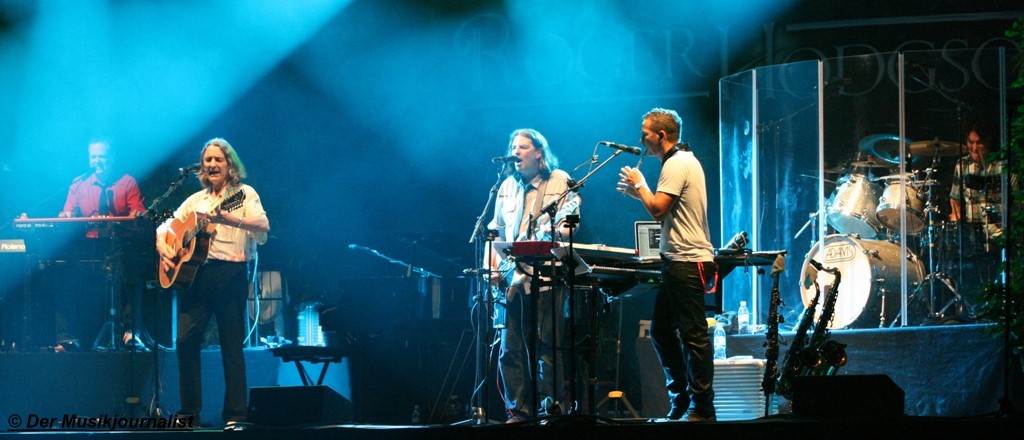 Long before the concert of the night on July, 7th 2013 was set to begin, long queues were forming
in front of the gates of the music arena at Tollwood.
It was one of the rare seated concerts and everyone wanted to be as close to the artist as possible. Why they made it a seated concert once again will probably remain a mystery.
When, especially for a Roger Hodgson concert it is neither necessary nor wished for and some people should have learned from the last concert.
And so the first listeners/viewers stormed the music tent exactly at half past seven. The run for the best seats had begun.
Now the motto was waiting - for over an hour and patiently - with a couple of calls from the audience when the concert did not start at exactly half past seven. But finally, at about a quarter to eight, the four musicians took the stage, followed by the big voice of legendary band Supertramp. Most of the band's songs, which are known by young and old, were penned by him. "Dreamer", "It's Raining Again", "Give a Little Bit" are only three of the evergreens, which still are hits - more than thirty years after their creation.
Many of his listeners tonight were not even born when Roger Hodgson wrote these and many other songs.
The stage was very similar to the one where he had played at the Tollwood in 2010 - back then without band - only with his all-round musician Aaron Macdonald. Plain, with a couple of plants to the left and to the right. But this time he was with band:
Aaron Macdonald, alto- and tenor sax, Whistles, harmonica, clarinet, keyboards, vocal, the drummer Bryan Head, Kevin Adamson keyboards and David J. Carpenter on bass.
It's a nonpareil feeling when this voice fills the room. And there's one thing you realize at once: it's not his fans who have come to him - Roger Hodgson is coming to his fans. They belong together. Everyone gives the other what he needs.
The night is an entity of music. It's not long before the first in the audience got up and began to dance. Some security gents tried to get them to sit down again.
Roger Hodgson observed this very closely, talked to the people in charge via his headset and said to the audience: You want to stand up? Do it! From that moment on the seats were just as redundant as three years before. Roger Hodgson wants to make music, his people want to sing and dance.
Now the entity was perfect.
And it turned into two unforgettable hours:

Two hours which pass much too quickly.
Two hours in which Roger Hodgson enchanted this tent
and its visitors.
Two hours which will hopefully recur soon.
Erika Urban © photos and review
Translation: Elke Beckett
For the original article: dermusikjournalist.de
Back to top