Click image to view larger, or to read Swedish text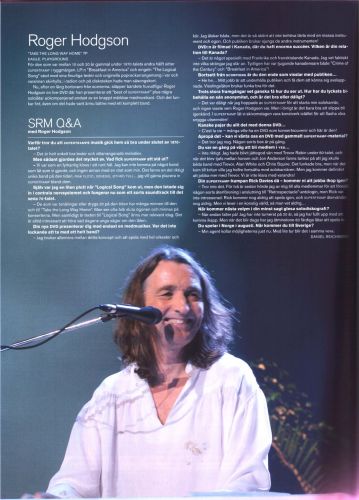 Sweden Rock
Roger Hodgson
"Take the Long Way Home"
Eagle, Playground
English Translation: Anina Holbek
For those who were between 10 and 20 during the 1970's, Supertramp is a very familiar name. The LP "Breakfast in America," and the single "Logical Song," were with their shrewd lyrics and unique poprock arrangements in almost everyone's collection; the radio and discoteques were playing it on repeat. Now, after a long break from the stage, the band's front figure Roger Hodgson releases a live DVD where he presents us for a "best of Supertramp" and some songs from his solo career, accompanied only by one other, almost unnoticeable musician. And it works perfectly as it did with a complete band.
Roger Hodgson
Questions and answers with Roger Hodgson
What do you think the key was to Supertramp's huge success in the late 1970's?
- Simply good lyrics and well composed melodies.
But there were so much of that at that time. What was different about Supertramp?
- We were like a square block in a round hole. I can't think of one band that sounded like we did, and no other with a voice like mine. There were several unique bands at that time, Pink Floyd, Genesis, Jethro Tull... I'd like to place Supertramp among them. I was just a greenhorn when "Logical Song" was released, but it went directly into the central nerve system, and now it works as a kind of soundtrack of the late 70's. Those who were teenagers or around 20 at that time, have many memories of that song, and of "Take the Long Way Home." You often see people at concerts closing their eyes and remembering. But at the same time, the lyrics for "Logical Song" is even more relevant today. It is always interesting to hear what young people today think about that song.
Your new DVD presents you with only one other musician. Why not with a complete band?
- I use to alternate with this concept and to play with full orchestra and choir. I love both, and it's wonderful that I don't have to have a lot of instruments - the audience use to sing the other instruments!
The DVD is recorded in Canada, where you've had huge success. What is your relationship to Canada?"
- It is special with France and French Canada. Evidently one in twenty Canadians owns "Crime of the Century" and "Breakfast in America!"
Apart from Scorpions you're the only one who whistles with the audience..."
- He he.. My job is to entertain the audience and make them feel good. The whistling song works perfectly for that.
In spite of huge success only few knows what you look like. How have you managed to maintain this anonymity, and is it good or bad?
- It was bad when I left Supertramp to start my solo career, and no one knew who Roger Hodgson was. But apart from that, it has just been good not to be recognised. In Supertramp we let the album covers be artwork instead of flashing our pretty faces!
Maybe you're ruining that with this DVD.."
- C'est la vie – many wanted a DVD as a concert souvenir and here it is!
Talking about that – could we expect a DVD with old Supertramp-material?"
- I think so. Some sort of box set is being put together.
You were once becoming a member of "Yes"..
- Not true. I had become really good friends with Trevor Rabin during the 80's, and when there were disagreements between him and Jon Anderson there were some thoughts about forming a band with me and Trevor, Alan White, and Chris Squire. It worked well but when getting down to it, I'd rather continue my solo career. But I'll definitely work more with Trevor. Him and I are not done with each other yet!
What about your Supertramp-companion Rick Davies – will you work together again?
- I don't think so. Two years ago, I was asking all members about some kind of reunion in connection with the release of the "Retrospectacle" anthology, but Rick wasn't interested. Rick will probably not be performing again, and Supertramp will probably never be reunited. But we're living in a strange world, so no one never knows...
When will a new album be added to your solo discography?
- When the spirit catches me! I havn't been touring for 20 years, so I have been busy coming back. But when the time comes, I have more than 60 songs ready to be recorded.
You'll be performing in Norway in August. When will you come to Sweden?
- My managers are looking at the possibilities right now. With a little luck it will be on this tour.