Concerts, Pop Music, Rock Music — September 25, 2012 at 12:25 pm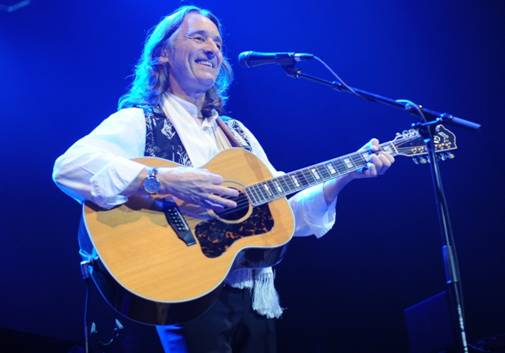 Roger Hodgson tells Dave Richards of GoErie.com that fans are favorably comparing a new tour to his career-making work with Supertramp.

Hodgson, who co-founded Supertramp before departing in the early 1980s, hadn't played full-band dates in the U.S. in decades before mounting these on-going shows.

Hodgson is perhaps best known for having helped Supertramp to a commercial peak in 1979 with the chart topping Breakfast in America, a project that moved some 20 million copies behind hit singles like the No. 6 "Logical Song," No. 10 "Take the Long Way Home," No. 9 "Breakfast in America" and No. 15 "Goodbye Stranger."

[SOMETHING ELSE! REWIND: During the early 1990s, Roger Hodgson was rumored to be in line to take over as frontman with the progressive rock group Yes. Here's the inside scoop.]

Still, even after going solo, Hodgson remained a largely faceless figure. He's only released a trio of studio albums since quitting Supertramp — a pair in the '80s, but none since Open the Door in 2000. In keeping, the new tour — which has makes stops in Europe, before returning for additional U.S. dates in the fall — focuses on familiar band hits like "Dreamer" (a British Top 20 hit from Crime of the Century in 1975), with a only a few solo cuts sprinkled in.
The comparisons with Supertramp, then, come naturally.

"Many fans are telling me my new band almost sounds more like Supertramp than Supertramp," Hodgson tells Richards. "The older fans are reliving the past, and younger fans are having a chance to hear these songs live for the first time."

Thoughts of returning to the recording studio have been put on hold while the tour commences. As for a reunion with Supertramp, Hodgson has said that appears to be unlikely.

"I had a great 14-year adventure with Supertramp and lived every musician's dream — touring the world and playing for thousands of people at arenas and stadiums," Hodgson tells Richards. "After 14 years, I had to take a break. I was feeling a stronger call to stop and raise my kids. Now I'm enjoying a second lease on (my) musical life. I'm older and wiser and feel I have more to give to audiences and life. I am not seeking a huge career. I am getting even greater fulfillment out of touching people deeply with songs that have been a part of their lives and sharing my heart and joy in singing them."

Hodgson's full concert schedule can be found here: http://www.rogerhodgson.com/documents/tour.html. His new album 'Classics Live' is also available on his Web site, as well as iTunes: http://itunes.apple.com/us/album/classics-live/id502038005.

Here's a look back at our thoughts on Roger Hodgson and Supertramp. Click through the titles for complete reviews …
SOMETHING ELSE! INTERVIEW: ROGER HODGSON, FORMERLY OF SUPERTRAMP: At the turn of the 1980s, Roger Hodgson and Supertramp were coming off a blockbuster album in Breakfast in America that had just spent 15 weeks at No. 1 in the U.S. By the end of the decade, he was out of music. There had been an on-again, off-again solo career, begun just four years after that 1979 smash — but it had only amounted to a pair of studio efforts before this terrifying accident left the guitarist with two broken wrists, deep questions about whether he'd ever play again, and a newfound focus on constructing a family life away from stardom. Time passed, people forgot. By the time the man who once sang a song called "The Long Way Home" finally began taking the long way back to fame in the early 2000s, he had become an apparition. Supertramp, now led by former writing partner Rick Davies, continued on without Hodgson in the interim — and many overlooked the contributions he'd once made.

BILLY SHERWOOD, CHRIS SQUIRE, RICK WAKEMAN, JOHN WETTON, OTHERS – SONGS OF THE CENTURY (2012): With names like these, with pedigrees like these, you might be expecting this Supertramp tribute project to become a somewhat academic affair. Instead, these guys sound like they're having a blast — and it's contagious. Producer Billy Sherwood has collected an amazing collection of fellow musicians — including members and former members of Asia, Deep Purple, Jefferson Starship, King Crimson, Mr. Mister, Peter Gabriel's band, Rainbow, Renaissance, The Doors, The Zombies, Toto, XTC and Yes, among others. Together, they lovingly recreate, occasionally embellish and generally skip their way through 11 tracks by Rick Davies and Roger Hodgson, two of the 1970s' most consistent but somehow underrated hitmakers.

GIMME FIVE: SONGS WHERE SUPERTRAMP, WELL, SUCKED: Supertramp's golden era is generally understood to have been between 1974-79, spanning Crime of the Century through Breakfast in America. Perhaps predictably, none of our selections come from that period. Before then, Supertramp was still trying to find their way, attempting with varying degrees of success to nail down the winning formula that would give Roger Hodgson, Rick Davies and Co. a pair of gold albums and then a four-times platinum smash in America in the bottom half of the 1970s. After 1982?s Famous Last Words, Supertramp would lose Hodgson to a solo career, and never quite regain its creative momentum. That doesn't mean Supertramp didn't manage a hit every now and then. (In fact, "Cannonball" went to No. 30 in the mid-1980s.) It just means we didn't like too much of it … even, to be honest, "Cannonball."
For Online Article: Click Here