Super Fun with Roger Hodgson of Supertramp at Seneca Niagara
By Sherrill Fulghum
Roger Hodgson of Supertramp Super sized the music at Seneca Niagara.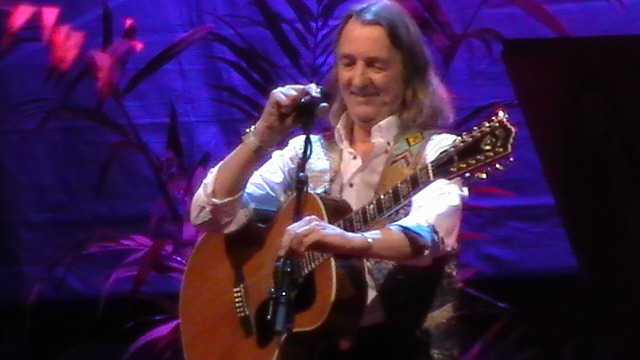 The Show

He promised two hours of fun and good times with no worries. What they got was two hours of memories, good rock music, and lots of fun.


He is Ivor Novello Award winning singer, songwriter, and multi instrumentalist Roger Hodgson. And while some may not recognize the name of Roger Hodgson, they certainly know the band he helped to form – Supertramp.


They were the sold out crowd that filled the Seneca Niagara Events Center in the Seneca Niagara Resort and Casino in Niagara Falls, New York on November 7. The house was filled with avid Hodgson and Supertramp fans, casual music fans, and even some young ones. Hodgson spotted a couple of very young attendees in the audience and asked them if they knew who he was.

After opening with "Long Way Home", Roger Hodgson performed hit songs from his days with Supertramp and songs less familiar to all but the most avid fans of Hodgson and Supertramp. Noting how much he loved performing the old tunes; Hodgson said that he has trouble deciding which song not to perform during a show.

Moving easily between guitar, grand piano, and keyboard Hodgson fulfilled a few requests as he performed "School", "In Jeopardy", "Lovers in the Wind", "Breakfast in America", "Sister Moonshine", Hide in Your Shell", "Only Because of You'/"Lord is it Mine", "Logical Song", "Death and a Zoo", and "Dreamer".

Before finishing his set with the "Fool's Overture", Hodgson said that he knew it was going to be a great show.

After a standing ovation, rousing applause, and soaring whistles; Hodgson and the band returned to the stage for a two song encore of "Give a Little Bit" and "It's Raining Again".

About Roger Hodgson

Born in Portsmouth, England in 1950, Roger Hodgson began writing music at the age of 12. He gave his first performance of original songs when he was 13.

While still a teen, Roger released his first single "Mr. Boyd". Among the session musicians that performed on the record was a young piano player who went by the name of Reginald Dwight. Dwight would later change his name to Elton John.

Supertramp released their self titled debut album in 1970. Since those days the band has had two albums certified Diamond in Canada and have sold over 60 million albums around the world.

When Princes William and Harry decided to organize a concert in memory of their mother Princess Diana, the Royals knew they had to invite the man responsible for one of their Mother's favourite bands – Supertramp; and so Roger Hodgson gave a rousing performance in Wembley Stadium that had everyone including the Royal family on their feet singing along.

Roger Hodgson left Supertramp in 1983 to pursue a solo career. He released his debut solo album in 1984. He has encountered a few bumps along the way. In 1987 Hodgson took a bad fall that shattered both of his wrists. The doctors said that Roger would never play again. Not only did Hodgson prove them wrong and play again, he did it in only a year and a half.

While he still recorded albums in his home studio, Hodgson took several years off from touring to raise his children. With the children grown, Hodgson has returned to performing on the road – sometimes as a solo act, sometimes with the band, and other times with a full symphony orchestra.
Click here for the original article: Super Fun with Roger Hodgson of Supertramp at Seneca Niagara

Back to top