Supertramp Frontman Wins Big at Pechanga
By Daniel Knighton | Posted March 7, 2012, 7:51 a.m.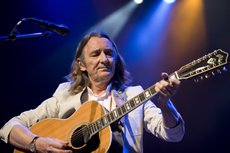 Former Supertramp frontman Roger Hodgson kicked off his first full-band U.S. tour in 30 years with a pair of shows at Pechanga Casino & Resort. After leaving the band in 1983, having becoming discouraged with the music industry and wanting to spend more time with his family, Hodgson is back and ready to embrace the stardom he abandoned long ago.

After opening with "Take The Long Way Home," Hodgson delighted the packed house with a wide range of his catalog of memorable hits like "The Logical Song," "Breakfast in America," and "Dreamer," along with deeper cuts such as "School," "Hide in Your Shell," and "Fool's Overture."

Frequently entertaining the audience with stories from his days in Supertramp, Hodgson connected deeply with the fans in a way few stars of his stature do. Picking up his Guild 12-string, Hodgson told of spending an evening out in the wilderness alone with his guitar and staring at the stars, strumming peacefully, when what would become "Even in the Quietest Moments" flowed from his guitar. What followed was one of the most memorable acoustic performances of any song I have ever seen. Just a man, his guitar, and the voice of Supertramp. And a roaring standing ovation.
Hodgson closed out the evening with encores of "Give a Little Bit" and "It's Raining Again," which had the whole theater dancing in the aisles.

Concert: Roger Hodgson
Date: February 25
Venue: Pechanga Casino & Resort
Seats: Orchestra B1

Photo credit: (c) 2012 Pixel Perfect Images
Comments
We are so blessed that Roger Hodgson continues to tour and is doing more dates in the US this year. I've been to 3 of this shows and each one has felt like the best concert of my life. When he sings Give a Little everyone comes together in such a spirit of love and unity. And all his songs- Breakfast in America, The Logical Song, Take the Long Way Home, Dreamer, School, Lord is it mine, Hide in Your Shell, Fools Overture .. seem to touch different people in different ways.. and never fail to move our hearts. I know he's doing more shows in August- and I hope he comes to San Diego, because I want to bring my whole family to see him. It seems there are more shows being announced frequently on rogerhodgson.com so fingers crossed!!
By ontheroad 10:06 a.m., Mar 7, 2012

It's great to know that Roger is on tour once again. I love his shows. They are so powerful.
I've been always a huge fan of Roger, even in Supertramp times. It was his voice and songs that introduce me in the band and made me love the whole ST work.
I think, all Supertramp fans are very fortunate to can enjoy Roger's shows, they are so powerful!!! Because, when you attend to one of his concerts, you feel you have to see him once and another, no matter how far you have to travel. It's worth!!!
I haven't seen ever such communication between Artist and his audience, as Roger does, all the feelings you can experienced: It's a thrill, a blast, chills and goosebumps, all at the same time...
All tour dates at www.rogerhodgson.com , Don't miss if he plays by your area, you don't regret at all
By AnaLopez 10:17 a.m., Mar 7, 2012
For Full Article: Click Here