by rockchicago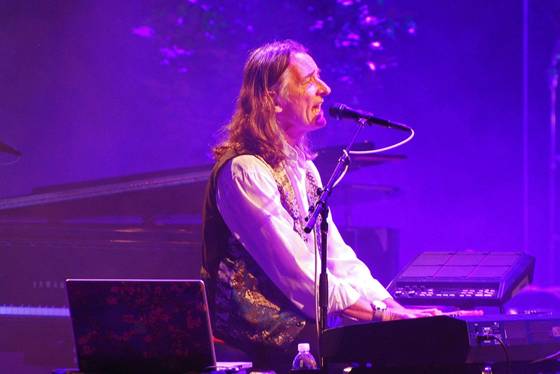 All photos by Peter S. Sakas
Roger Hodgson co-founded the band Supertramp in 1969. He is considered the "voice of Supertramp" serving as the lead singer and writer of nearly all their hits throughout their peak of popularity in the seventies and early eighties. He left Supertramp in 1983 and he has had a series of critically acclaimed and successful solo albums. His appearance at Ravinia was eagerly anticipated by all those in attendance.

When Hodgson walked on stage he was greeted with thunderous applause, a clear indication that he was beloved by the crowd. He wore a great big grin and seemed genuinely moved by warm reception. He sat behind the keyboard and dove right into one of Supertramp's big hits, Take the Long Way Home, which the audience adored.

One of the problems I have noticed at Ravinia is the late arriving crowd. After his first song, Hodgson noticed all the latecomers streaming in and he said, "You're late. You're missing the best song!" He went on to say that this was his first US band tour in many years and would be doing songs from Supertramp as well as from some solo albums. He mentioned that it is "great that my music has moved so many people." He stated that, "Hopefully, one or two songs will bring you to a special point in your lives." In his generous set of twenty songs he more than achieved that goal.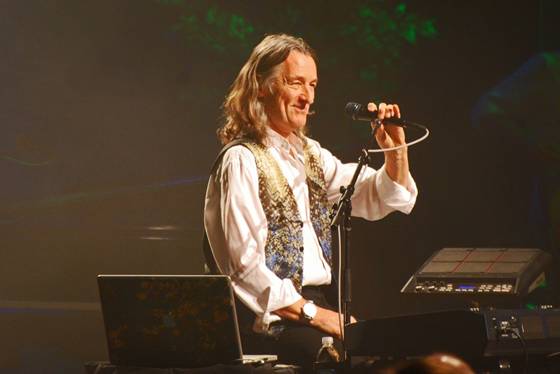 Set List (All songs written by Roger Hodgson)
1) Take the Long Way Home (Supertramp)
2) School (Supertramp)
3) In Jeopardy (Solo Album)
4) Lovers in the Wind (Supertramp)
5) Hide in Your Shell (Supertramp)
6) Sister Moonshine (Supertramp)
7) Breakfast inAmerica(Supertramp)
8) Lady (Supertramp)
9) C'est le Bon (Supertramp)
10) The Logical Song (Supertramp)
11) Death and a Zoo (Solo Album)
12) If Everyone Was Listening (Supertramp)
13) Lord Is It Mine? (Supertramp)
14) Child of Vision (Supertramp)
15) Know Who You Are (Supertramp)
16) Don't Leave Me Now (Supertramp)
17) Fool's Overture (Supertramp)
18) Dreamer (Supertramp)
Encore
19) Give a Little Bit (Supertramp)
20) It's Raining Again (Supertramp)
For his second song, School, he strapped on his guitar and as the familiar tune was recognized there was a fine ovation. The crowd really got into his performance and he received a standing ovation. As he was working through his catalog of music he would move between his grand piano, twelve string guitar, and electric piano. He was backed by some fine musicians on bass guitar, drums, keyboards, and a multi-instrumentalist on keyboards, sax, harmonica, and other assorted instruments!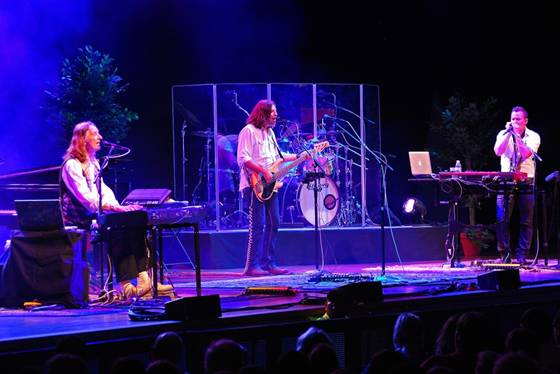 He introduced one of the songs as his most requested and has been one of his favorites, Hide in Your Shell. He said that people have told him that this song had helped them through some rough times and that "it helped me as I was going through some tough times when I wrote it." This song was definitely meaningful to many in the audience as I noticed quite a few were singing along. When he finished he received a rousing standing ovation.

He then said that there is a twelve year old girl in the audience, Surf, and it is her birthday so this song is for you. He then sang Sister Moonshine. As Hodgson was performing there was a warmth about him that was definitely palpable and he just seemed to emanate sincerity. It was a similar sensation I had when I had seen Jon Anderson perform in a solo acoustic concert. Hodgson had an easy manner about himself and was very engaging as he would speak to the audience or describe the significance of his songs. He made a real connection with the crowd which just enhanced the total concert experience.

His comments about the following two songs were pretty amusing. He stated, "When I was a youngster and had my dreams I wanted to go to Californiaand meet all the girls." But pandering to the crowd he said, "But I did not know about Chicagothen!" which the crowd loved. "I wrote this song about this, Breakfast in America." The crowd really got into this Supertramp classic, responding by standing, dancing, singing, and giving a rousing standing ovation. As he stood there reveling in the thunderous ovation he was beaming back at his adoring fans. He then said, "Everyone loved that song except my girlfriend!" Following with, "I didn't make the same mistake with the next song, Lady."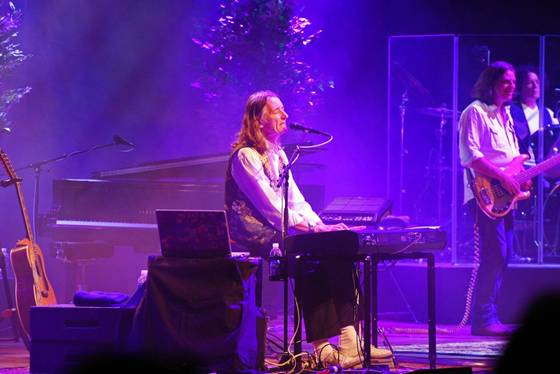 After performing C'est le Bon, he went into the next song and said, "See if you remember this one!" As he began to play The Logical Song it was clear the crowd did remember and a great cheer arose. There was some fun interplay between the drummer and the sax player on percussion during this song. It seemed as though the band really was enjoying themselves and this performance. The band received the loudest standing ovation of the night for their enthusiastic rendition of this Supertramp classic.

I could really see that Hodgson appreciated the response of the crowd to his performance this night. He responded sincerely with, "You're a great audience. I can feel the love. I am very happy to have been invited to play here." He introduced the next selection with "I am going to try something very different." It was a song from his recent solo album called Death and a Zoo. He said it asks the question if "you were a wild animal would you prefer death or life in a zoo." It was a very interesting piece of music and the audience listened with rapt attention. It closed with African chanting and all sorts of wild animal sounds dissolving into the sound of synthesizers and the haunting line "Caught in a man's dream, silent the heart screams, does it feel lonely?" A very powerful song and it was well received by the audience.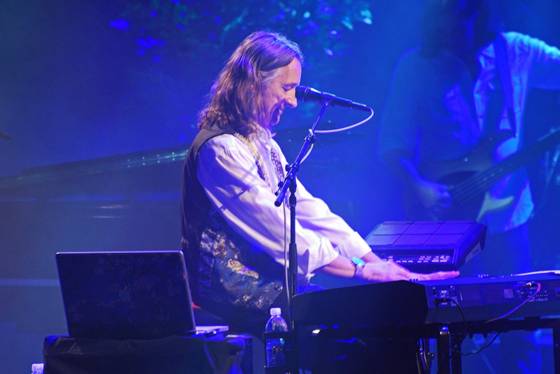 He continued with a series of Supertramp songs. Ironically, after Don't Leave Me Now, some insensitive audience members began streaming out, perhaps figuring this was one of the last songs. Hodgson stood gazing over the crowd, watching those exiting and said, "We aren't quite finished!" I was definitely embarrassed as here was an international rock icon, giving us a wonderful, heartfelt performance and some boors in the crowd did not give him the respect he deserved. It was their loss, that is for sure.

He then performed a very interesting piece of music, which he actually created from three short instrumental pieces he had written, he tied them together into a song called Fool's Overture, which to me was a definite highlight of the night. Definitely had progressive rock overtones and it did this old prog rocker's heart good to hear a piece of music like this! The crowd loved it as well as they gave a standing ovation. Once again Hodgson stood gazing over his appreciative fans with a warm smile on his face.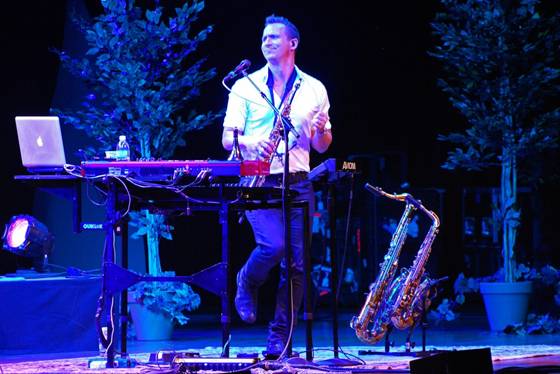 For the final song of the set he finished with the Supertramp classic, Dreamer. He said that anyone who wants to come down to the front of the stage for this song, feel free. He asked security not to stop them. Well the crowd took him up on the offer and streamed down to the front of the stage and standing in the aisles. The crowd was standing, dancing, and singing. Hodgson had a great big grin on his face as he was overseeing the bobbing mass of humanity before him while he was performing. Great song and received another standing ovation.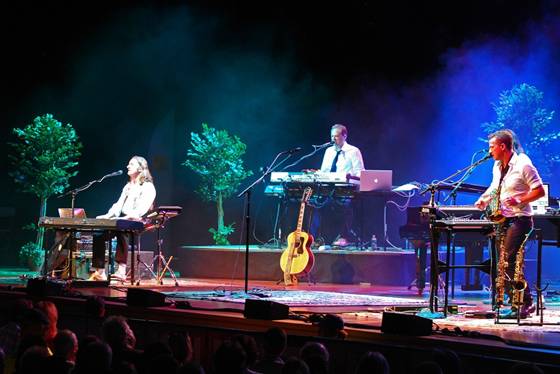 For his encore he came back on stage he strapped on his twelve string guitar and said "Thank you Chicago. I've been expecting no less and you have been great in Chicago. Are you ready to give a little bit?" Well you know that answer to that question. It was a resounding "yes" and the crowd was clapping, dancing, and singing at the top of their lungs to this infectious Supertramp hit, Give a Little Bit, which was just made for a singalong! It was a super version of the song!

For the final song he said, "It never rains in Chicago! You have been fantastic and hope we can be back again soon." He then launched into It's Raining Again. Once again, after playing a two hour concert and performing twenty songs, Hodgson was still enjoying himself, smiling at the crowd, and mugging with the audience as he was performing. A wonderful standing ovation from a very appreciative crowd. As he left the stage he said, "Hope to see you soon. God bless." I know I would be eager to see him again when he returns on tour and I know the rest of the crowd would be in total agreement with me.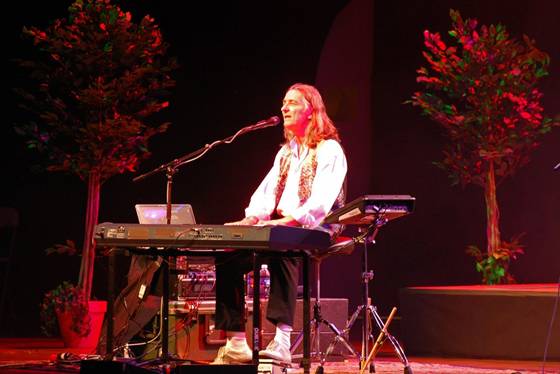 It was a fine show by a very talented musician. His voice has not diminished one bit over the years. Some of his interpretations of the Supertramp classics were new and fresh. He had a great backing band which really stretched out on some of the songs and sounded just superb. Ravinia was once again a great venue for this performance making for a totally enjoyable concert experience.
Reviewed by Peter S. Sakas on 8/23/12
For article online: Rock Chicago