River Cree Casino & Resort ~ Edmonton, AB Canada ~ March 5, 2011 ~ Review and photo by Linda Gianotti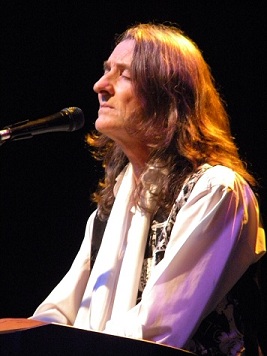 Yet another sold out show for Roger. Six out of the first six shows on his 2011 World Tour have sold out. I happened to walk by the box office about 30 minutes before the show started and there was a long line of people hoping to get tickets, any tickets. Roger's show was the news of the city and no one wanted to miss it. Snow falling and temperatures of -14F were not going to keep people from the concert.
Once inside the venue, the warmth and eagerness to see Roger on stage gave no indication of the cold weather outside. The house was packed and there wasn't even one available seat. As soon as Roger walked out on stage, the applause seemed to go on forever. People were so very happy to see him.
After taking a moment to soak in the love being sent his way, Roger went right into the first song of his set, Take the Long Way Home. Many in the audience were dancing in their seats and singing along, word for word. Each and every song was performed to perfection. Roger and his band were very cohesive throughout the show.
Hearing In Jeopardy was a delight. Right before Roger started performing London, he told his audience that he loved California so much that he made it his home but that "one day in 1987 he missed England" and the result was the "tongue-in-cheek" London. The lyrics got chuckles from the crowd.
Fool's Overture had everyone spellbound and no one moved; mesmerized at the performance taking place before them. Roger said goodbye to his audience but they weren't about to let him go. Chants of "Roger! Roger!" went on for several minutes. Finally, to tremendous applause, Roger and his band came back on stage. The ever so eloquent Two of Us was performed and then Roger invited everyone to sing along with him to Give a Little Bit. Everyone did just that. Dancing in the aisles, singing, and swaying to the music and message of the feel-good Give a Little Bit.
The show was over but the magic that we had just witnessed lingered in the air. I overheard several people saying they hope he comes back very soon. People just can't get enough of the Minstrel.