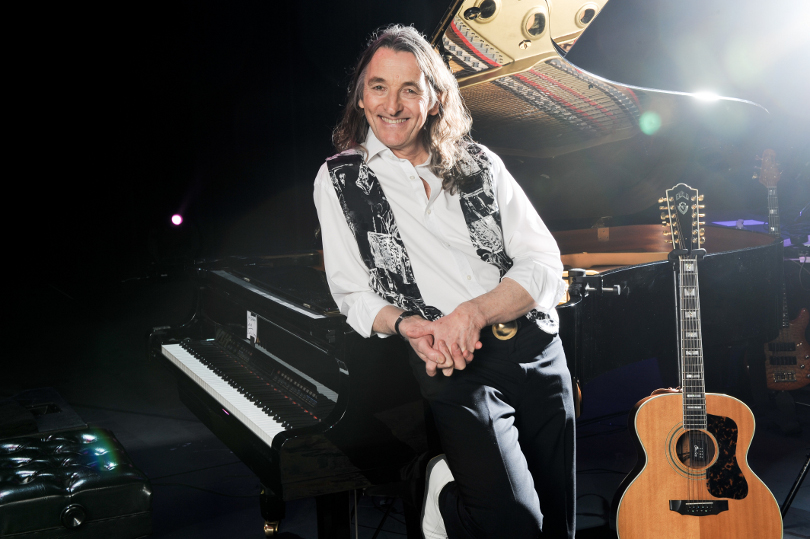 Thu April 04

Roger Hodgson Interview

Words By Robert Dunstan
"I sometimes feel a bit like Roger Waters from Pink Floyd," Roger Hodgson, the voice of UK band Supertramp, says when interviewed about his upcoming Australian tour. And that would be because, like Waters with Pink Floyd, Hodgson is no longer welcome in Supertramp, the band he helped form in 1970.


During the '70s Supertramp enjoyed great success around the world with albums such as Crime Of The Century and Breakfast In America. Hodgson had answered an ad in a music paper in 1970 asking for a bass player, which then led to his association with Rick Davies.


"Rick and I met and really hit it off," Hodgson remembers. "So that was the beginning of Supertramp, although it took us a while to develop. For the first two albums [1970's self-titled debut and 1971's Indelibly Stamped] we were just feeling each other out as songwriters and musicians and didn't really have a clear idea of where we were going.


"But, by the time [1974's hugely successful] Crime Of The Century came along, Rick and I had already begun to write separately. So the songs became much more personal but we were also writing much better songs. We'd matured a lot and our record company [A&M] recognised that and put us in the studio with [producer] Ken Scott and told us we could take as long as we wanted to record Crime Of The Century. And working with Ken at Trident Studios also meant we learnt a lot about making really good-sounding records."


Hodgson toured some parts of Australia a couple of years ago, but on this occasion it will be with a full band for the first time to present the songs he penned while with Supertramp.


"So audiences are in for a real treat," he says, "because I've got a great band. There are two Canadians and two musicians from California. I've tried different musicians over the years but this band is just fantastic. We all click together and I now have the best vocal harmonies I've had in any band I've ever worked with. And I really didn't want to put a band together using session musicians with long pedigrees because I wanted a group of hungry musicians who, if given a chance, would shine.


"And I've heard people say after the shows, 'Wow! I saw Supertramp in 1979 and this band is even better'," Hodgson chuckles. "You can't get a better compliment than that. And the songs we do are all my songs – the songs that I wrote and Supertramp then recorded – so they have been with me for many years. And a lot of them were with me before Supertramp had even formed. I'd written a lot of them before I had even met Rick [Davies] and we put the band together.


"But I do realise that a lot of people hear The Logical Song or Dreamer or whatever and just associate them with Supertramp rather than me," Hodgson sighs. "So the hardest thing to get across is that if people come to a Roger Hodgson show, they are going to get all those songs. They are going to hear Breakfast In America, Fool's Overture and Take The Long Way Home along with all the others.


"And they're songs that have stood the test of time. Not only for the audience but also for me because I know that I am enjoying playing them now even more than I did when I was with Supertramp. And it's funny because I now have a much greater appreciation for them as songs.


"But maybe that's because I'm now older and wiser and have much more to give," the lifelong vegetarian then concludes with a laugh. "I'm also singing so much better now. And people have been quite astonished at how fresh all those old songs still sound."


Roger Hodgson had fronted short-lived pop group People Like Us in 1969, but was then offered a recording deal with Island Records.


He formed studio group Argosy which recorded a single flop single, Mr Boyd, despite the band featuring Hodgson alongside Reginald Dwight (who later became Elton John), Caleb Quaye and Nigel Olsson.


"I'd been signed to a publishing company called Blue Mountain Music and they had heard my demos and helped me put together an amazing band to go into the studio to record for Island," Hodgson recalls. "And you can imagine how I felt because I was 19 at the time and it was my very first time in a recording studio. There I was alongside all these great musicians, so I thought I'd died and gone to heaven."


WHO: Roger Hodgson Band
WHERE: Thebarton Theatre
WHEN: Fri Apr 5

For the original article: ripitup.com.au

Back to top