Roger Hodgson begeistert bei Open-Air-Konzert
Was für ein Abend! Es war ein Konzerterlebnis der ersten Klasse und dürfte in der Pfullendorfer Musikveranstaltungsreihe Geschichte geschrieben haben. Roger Hodgson begeisterte 1700 Besucher im Seepark.

Von Chris Herrman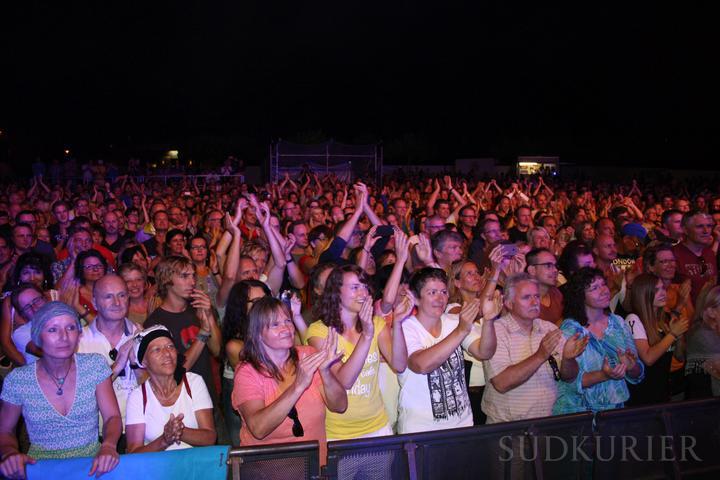 Die Fans waren vom Auftritt von Ex-Supertramp Sänger Roger Hodgson hellauf begeistert und erklatschten sich immerhin noch zwei Zugaben. Bild: Chris Herrmann

Konzertveranstalter André Heygster ist es zu verdanken, dass die "Breakfast in America"-World Tour zwischen vielen Großstädten auch in Pfullendorf Station gemacht hat. Er bedankte sich bei allen Helfern, ebenso beim SÜDKURIER, der als Medienpartner fungierte, und begrüßte die 1700 Besucher. Punkt 19 Uhr eröffnete die Coverband "The Chillis" aus dem Raum Weingarten den Konzertabend. Namensgerecht heizten sie mit scharfen Klassikern der letzten Jahrzehnte dem Publikum ein und verbreiteten unter den Anwesenden Lust und Laune auf mehr Sound.

Nach einer Umbaupause war es dann so weit. Völlig entspannt und bestens gelaunt betrat Roger Hodgson mit seiner vierköpfigen Begleitband die Bühne. Schon nach wenigen Takten des Openers "Take the long way home" sprang der berühmte Funke zum Publikum über. Als er gleich darauf "School" anstimmte, war vielleicht der eine oder andere etwas verwundert, dass er gleich zu Beginn seine Hits spielte. Doch die Antwort ist einfach: Er hat zu viele gute Stücke komponiert, als dass er sie alle als Zugabe hätte spielen können. Der britische Ausnahmemusiker und Gründer der Rockband Supertramp hat über all die Jahre gesanglich von seiner markanten Tenorstimme nichts eingebüßt. Sie klingt besser denn je. Mit seiner Musik hat er den Weg in die Herzen des Publikums gefunden und vergrößerte auch in Pfullendorf seine Fangemeinde. Auf der Bühne merkt man ihm seine 65 Jahre definitiv nicht an.

Während andere gleichaltrige Künstler hohe Töne oder andere schwierige Passagen meiden, trifft Hodgson locker alle Töne. Diese Leichtigkeit und Lockerheit trägt sich durch die ganze Show und so kommen auch unbekanntere Songs wie "Along came Mary" und "Death and a zoo" von seiner Solo-Scheibe "Open the door" bei den Zuschauern bestens an. Egal ob er das Keyboard, die Gitarre, oder den Klavierflügel bedient, alles hört sich präzise an. Ebenso stellte Multiinstrumentalist Aaron MacDonald sein Können nicht nur am Saxofon immer wieder unter Beweis und übernahm neben dem "Chef" auf der Bühne den auffälligsten Part. Dies wurde mit lautstarkem Beifall belohnt.

Erstklassige Arbeit leistete der Tontechniker, der die Knöpfe am Mischpult exzellent bediente und den Sound von Beginn an auf dem Seepark-Areal ausgezeichnet aussteuerte. Dies bestätigte auch der Pfullendorfer Musiker Ewald Restle. Er muss es wissen, schließlich ist er auch als Produzent und Toningenieur tätig und meinte: "Das war eines meiner besten Konzerte, das ich je erlebt habe."

Eine weite Anreise hatten Annemarie und Kurt Rusch aus Appenzell, die bereits zum 4. Mal die "Breakfast in America-Tour" besuchten und von der Atmosphäre im Seepark beeindruckt waren. Nach knapp zwei Stunden rundete der letzte Song "It's raining again" den wunderbaren Konzertabend ab.

Hier klicken für das Original-Artikel: Roger Hodgson begeistert bei Open-Air-Konzert

---

Roger Hodgson – thrilling open air concert
What a night! It was a first class concert event and it's probably going to go down in the history of the Pfullendorf music events. Roger Hodgson thrilled 1700 visitors at the Seepark

By Chris Herrman
Translation by Elke Beckett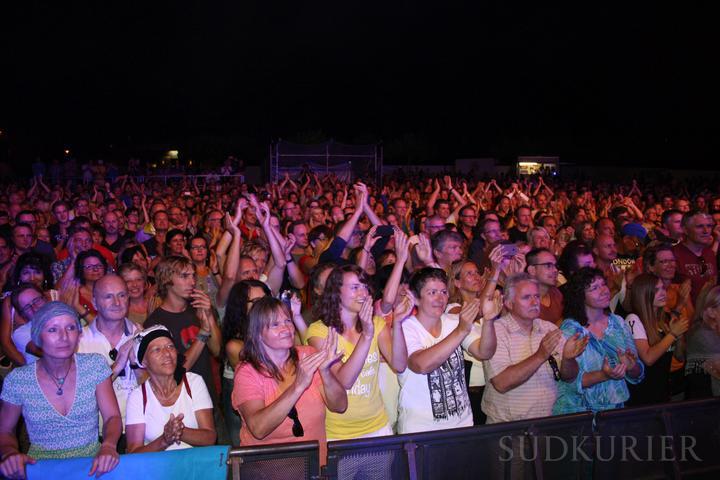 It is due to André Heygster that the "Breakfast in America" Tour also made a stop in Pfullendorf amongst many big cities. He thanked all the helpers, as well as the Suedkurier, which operated as media partner and he greeted the 1700 visitors. At seven pm sharp the cover band "The Chillis" from the Weingarten area opened the concert night. Doing justice to their name, they heated up the audience with hot classics from the recent decades thus quickening the attendees' appetite for more sound.

After a short break for refitting the time had come. Totally relaxed and in high spirits Hodgson came on stage with his four-piece band. Just a few bars into the opener "Take the long way home", the famous spark (from a German proverb) was passed on to the audience. When he played "School" right after that, some people may have been surprised by the fact that he played his hits right at the beginning. But the answer is easy: he has composed too many good pieces – he could not have possibly played them all for the encore. Throughout all the years the exceptional British musician and founder of the rock band Supertramp has not lost lost anything of his unmistakable tenor singing voice. It sounds better than ever. He has found the way into the hearts of the audience with his music and his fan community has become bigger here in Pfullendorf, too. His age of 65 definitely does not show on stage.

Whereas other artists of the same age avoid high notes or otherwise difficult passages, Hodgson effortlessly hits all the notes. This effortlessness and ease carry on throughout the show and thus lesser known songs like "Along came Mary" and "Death and a zoo" from his solo album "Open the door" are very well received by the audience as well. No matter if Hodgson plays keyboard, guitar or grand piano, everything sounds precise. Just the same, multi instrumentalist Aaron MacDonald proved his skills not only on the sax again and again and besides the "boss", he took over the most eye-catching role on stage. This was rewarded with noisy applause.

The sound technician, who exquisitely operated the buttons at the mixing desk and who perfectly controlled the sound at the Seepark area from the beginning, carried out first-class work. This was confirmed by Ewald Restle, who is a Pfullendorf musician. He must know, as he is also a producer and sound engineer after all. He said: "This was one of the best concerts that I've ever experienced."

Annemarie and Kurt Rusch from Appenzell had travelled far. They have attended the "Breakfast In America Tour" four times now and they were impressed by the atmosphere of the Seepark. The last song "It's raining again" completed the wonderful concert night after almost two hours.

Click here for the original article: Roger Hodgson – thrilling open air concert

Back to top