Hodgson's still got it

Monday, November 21, 2016 5:00 pm
J.P. Squire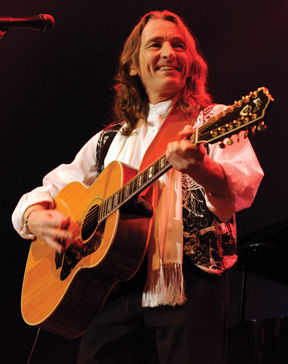 Delivered, as promised.

Roger Hodgson promised "a very, very special show, an incredible show, a very intimate show, a very well-rounded set," when we chatted last week.

His two-hour-plus performance at Prospera Place on Sunday was all of that and more.

He sported a huge grin as he walked on stage and received a standing ovation from many of the 2,000 fans in the arena's half-concert bowl configuration.

He promised to play his and Supertramp's biggest hits, and led off with the hugely popular Take the Long Way Home, School and Breakfast in America accompanied by his four-piece backup band.

No matter how high the volume (without earplugs), his beautiful introspective lyrics were clear and concise, so the concert became the ultimate singalong.

When babyboomers like me buy tickets to oldie-but-goodie artists like this, our secret wish is that it sounds as good as (or even better) than the songs we have played a thousand times. It's been more than four decades since the 'Golden Years' of Supertramp but Hodgson's voice seems to have discovered a fountain of youth. So much so that his listeners spontaneously jumped to their feet clapping and whistling after virtually every song.

The key to understanding modern-day Charles Roger Pomfret Hodgson, now 66, is in his signature composition, The Logical Song.

The co-founder of the progressive rock band Supertramp wrote the song from an autobiographical point of view, from his experience of being sent away to boarding school for 10 years.

When it was released as the lead single from the British band's sixth studio album, Breakfast in America, in 1979, Hodgson performed it almost mournfully as a traditional youth lament — "The questions run so deep for a simple man, won't you please ...please tell me who I am."

On Sunday, when Hodgson performed Supertramp's biggest chart hit in the United States and their native United Kingdom, it was a celebration of everything he has learned since Supertramp became a worldwide phenomenon, selling well over 60 million albums worldwide. "I'm more self-assured; I'm stronger than ever," he said during our recent chat.

Hodgson won the Ivor Novello Award in 1980 from the British Academy of Composers and Songwriters for The Logical Song as Best Song both musically and lyrically. To this day, The Logical Song also has the distinction of one of the most quoted lyrics in schools.

He still sings: "When I was young, it seemed that life was so wonderful, a miracle. Oh, it was beautiful, magical." The world has indeed taught him to be "sensible, logical, responsible, practical and so dependable," but he has not become, as the song says: "Clinical, oh, intellectual, cynical."

Instead, he now says: "I feel like a very, very privileged, blessed man to be able to make people happy for a living. Basically, that's what I do, doing what I love to do: sing great songs."

It's that unforgettable voice, accompanied by his innovative keyboard/piano instrumentals and masterful 12-string guitar, that is the glue to one worldwide tour after another.

He also interspersed his setlist of greatest hits with humour — carrying around a Tim Hortons cup — and inviting guesses on which two of his bandmates are Canadian. "They're the best-behaved ones," he joked.

And he had nothing but compliments for the Okanagan: "You guys are so lucky. I've been wanting to check out this valley. We're already talking about next year. Can we come back?" he asked to a tremendous roar of approval.

"Hope to see you again soon," he added as his encore of Give a Little Bit and It's Raining Again wrapped up the show.


Click here for the original article
Back to top