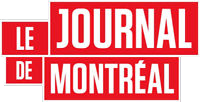 MARIE-JOSÉE R. ROY
Lundi, 29 octobre 2018 22:24
MISE à JOUR Lundi, 29 octobre 2018 22:24


Théâtre St-Denis : dose d'amour pour Roger Hodgson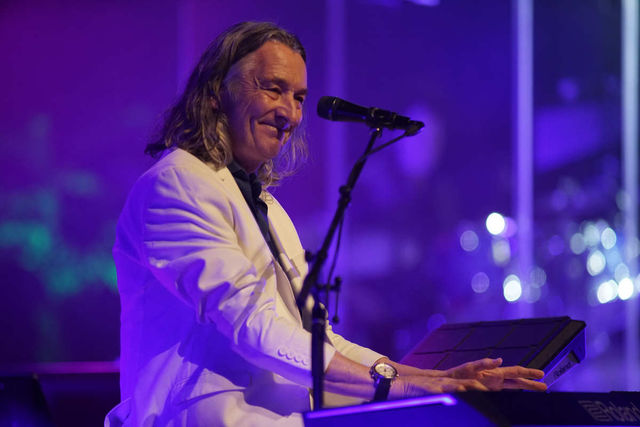 Photo MARIO BEAUREGARD
Roger Hodgson a sagement aligné les classiques des années de gloire de Supertramp devant un public transi d'admiration, lundi, au Théâtre St-Denis. Généreux et démonstratif, le parterre, entiché de sa vedette, a apporté la chaleur qui aurait pu manquer à cette soirée sans grand éclat.

Les inconditionnels diront qu'à eux seuls, les tubes d'Hodgson et de Supertramp font le travail et, effectivement, les Dreamer et Give a Little Bit – propulsées en fin de concert – réconfortent suffisamment l'oreille pour donner l'assurance de passer un bon moment.

Mais les réactions extrêmement enthousiastes et sincères des spectateurs qui attendaient le légendaire chanteur presque septuagénaire, lundi, ont vivifié le spectacle d'une dose palpable d'énergie. Les admirateurs se sont levés fréquemment, ont tapé des mains sans ménagement et ont hurlé des mots doux au rockeur.

L'affection réelle que portait la salle à son invité d'honneur – de passage chez nous dans le sillage de la tournée Breakfast in America, évoquant le disque iconique du même titre, pour une lampée de nostalgie bien assumée – était presque touchante.

En retour, le chanteur a rapidement déclamé que Montréal est «sa ville favorite». Encore là, sa cour a répondu avec ferveur, et Roger Hodgson semblait bien se délecter de tous ces éloges.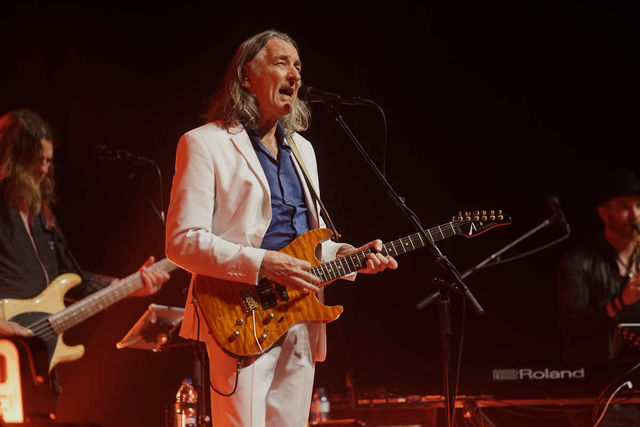 Photo MARIO BEAUREGARD
Dans les palmiers

Aucun mouvement n'avait encore agité la scène qu'on réclamait vivement l'idole de grands cris et de sifflements stridents. Quand Hodgson s'est amené dans son complet blanc, d'un pas nonchalant, l'assistance, moins relaxe que lui, s'est levée d'un bond pour l'acclamer bruyamment.

L'homme s'est installé à son clavier – qu'il n'a brièvement quitté qu'à la fin de sa première heure de concert – pour offrir une Take The Long Way Home que les gens ont reconnue tout de suite, devant un décor de faux palmiers qui faisait rêver à l'été qui nous quitte peu à peu.

Quatre musiciens multi-instrumentistes accompagnaient le gaillard aux cheveux longs dans son survol des titres du groupe qui l'a fait connaître et de quelques morceaux de son répertoire personnel. Plusieurs longs solos ont d'ailleurs entrecoupé les différentes pièces.

Le St-Denis a ensuite vénéré l'artiste britannique pendant deux heures, en offrant des réceptions grandioses à chacune de ses offrandes: School (du significatif album Crime of the Century), l'incontournable Breakfast in America (qu'il a écrite, a-t-il précisé, à 19 ans, «il y a seulement deux ans», a-t-il badiné), qu'il a agrémentée d'un mini-échantillon de Dreamer qui allait venir plus tard, Lovers in the Wind, Sister Moonshine et la très attendue The Logical Song, accueillie par un sympathique petit délire.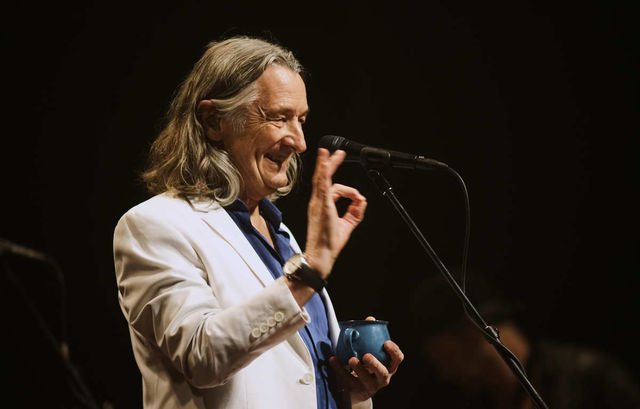 Photo MARIO BEAUREGARD
Visiblement reconnaissant, Hodgson a multiplié les anecdotes et les mises en contexte, se permettant plusieurs blagues au passage et quelques mots de français ici et là, pendant que les éclairages aux couleurs bonbon rappelaient dignement l'époque que la prestation célébrait. Dans les dernières minutes de celle-ci, plusieurs personnes avaient quitté leur siège pour aller danser dans les deux allées bordant les rangées de sièges, preuve que Roger Hodgson et Supertramp procurent encore bien des fourmis dans les jambes.

Roger Hodgson se produit à nouveau à Montréal, à la Salle Wilfrid-Pelletier mardi et au Théâtre St-Denis mercredi.

Cliquez ici pour l'article original: Théâtre St-Denis : dose d'amour pour Roger Hodgson
---
Translation by Lyne St-Louis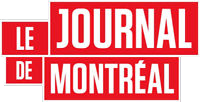 MARIE-JOSÉE R. ROY
UPDATED Monday, October 29, 2018 22:24


St-Denis Theatre: Dose of Love for Roger Hodgson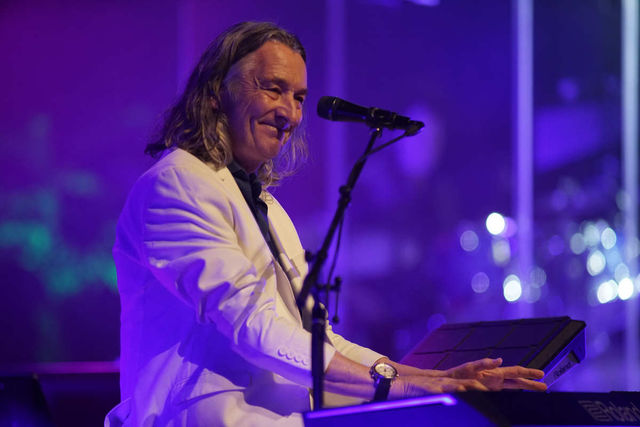 Photo MARIO BEAUREGARD
Roger Hodgson wisely aligned the classics of the glory years of Supertramp in front of an audience of admiration on Monday at the Théâtre St-Denis. Generous and demonstrative, the pit, infatuated with its star, brought the heat that could have missed this evening without much brilliance. Fans will say that the Hodgson and Supertramp tunes alone do the work and, indeed, the Dreamer and Give a Little Bit - propelled at the end of the concert - comfort the ear enough to give the assurance to pass a good moment.

Fans will say that the Hodgson and Supertramp tunes alone do the work and, indeed, the "Dreamer" and "Give a Little Bit" - propelled at the end of the concert - comfort the ear enough to give the assurance to pass a good moment.

But the extremely enthusiastic and sincere reactions of the spectators who were waiting for the legendary singer, who was almost in his seventies, on Monday, enlivened the spectacle of a palpable dose of energy. The admirers got up frequently, clapped their hands and shouted soft words to the rocker.

The genuine affection that was the dining guest of honor - passage home in the wake of the tour Breakfast in America, evoking the iconic disc of the same title, for a good swig of nostalgia assumed - was almost touching. In return, the singer quickly proclaimed that Montreal is "his favorite city".

Again, his court answered fervently, and Roger Hodgson seemed to delight in all these praises.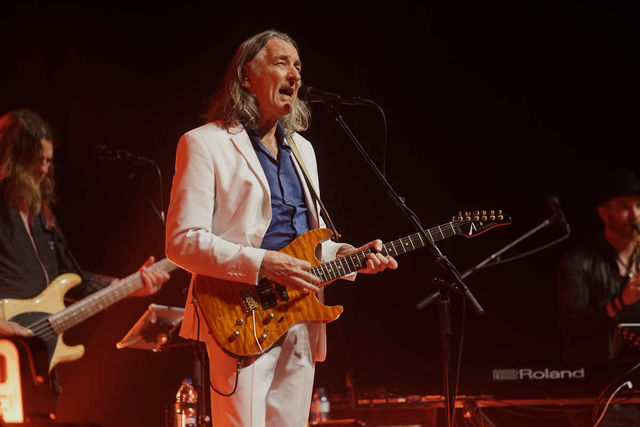 Photo MARIO BEAUREGARD
In the palm trees

There is not yet a movement of the scene to the claim of the idol of the great crimes and offenses. When Hodgson has arranged himself in his white suit, without assistance, the audience, less relaxed than him, is lifted from a bond for the acclameur.

The man settled on his keyboard - he did not finish until the end of his first hour of concert - to offer a long way to home. Faux Palmiers

Four multi-instrumentalist musicians accompanied by the long-haired guy in the titles of the group that makes himself known and some pieces of his personal repertoire. Several long solos have entrances interspersed with the different pieces.

St-Denis then revered the British artist for two hours, offering grand receptions for each of his offerings: The "School" (the album of the significant Crime of the Century), the inevitable "Breakfast in America" (which he wrote he said, at 19, two years ago, he added a mini-sample of "Dreamer" who would come later, "Lovers in the Wind," "Sister Moonshine" and the much awaited "The Logical Song," hosted by a nice little delirium.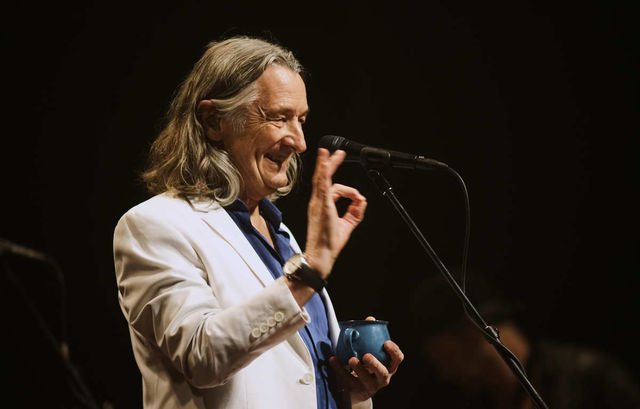 Photo MARIO BEAUREGARD
Obviously grateful, Hodgson has multiplied anecdotes and context, it has been translated from the original text into English. In the last minutes of this, several people left their seats to go in the two aisles adjacent to the rows of seats, which proves the appeal of Roger Hodgson and Supertramp.

Roger Hodgson performs at Montreal's Salle Wilfrid-Pelletier on Tuesday and at Théâtre St-Denis on Wednesday.

Click here for the original article: St-Denis Theatre: Dose of Love for Roger Hodgson


Back to top