REVIEW: Roger Hodgson honors his Supertramp days with electric concert
July 21, 2018 - By John Soltes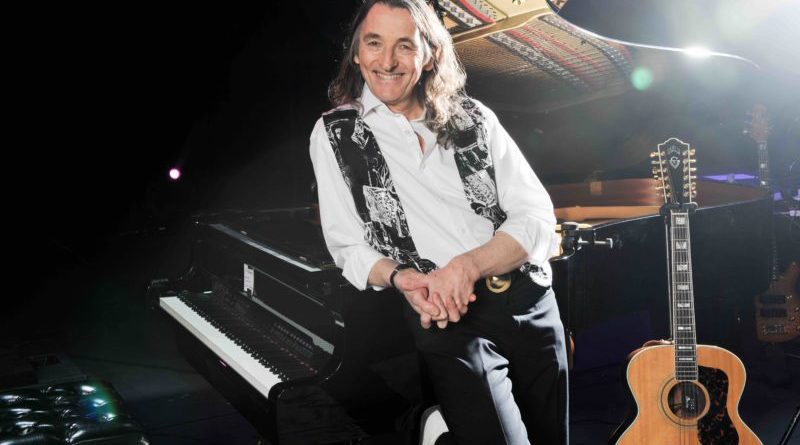 Photo: Roger Hodgson is the former vocalist for the rock band Supertramp.
Photo courtesy of Rob Shanahan / Provided by JagPR with permission.

ENGLEWOOD, NEW JERSEY — Roger Hodgson, the former singer-songwriter of Supertramp, has one of those voices that is unmistakable in the canons of rock history. It's a high-pitched, dreamy exclamation that methodically releases the lyrics like bullets into the ears of the listener. The words he sings are catchy and simplified beauty, perhaps with no better example than "The Logical Song."

Hodgson brought "Logical" and many other favorites from Supertramp and his solo catalogue to an electric performance at the Bergen Performing Arts Center in Englewood, New Jersey.

The evening began with one of Supertramp's all-time hits, "Take the Long Way Home." Hodgson immediately received a standing ovation for his spirited performance, even though it took the BergenPAC sound system to find the right levels on his singing. Once the levels were corrected, it was smooth sailing for the next two hours.

Of course, even though Hodgson's voice is the main draw, he's also an expert multi-instrumentalist, someone who is at home behind a keyboard, guitar and piano. Heck, he even added some percussive beats during one song.

The set list was a pleasant trip down memory that satiated the palates of Supertramp fans. He found a perfect rhythm of playing a few deeper cuts, like "School" and "Hide in Your Shell," followed by the mega ones, like "Breakfast in America" and "The Logical Song."

In between the numbers, Hodgson would sometimes offer behind-the-scens stories and thoughts on the provenance of the songs. These asides were welcome complements that offered a commentary track on his decades in the music industry.

An intermission broke up the energy of the concert, but Hodgson and company came out swinging for the second half. Highlights included "Even in the Quietest Moments" and the main set closer, "Fool's Overture." In fact, "Fool's Overture," a strangely transfixing tune, was the highlight of the entire concert because it showcased Hodgson's talents on many fronts. Lyrically, it's a masterpiece. Sonically, it sounds like no other number. As a total package, it's an elongated commercial for Hodgson's skills.

Hodgson was backed by an impressive band, including a New Jersey native who offered spot-on backup vocals. They collectively embraced the sounds of these songs and created a time-traveling aura of progressive rock.

The encore was the welcome treat of "Give a Little Bit," another mega-hit, plus "It's Raining Again." The songs put the capstone on a two-hour experience featuring one of the best vocalists in rock history, someone who still has the musical chops and who finds inspiration in the gifts he has given the listening world.


By John Soltes / Publisher / John@HollywoodSoapbox.com


Roger Hodgson is currently on tour through 2019. Click here for more information and tickets.

Click here for the original article: REVIEW: Roger Hodgson honors his Supertramp days with electric concert


Back to top