Roger Hodgson ~ Royal Albert Hall, London ~ May 25, 2013
As the oh-so familiar strains of The Logical Song bring the first half of Roger Hodgson's lively performance to a close, pockets of his attentive yet dutifully well-behaved audience begin to display signs of their deeply held devotion. Heart-shaped balloons (red, of course) are held aloft and an outbreak of dancing (of sorts) takes place in the aisles of this salubrious hall. Aside from one fellow who feels the need to bark unintelligible demands at Hodgson intermittently throughout his performance, it's about as lively as the audience gets tonight.

That said, the trick is repeated, this time with more gusto and added involvement from Hodgson himself, who requests a balloon to toy with inquisitively as the equally evocative Dreamer nudges the second half towards its conclusion. Again, aside from the enthusiastic but polite applause that deservedly greets every song, it's about as animated as the audience gets.

Whereas Yes, ELP or Tull tend to draw a predominantly older and sometimes more boisterous male crowd, as with the Moody Blues, the cross-over appeal of many of Hodgson/Supertramp's musical moments attracts a broader-based audience (although a smattering of Rush T-shirts from the previous night's O2 show is evidence of the prog appeal on display).

Tonight's show isn't all about Hodgson's Supertramp years, either. Both In Jeopardy and Lovers in the Wind are from his classy In the Eye of the Storm solo debut, and an excellent, rousing Death and a Zoo from 2000's criminally overlooked Open the Door pay testament to a worthy post-'Tramp career.

Inevitably the better-known songs such as Take the Long Way Home, School and Breakfast in America are lapped up by the adoring fans, but even with his four-piece band providing unfussy backing, there's a personal element about this gig that connects directly with the audience, as Hodgson reveals quite intimate details of the creative process that surrounds Sister Moonshine and If Everyone was Listening.

Rosie Had Everything Planned takes us back to 1971's Indelibly Stamped - as early as anything gets tonight - but it's the evocative strains of Fool's Overture ending the set proper that highlights the fact that, alongside the radio-friendly hits, Hodgson was equally adept at creating masterful moments of progressive rock idealism. Even if, as he announces in this case, the song itself was structured from three separate pieces of music.

The intimate nature is carried through the encores, with both Give a Little Bit and the buoyant It's Raining Again providing the chance for audience clap-alongs, closing the night with the personal touch only an artist as natural and honest as Hodgson can bring to such an auditorium. It was a fitting end to an often touching performance.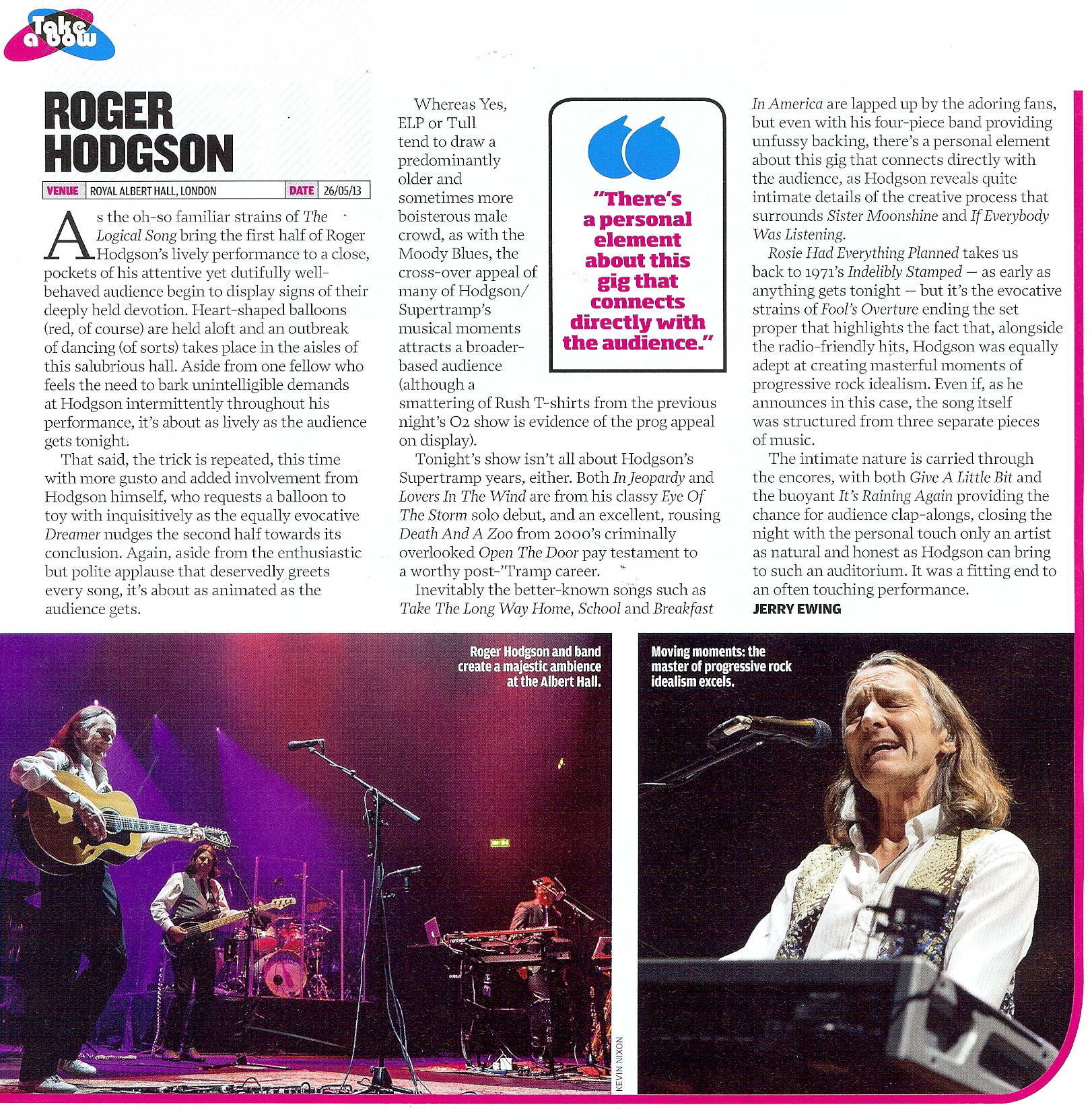 Back to top