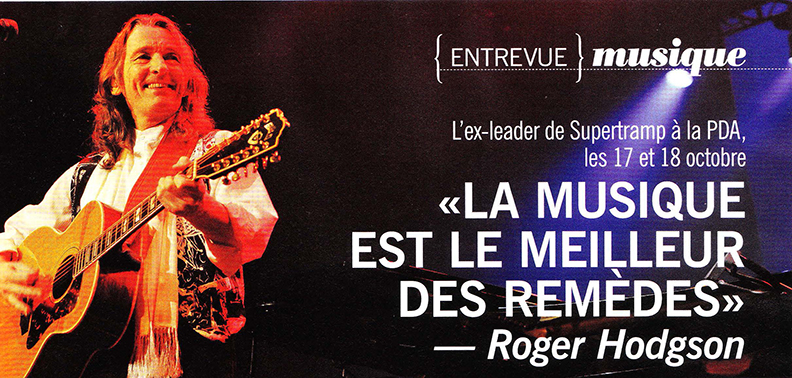 Echo Vedettes Article by Jean-Francois Brassard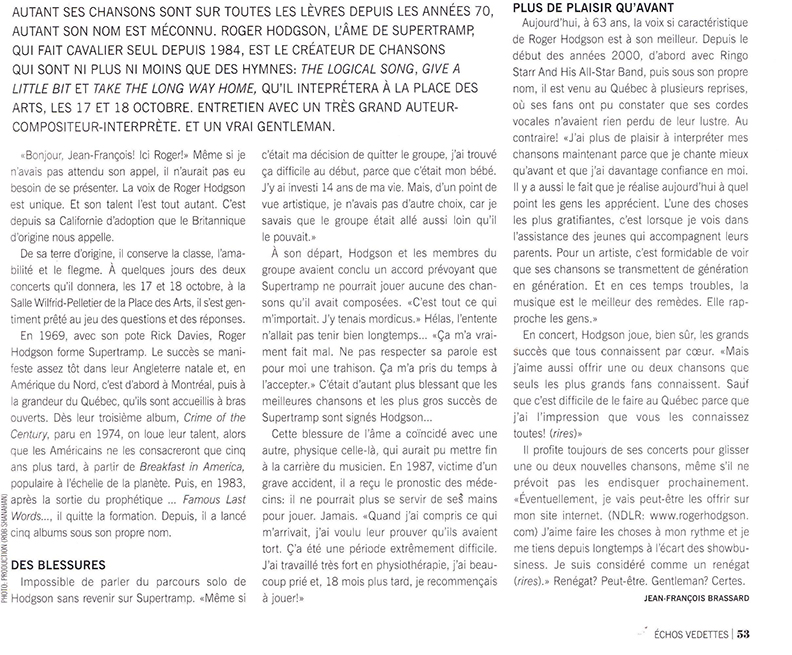 ---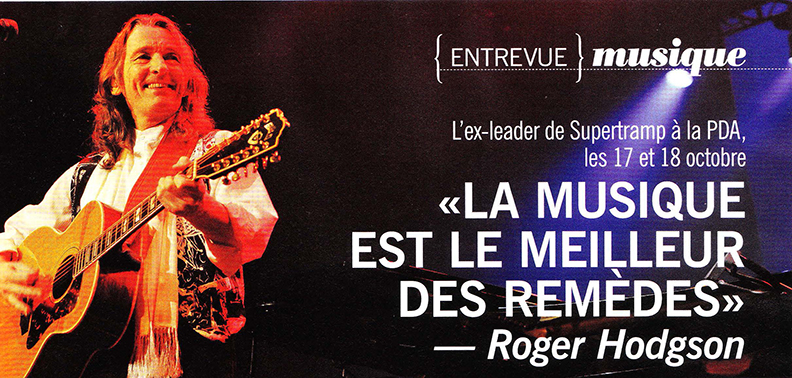 Ex Leader of Supertramp at Place Des Arts on October 17 and 18.
"Music is the Best Medicine" ~ Roger Hodgson
Echo Vedettes Article by Jean-Francois Brassard
Approximate English translation:
As much as his songs are on everyone's lips since the seventies, as much of his name is unknown. Roger Hodgson, the soul of Supertramp gone solo since 1984, is the creator of the anthems "Logical Song, " "Give A Little Bit," and "Take The Long Way Home" which he will sing at Place Des Arts on October 17 and 18. This is an Interview with a very talented writer, composer, singer and a true gentleman.
Hi Jean-François, it's Roger. Even if I weren't waiting for his call, he would not have to introduce himself. The voice of Roger Hodgson is as unique as his talent. It's from his adoptive California that the British born singer called us. From his land of origin he kept his class, friendliness, and composure. A few days before his two concerts he would give at Salle Wilfrid-Pelletier at Place Des Arts on October 17 and 18, he kindly answered our questions.
In 1969, with his friend Rick Davies, Roger Hodgson created Supertramp. Success came pretty quickly in their home country and in North America, first in Montreal then the rest of Quebec where they were warmly welcomed. As soon as their third album "Crime Of The Century" was released in 1974, we recognized their talent, but it would take Americans five more years with the release of "Breakfast In America" which made them popular around the world. And in 1983, after releasing "Famous Last Words," Roger would leave the group. Since then, he has released five albums under his name.
The Wounds
It is impossible to talk about Hodgson's solo path without talking about Supertramp. "Even though it was my decision to leave the group, I found it hard at the beginning because it was my baby. I had given it 14 years of my life. But from an artistic point of view, I did not have another choice because I knew the band had gone as far as it could." Upon his departure, Hodgson and the members of the group agreed that Supertramp would not play any of the songs that he wrote. "It's all that mattered to me, and it was very important. But the agreement didn't last very long. It hurt me pretty bad. Not to be true to your own word was like treason to me. It took me awhile to accept it." Even more so, that the best songs and the biggest hits of Supertramp are written by Hodgson.
This wound of the soul was at the same time of a physical one that could have put an end to his career. In 1987, being in a bad accident, he received a diagnosis from his doctor that he would not be able to use his hands to play. "Never. When I understood what was happening to me, I wanted to prove them wrong. It was an extremely hard time. I worked really hard in physiotherapy. I prayed a lot, and eighteen months later, I started to play."
More Pleasure Than Ever
Today at 63-years-old, Roger's unique voice is at his best since the beginning of the year 2000, first with Ringo Starr and his All-Starr band, then under his own name, he came back to Quebec many times where his fans realized that his vocal cords haven't lost anything. Quite the opposite. "I have more fun singing my songs today, because I sing better than before and I have more confidence in myself. There is also the fact that I realize today how much people really appreciate them. One of the most gratifying things is when I see in the crowd younger kids with their parents. For an artist, it is incredible to see his songs go from one generation to the next generation. In these troubled times, music is the best medicine, it brings people closer." In concert, Hodgson plays, of course, his biggest successes that everyone knows by heart. "But I also like to play one or two songs that only the biggest fans knows, but it's hard to do in Quebec because I have a feeling you know them all (laughs!)" He uses his concerts to play one or two new songs, even if he doesn't plan on recording them soon. "Eventually, I could maybe offer them on my internet site www.rogerhodgson.com. I like to do things at my own pace, and I have been keeping myself away for many years away from show business. I am considered like a renegade (laughs!)" Renegade? Maybe. Gentleman? Definitely.


Back to top