One Track Mind, Pop Music, Progressive rock — March 8, 2012
Posted by Nick DeRiso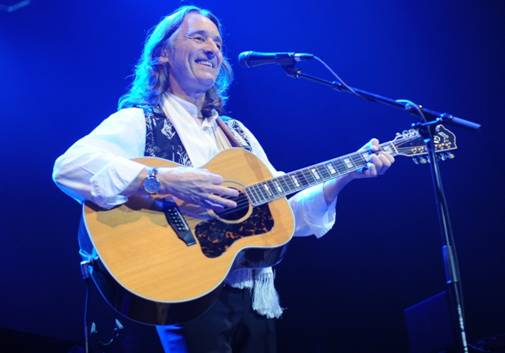 On this special edition of Something Else Reviews' One Track Mind, we hand the reins over Supertramp co-founder Roger Hodgson , whose first U.S. tour since 1983 is underway.

Find out how a sound effect from a hand-held Mattel football game made it onto one of Supertramp's biggest singles. Why time means nothing to Hodgson when he's composing. And how "Give A Little Bit" would have been the singer-songwriter's personal anthem, whether it ever sold or not …

"THE LOGICAL SONG," with SUPERTRAMP (BREAKFAST IN AMERICA, 1979): Called a "small masterpiece" by Rolling Stone, this track ended up settling in for a three-month stay on the U.S. singles charts in 1979. It remains a telling examination on the loss of childhood idealism, but at the same time "The Logical Song" was also marked by a Beatlesque sense of cheeky pop-song gumption — from the pains the band took to get the saxophone sound just right (reportedly repairing to a stairwell, then a bathroom) to the addition of a couple of contemporary sound effects, including a Mattel electronic hand-held football game.
ROGER HODGSON: (Laughs.) One of the band, I can't remember who, was in sitting room of the studio, playing away on this video game. We'd hear that sound, over and over, coming from the other room. I think, at some point, we decided: Why don't we put that sound on it? And it worked. We were always looking to create new sounds. There was a stairwell where we would put the saxophone, as well as the guitar, all sorts of things. We were always experimenting.

[SOMETHING ELSE! INTERVIEW: Roger Hodgson talks about his long-awaited return to U.S. concert venues, writing with the Wurlitzer and how he willed himself back from a catastrophic injury.]
"FOOL'S OVERTURE," with SUPERTRAMP (EVEN IN THE QUIETEST MOMENTS, 1977): Fans of Supertramp's compact radio hits might be taken aback by long-form compositions like this one, as it stretched to nearly 11 minutes. An episodic, very prog-rock collage of sounds, the original album-closing track features excerpts of Winston Churchill's legendary "Never Surrender" speech to the House of Commons in 1940, a flash of Gustav's Holtz's "Venus," a reading from Blake, even a snippet of Supertramp's own track "Dreamer." Listen closely, too, and you'll even hear whispers of the Beatles' "Fool on the Hill," as well. Hodgson says his muse dictates how these things go.

ROGER HODGSON: I've always written longer songs, but then shorter ones, too — "Breakfast in America" is under three minutes. I don't think, when I'm writing a song, that time ever enters into it. The song will be whatever it wants to be. I know that, when I start writing. I just have a natural feeling of where it needs to go, or how long it needs to be. "Fool's Overture" was a pretty magical piece of music that came together out of three different pieces that I had had for about five years. One day, they all kind of stuck together and became the piece that I called "Fool's Overture." It's still gives me goosebumps, playing that piece on stage.

"MY MAGAZINE," solo (HAI HAI, 1987): This song, in its own cool rocking way, helps illuminate another often forgotten side of Roger Hodgson's complex songcraft. Typically tagged as a pop ballad composer, he plugged in for "My Magazine" — offering one of his most unabashedly gritty sides. Unfortunately, it was part of a second solo LP that got widely panned for hewing too closely to the synthesized sounds of the day — despite having been co-produced by Jack Joseph Puig (who'd later work with No Doubt and Black Crowes) and featuring David Paich and Jeff and Steve Porcaro of Toto, as well as Omar Hakim, Nathan East, Lenny Castro and Leland Sklar, among others. Still, as Hodgson directs his venom at media miscreants ("Screw the facts, I can give you fantasy"), it's hard not to connect the track to contemporary events like the widening scandal involving phone hacking by London's now defunct News of the World. In that way, "My Magazine" feels even more timely today.

ROGER HODGSON: I love that song! It definitely didn't go down too well with the fans. But I think it represents a part of me, and I love it. It didn't quite come out as well I had hoped, but I had all of the Toto guys on it and — I don't know, it's got a great attitude. And with everything that's happening with Rupert Murdoch, you're right, it's very relevant.

"SCHOOL," with SUPERTRAMP (CRIME OF THE CENTURY, 1974): This jazz fusion-informed gem has long been obscured by a pair of seminal hits that helped propel Supertramp to its long-awaited commercial breakthrough. The group's third album, of course, featured "Dreamer" and "Bloody Well Right," helping Supertramp to the Top 10 in the UK and to gold-selling status in America. But "School," in many ways, is the better song, if only because it distills so many of the band's strengths. There's the free-form creativity of its construction, the plaintive lyric (part nostalgia, part fitful rebellion), and a musical specificity that simply leaps out of the speakers — from the vivid piano lead, to the growling harmonica, to the thudding bass. "School" is a Supertramp manifesto.

ROGER HODGSON: Traditionally, the pop song is verse, chorus, verse, chorus, bridge, verse, chorus — and "School" was nothing like that. There were a lot of different sections. There's no rule, really. I think rules don't work if you are an artist. You have to be free to let the songs go where they want to go.

"GIVE A LITTLE BIT," with SUPERTRAMP (EVEN IN THE QUIETEST MOMENTS, 1977): Hodgson's easy-going, sing-along paean to the Golden Rule served as this album's opening track, and became a huge hit. From there, "Give A Little Bit" could be found in countless movies (including the original 1978 version of "Superman"), in a string of Gap commercials in 2001, as part of numerous charitable causes (including commercials for funds set up to aid victims of the 2004 Indian Ocean tsunami and Hurricane Katrina in 2005), and all over the radio yet again when the Goo Goo Dolls produced a mid-2000s remake that went Top 40. It's perhaps of little surprise then that "Give A Little Bit" has also became something of a personal anthem for Hodgson, the song he's perhaps most associated with — and his concert closer. He says that would have been the case, though, even it hadn't shot to No. 15 on the Billboard pop singles chart.

ROGER HODGSON: I've always believed in love. I've always longed for love. It was written at the end of the 1960s, when there was a lot of hope. The whole movement was very powerful, back then. The Beatles had written "All You Need is Love," and that might have influenced me, too. I think the wonderful thing about "Give A Little Bit" is how it's stood the test of time. It's still a song that's in such great demand, from charities and fundraisers. It captures a much-needed spirit, right now, in a world where we are facing so many problems. We really do need to pull together, and give more than take. We need to share what we can, and that's basically what the song says. In my shows, I usually play that as the final song — and after two hours of warming the audience up, and opening them up, it's like the cream on the top of the cake. I start playing that song, and everyone just smiles from ear to ear and starts hugging each other and singing with me. It's a very unifying song.
Hodgson's full concert schedule, including his North American, South American and European dates, can be found here: http://www.rogerhodgson.com/documents/tour.html. His new album 'Classics Live' is also available on his Web site, as well as iTunes: http://itunes.apple.com/us/album/classics-live/id502038005.
Comments
Ana Lopez March 8, 2012
Nice review around Roger's songs. I love them all. Ones for a reason, others for another reason. It depends my mood. There's something that fits well to all his songs, they are good songs, gems.
Good songs don't need much decoration, when you have good songs all you have to do is play them and empty yourself, leave the heart in each one, and that's what Roger does, so we enjoy a lot in his shows, they are so powerful!! Good vibes in the air always.

I liked especially all what you both explain about "My magazine", that song is not very well known, and as many times, Roger hits the mark!. I think the same for "Showdown" for example or "Hungry"
As Roger, I think love is the engine of life, without it nothing is possible. Love can't be unfashionable. So, nothing better that to attend to a Roger show to experience what love is. Go! you don't regret at all, it's worth!

Candy March 8, 2012
Thanks again Nick, for giving us this great article

I am delighted to see the great success of the Tour 2012 "Breakfast in America", a tour that is generating great excitement in the U.S. at the start of the Tour, and soon will be in South America, where thousands of fans await you open arms to enjoy his songs, his music, his show and himself.

Right now I wait with joy the return of Roger Hodgson to Europe, where it is wanted, especially for my concert in Paris on 5 October, which are already sold almost all entries in a while, a very magical moment for me, no doubt.
Just saying that a show of Roger, is connect to the genius and live musician, is one of the properties of this great myth of the universal history of music, and many of us appreciate this gesture to his followers, to enjoy their songs live, a very special moment in the life of everyone attending the show.

Enjoy a repertoire full of hits live during their concerts, is something that very few artists today can offer their fans, but Roger Hodgson is credited with many, many songs have been big hits throughout the world for many years, songs and timeless music that never go out of style and that have thousands of people in their hearts with great feeling.

Sérgio Cardoso March 8, 2012
Supertramp is a meeting of great people, with unquestionable talent to touch hearts and sensitive people.
Roger Hodgson is the personification of a messenger of love, the man concerned with questions that touch us all day and with a view of the front men of our time, he struck a universal conscience.

Mazcee March 9, 2012
Great piece Nick.

Roger's compositions are unique. He doesn't follow fashions or fads…just his heart. His concerts are memorable evenings that leave you anticipating his next show. His fans are also a pretty special group of people, They don't wait for Roger to come to their town, many travel to where he is performing such is their desire to share his music with him.

Great to see that Roger is covering so much of the US this year. The highlight of the season for me… The orchestra shows with choir… what an emotional rollercoaster! Solo shows and band concerts are superb, but these shows are as good as it gets. Hope I get to experience it again soon.

guitar62player March 9, 2012
To experience one of Roger's concerts, his soft spoke, candid, humble presence puts you at ease and then he starts to sing. His voice sounds better than ever!

You have no doubt who he is performing for, the sea of faces before him…..his fans. What do you feel, love/peace. See just one of his concerts where you can see and feel his music for yourself, the creator of Dreamer, Logical Song, Give a Little Bit, Take the Long Way Home, and Breakfast in America to name a few of his songs. You will never forget an evening spent with Roger, never…….

There is no contest…. Roger Hodgson with his golden set of pipes….. No one can sing and play his songs like him!!!! No one…..

WARNING you will become hopelessly hooked and need to return to experience his performances again and again…
For Article: Click Here