Roger Hodgson revisits Supertramp's past

August 12th, 2013
By: Robert Kinsler
The Brit superbly surveyed his career at Pacific, from enduring hits to complex epics.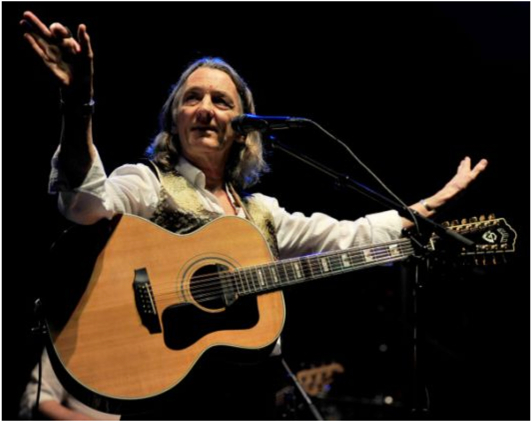 Photo: Kelly A. Swift, for the Register
In his introduction of Roger Hodgson's concert Sunday night at Pacific Amphitheatre in Costa Mesa, "Uncle Joe" Benson, former KLOS mainstay who now hosts the morning show on The Sound 100.3 FM, told the audience that the evening was being filmed for DVD release.

Let's hope so.

For the next two hours the singer-songwriter best known for his work with Supertramp delivered an especially memorable evening of music-making on the final evening of the 2013 OC Fair. In a venue that typically squashes any potential for magic, largely because of the unfairly high number of party-minded concertgoers it attracts – Hall & Oates' terrific performance last week, for instance, came with countless inebriated chatterboxes – there was wizardry aplenty this night.

Any attendees at the Hodgson concert who opted to go on beer runs invariably missed out. This was a superb show that was much more than a nostalgic trip through Supertramp's most beloved material. Even when performing such hits, like leadoff cut "Take the Long Way Home," Hodgson, 63, and his potent four-member group reworked arrangements in ways that strengthened the songs live.

"Look at you," Hodgson said, beaming after the warm reception and standing ovation he received after that opening number. "I've been looking forward to tonight for a long time."

Turns out several of the British singer's band members are from Orange County. Hodgson admitted, however, that he didn't know if anybody would show up for this gig; he needn't have worried, as the majority of seats were filled.
Supertramp's early work was lumped in with progressive rock of the early '70s, but the troupe scored greater success as the decade wore on and they adopted a more mainstream approach, culminating in 1979's multiplatinum smash Breakfast in America. Both those worlds were fused during this Pac Amp set, with Hodgson blending English folk-rock, harder-edged yet still melodic rock and more ambitious prog elements throughout the night.

"School" recalled early Pink Floyd, Hodgson playing acoustic guitar while Aaron Macdonald added artful harmonica blasts. The more recent song "In Jeopardy" offered a bouncy beat and involving vocal harmonies en route to a dramatic conclusion. The performance of the alluring ballad "Lovers in the Wind" allowed Hodgson room to showcase his instrumental skills while seated at a Yamaha grand piano.

Ever the affable host, he also told short stories touching on emotions or events that led him to compose certain songs, adding heft to oft-heard favorites. "The Logical Song" remains an infectious romp, the crowd moving to its feel as Hodgson's distinctive high voice soared. "Dreamer," another buoyant piece, found the singer employing his mighty falsetto as fans tried to sing along.

While most people only stood during Hodgson's best-known hits, they knew a good thing when they heard it. In the performance of his '00s solo track "Death and a Zoo," he speculates whether a wild animal would prefer death over life in a zoo. With its mix of symphonic keyboards, African rhythms, effects that recreate the sound of wild beasts and a powerful ending, with Hodgson banging an electronic drum pad, achieved the artistic depth most identified with Peter Gabriel. The crowd was collectively drawn into the inspired performance and erupted in cheers at the song's fiery close. A performance of the piano-anchored "Lord Is it Mine?" achieved a similar sensation in the set.

In addition to Macdonald (who also played saxophones, keyboards, melodica and tin whistle), Hodgson's wonderful touring band includes bassist David J. Carpenter, drummer Bryan Head and keyboardist Kevin Adamson.

Another highlight was an epic, "Fool's Overture," that likely hasn't been performed in O.C. since Hodgson said goodbye to Supertramp with a closing-night performance at Irvine Meadows on their 1983 tour. Hodgson explained that it comprises three pieces of instrumental music he fused together into what would become the denouement of 1977's "Even in the Quietest Moments ..." Hodgson and his band performed the long opus in perfect sync, the dynamic fusion of classical music, spoken word and pulsating rock rhythms as striking as ever.

But the ensemble wrapped things up on a more upbeat note via infectious performances of "Give a Little Bit" and "It's Raining Again" that once again got people on their feet, obviously thrilled to have witnessed such a skilled overview of a sometimes overlooked career.


For the original article: ocregister.com
Back to top