Recalling Supertramp sound

4:32 PM, Feb. 22, 2012 |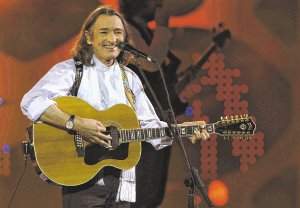 Roger Hodgson will perform a pair of solo concerts this weekend at Pechanga Resort Casino in Temecula. / MARTIN BERNETTI/Getty Images
Written by
Desert Post Weekly
Roger Hodgson in concert
When: 8 p.m. Friday and Saturday
Where: Pechanga Resort Casino, 45000 Pechanga Parkway, Temecula
Tickets: $45-$70
Information: (877) 711-2946; www.pechanga.com

Roger Hodgson has one of the more recognizable voices in popular music. But placing his name might be a challenge.
As a founding member of the British rock band Supertramp, his soaring lead vocals propelled songs like "Breakfast in America" "The Logical Song," "Dreamer" and "Take the Long Way Home" to the top of the charts in the 1970s.
Hodgson, 61, will perform a pair of solo concerts this weekend at Pechanga Resort Casino in Temecula.

Prior to teaming with co-frontman Rick Davies in Supertramp, Hodgson was in Argosy — an Island Records studio group featuring keyboard player Reginald Dwight. When Argosy broke up, Dwight became Elton John.

Hodgson got Supertramp its first gig through an ad in the music publication Melody Maker. From 1970 to 1983, the band steadily moved from progressive rock to pop, culminating in the Grammy-winning "Breakfast in America." The album remained on the charts for a year and has sold 20 million copies.

In the early '80s, however, Hodgson began to ease out of the L.A. music scene — and Supertramp.
"I've found that I always I do best when I follow my heart," he said. "My heart was telling me I needed to learn how to be a parent. So I packed up the family and moved to Northern California. I don't regret it a bit."

Hodgson recorded a couple of solo albums after the move, but his ability to play guitar and keyboards was nearly destroyed when he broke both wrists in a fall in 1987. With his children now grown, he's slowly returning to the stage.
He touched on the following topics in a recent interview with Desert Post Weekly:

On being labeled a "progressive rocker": "I very rarely paid attention to critics or labels," Hodgson said. "I think the Beatles were probably the most progressive rock band ever. They were the ones who took music to new places."

His songwriting process: "I've never been able to say, 'I'm going to write a hit.' I have to be alone and to be able to pull the music out of a pure place. I think part of it comes from a longing to know God. I've always wanted to have a connection to a spiritual being, and for me, songwriting is as close as I come to that."

Going solo: "I'm singing so much better than I've done. I'm older and wiser and that translates into the music. When I first started in Supertramp, I was a very shy young man. I've got a lot more confidence that I had back then."

COMMENTS:
· Toni Amey · Chantilly, Virginia
Roger is an amazing and talented entertainer. It goes without saying that his music is timeless and beautiful. What really puts his concerts over the top is how he engages and interacts with the audience. You can tell he really is having the time of his life and sincerely wants the audience to also. Roger is right, he sounds and is better than ever! Looking forward to seeing him on his Breakfast in America Tour!
Jim Amey · University of Maryland, College Park
He's the greatest performer I've ever seen. We're on the plane now from Washington, DC to LAX, then on to Pechanga, specifically to see Roger Hosgson in concert for two nights. Next week we're off to Minnesota & Wisconsin for mor Roger
Lisa Allen
He just keeps getting better and better! Very excited about his Breakfast in America Tour!!! We love you Roger!
Cándido Pérez Márquez · Top commenter
Excellent article. No doubt Roger was, is and will be the soul, the voice and the sound of Supertramp.

The show starts, lucky to be there to experience it ....

Now we can enjoy his last great work in iTunes "Classics Live", the songs were recorded in different countries of their live shows, Brazil, Norway, Venezuela, France and Germany. Great successes that we enjoy in your new Tour 2012 "Breakfast in America", which will visit different pasises worldwide and in the U.S. will begin on February 24, do not miss it !!

http://itu­nes.apple.­com/us/alb­um/classic­s-live/id5­02038005

Roger returns to the stage with all the force of his music and all the energy of his heart. A treat for the senses, enjoy one of the universal geniuses in the history of music. With his magnificen­t repertoire­, his unmistakab­le voice, and musical qu...See more
Lila Ferraro · Works at Diseñadora de Interiores Independiente; Asesora de Color para Prestigio.
What a Thrill! Breakfast in America Tour begins now! So many time waiting and the dream is coming up! If you are looking for something amazing, magical, exciting this is "the" show. Roger has an incredible energy for all of us. This is the time to enjoy, good luck for the artist and his team, and see you soon in some place...
Ana Lopez · Top commenter · Villajunco
Thanks for this awesome article! I love Roger's songs, as he says, they are born from a pure place, and that's why we love so much them, they has a strong connection with everybody, as well young people as older ones, the feelings are the same.
Nobody should miss a concert of Roger, they are full of magic & good vibes!!!
Just wishing all the joy to the fortunate who are going to be in this starting Tour this weekend

Cheers from Spain
Ana Lopez - Roger Hodgson Spanish Friends Club
https://www.facebook.com/pages/ROGER-HODGSON-SPANISH-FRIENDS-CLUB/107841509303593
Roger Hodgson Fan Club Español (New Page)
Roger concerts are great,His greatest songs don`t let the audience stop enjoy every minute,is just a long way through the happiest moments in our lives with the songs that are part of our lifes ... All the best to the Voice and Soul of Supertramp,Mr.Roger Hodgson ... long live and Health ... se ya soon Minstrel.;)
Raquel HN
Roger concerts, always perfect and magical¡¡¡, Roger Awesome¡¡¡, i hope can see him again
For Full Article: Click Here