Click on image to view full size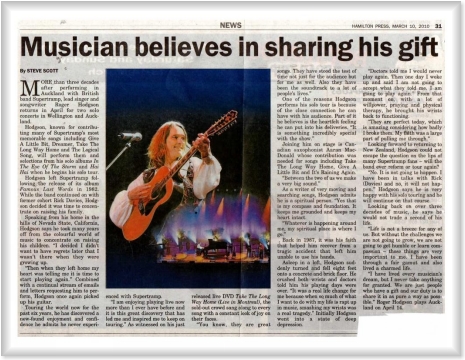 Hamilton Press
March 10, 2010

Musician believes in sharing his gift
By Steve Scott

More than three decades after performing in Auckland with British band Supertramp, lead singer and songwriter Roger Hodgson returns in April for two solo concerts in Wellington and Auckland.
Hodgson, known for contributing many of Supertramp's most memorable songs including Give a Little Bit, Dreamer, Take the Long Way Home and The Logical Song, will perform them and selections from his solo albums In the Eye of the Storm and Hai Hai when he begins his solo tour.
Hodgson left Supertramp following the release of its album Famous Last Words in 1982. While the band continued on with former cohort Rick Davies, Hodgson decided it was time to concentrate on raising his family.
Speaking from his home in the hills of Nevada City, California, Hodgson says he took many years off from the colourful world of music to concentrate on raising his children. "I decided I didn't want to have regrets later that I wasn't there when they were growing up.
"Then when they left home my heart was telling me it is time to start playing again." Combined with a continual stream of emails and letters requesting him to perform, Hodgson once again picked up his guitar.
Touring the world now for the past six years, he has discovered a new-found enjoyment and confidence he admits he never experienced with Supertramp.
"I am enjoying playing live now more than I ever have before and it is this great discovery that has led me and inspired me to keep on touring." As witnessed on his just released live DVD Take the Long Way Home (Live in Montreal), the sold out-crowd sang along to every song with a constant look of joy on their faces.
"You know, they are great songs. They have stood the test of time not just for the audience but for me as well. Also they have been the sound track to a lot of people's lives."
"One of the reasons Hodgson performs his solo tour is because of the close connection he can have with his audience. Part of it he believes is the heartfelt feeling he can put into his deliveries. "It has something incredibly special with the show."
Joining him on stage is Canadian saxophonist Aaron Macdonald whose contribution was needed for songs including Take the Long Way Home, Give a Little Bit and It's Raining Again.
"Between the two of us we make a very big sound."
As a writer of very moving and searching songs, Hodgson admits he is a spiritual person. "Yes that is my compass and foundation. It keeps me grounded and keeps my heart intact.
"Whatever is happening around me, my spiritual place is where I go."
Back in 1987, it was his faith that helped him recover from a tragic accident that left him unable to use his hands.
Asleep in a loft, Hodgson suddenly turned and fell eight feet onto a concrete and brick floor. He crushed both wrists and doctors told him his playing days were over. "It was a real life change for me because when so much of what I want to do with my life is rapt up in music, smashing my wrists was a real tragedy." Initially HOdgson went into a state of deep depression.
"Doctors told me I would never play again. Then one day I woke up and said I am not going to accept what they told me. I am going to play again." From that moment on, with a lot of willpower, praying and physical therapy, he brought his wrists back to functioning.
"They are perfect today, which is amazing considering how badly I broke them. My faith was a large part of pulling me through."
Looking forward to returning to New Zealand, Hodgson could not escape the question on the lips of many Supertramp fans - will the band ever reform or tour again?
"No. It is not going to happen. I have been in talks with Rick (Davies) and no, it will not happen." Hodgson says he is very happy with his solo touring and he will continue on that course.
Looking back on over three decades of music, he says he would not trade a second of his life.
"Life is not a breeze for any of us. But without the challenges we are not going to grow, we are not going to get humble or learn compassion - those things are very important to me. I have been through a fair gamut and also lived a charmed life.
"I have lived every musician's dream, but I never take anything for granted. We are just people who have a gift and our duty is to share it in as pure a way as possible. Roger Hodgson plays Auckland on April 14.