August 20,2013
Review & Photography by Melodie Guay

On August 16th, at the International Hot Air Balloon Festival in Saint-Jean-sur-Richelieu, I had the chance to be up close with a true legend. Yes, it was Roger Hodgson, the founder of the incredible band Supertramp.

The night started off with the bluesy style of Bobby Bazini who had the crowd relaxed and swaying in no time. He played songs from his first album "Better in Time" which included "Oh Katy" which happens to be one of his best known tracks. Bazini also gave fans a sneak peek of some new songs that will be released with his next record, out shortly. In a very smart manner he performed a cover of "Let's Get it On", originally sung by Marvin Gaye. He sang a unique version with a blues twist added to it. He ended off the set with "Cold Cold Heart", his latest single which has been added to rotation at radio stations. I had the chance to see Bobby Bazini at the beginning of his career and have found a more distinct maturity in his voice and an overall improvement in his performances which I really enjoyed.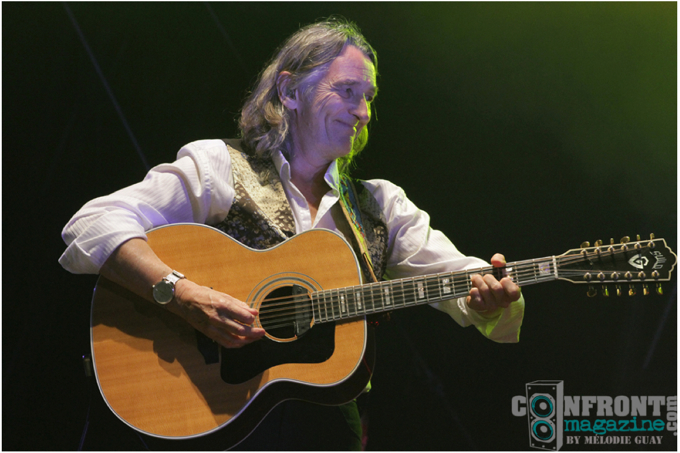 Then it was time for the legendary Roger Hodgson to hit the stage and the ambiance was incredible. People were more than ready to see the Supertramp rockstar and spend the night singing along to some great music. Hodgson, along with his band, started the night off by singing a classic; "Take the Long Way Home". I immediately found myself singing along. I have to thank my parents for helping me to learn and appreciate good music. After the first song he stopped to address the crowd and say "C'est un grand plaisir pour moi de retourner en Québec". The crowd was surprised and charmed by his strong French. He then mentioned, in Franglais "c'est difficile de décider quelle chanson not to play". He followed that up with another massive Supertramp hit "School". He continued to perform hits like "Breakfast in America", "Dreamer" and more. In all honesty I didn't know what to expect and I ended up truly enjoying the evening. Roger Hodgson is a class act and knows exactly what to do to ensure that the crowd is having a great time. For anyone who's a Supertramp fan, or anyone who just wants to smile, this is the artist I would recommend.
Click here for Article online: confrontmagazine.com