Roger Hodgson says playing Supertramp hits at Sands Bethlehem Event Center is 'greatest gift I can give'
John J. Moser, THE MORNING CALL
November 8, 2014, 12:41 PM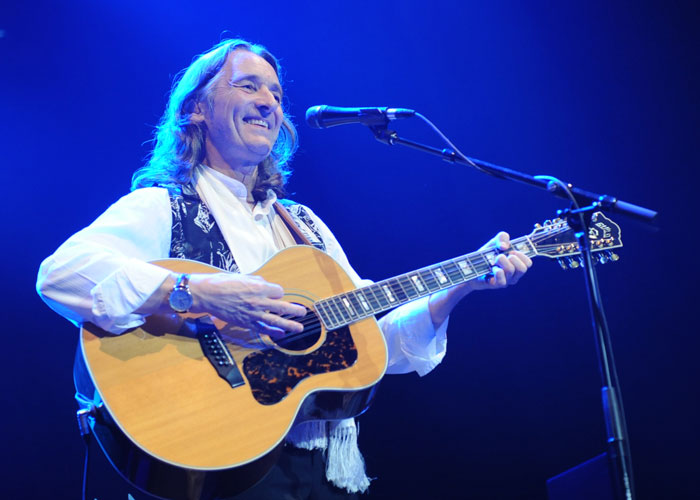 Music artists are, by their very definition, a creative bunch, so there seems to be an expectation that new music is always being written and on the way.

But what if an artist has songs to which fans have connected for 40 years – ones that were its breakthroughs or were on a four-times-platinum album and are still beloved by old fans and being discovered by new ones?/p> And what if those songs are the ones with which you connect most, as well?

That's the position Roger Hodgson, the iconic voice of 1970s progressive-rock-and-pop band Supertramp and writer of its biggest songs, says he finds himself in today, as he heads out on a tour that brings him to Sands Bethlehem Event Center on Sunday, Nov. 9.

In a telephone call this week from the road in Detroit, Hodgson says he's continued writing since he left Supertramp in 1983, then put his solo career on hold to raise his family before resuming touring several years ago. He says he has 60 to 70 new songs stockpiled.

"But life is such that, when there's hundreds of thousands of fans wanting a new album, maybe I'll do something," Hodgson says. "But people want to hear the old songs that they have a relationship with, and that's the greatest gift I can give them."

This tour recognizes the 40th anniversary of the 1974 release of Supertramp's "Crime of the Century" album, which became its first disc to chart in America (it peaked at No. 38 and went gold), and gave the band its first hit, "Dreamer."

In fact, a 40th anniversary edition of the album, remastered and repackaged, with a live disc, as well, is scheduled for release in December.

But Hodgson says his show has just as much material from Supertramp's biggest album, 1979's "Breakfast in America," now 35 years old. That disc, which topped the charts and went four times platinum, produced the hits "The Logical Song," "Take the Long Way Home" and "Goodbye Stranger," the first two of which Hodgson wrote and sang.

"I'm an entertainer who doesn't believe that I have to force the audience to have to listen to all my new stuff," he says. "I want to give the people the best experience – the best two-hour experience – they can have.

"And I know that many have some very deep relationships with a lot of these songs, 'cause these songs are very personal that I wrote. And they became close with a lot of people -- obviously, 'Breakfast in America' and 'Take the Long Way Home' and 'Give a Little Bit,' 'Dreamer' – you name them."

After leaving Supertramp, Hodson released three solo albums – none of which performed nearly as well as the Supertramp discs did. In fact, Hodgson says he plays a couple of songs from his most recent solo disc, 2000's "Open The Door," which, "to tell you the truth [people at the shows] haven't heard."

"Most people haven't heard it – it's still a great album," Hodgson says. "It's like hearing new songs, and there are some great songs on that album. I play a song called 'Death and a Zoo,' and often that steals the show," he says. "It's interesting – I love it when I play something new and that's the one people talk about after the show."

Hodgson says he thinks the songs from Supertramp's classic era still connect because "my songs were really very personal to me. I wasn't writing to create a hit – I wasn't even writing for anyone else. Music was really where I went to be alone and express what was going on inside."

He says he didn't just write about topics such as "Puppy Love."

"I expressed everything – from my question, my deep inner questions, to my joy, my pain, you name it. It's all in there – my longing to know God. So a lot of these songs really struck a nerve with a lot of people. Because I'm a people," he says, laughing.

"And all I'm doing is expressing what's in my heart, and going on in my life and in my life experience. And a lot of people who don't have that ability to do express themselves in music or in any other way found solace in the fact that, here was someone who felt the same way they did."

He says he gets letters from people saying, " 'Boy, your music … even saved my life.' Or, 'I was totally depressed and then this one song really pulled me out of it', or 'I had a breakup with my girlfriend.' I know, for me, going through my hard times, I know music has really helped me to get through it."

He said he's especially surprised that songs such as "Hide in Your Shell," "Lord Is It Mine" and "Even in the Quietest Moments," none of which was a hit, are his most- requested songs because of the way they've touched fans.

He says that after all the years, he has "a greater appreciation" for the old songs, but people have told him the songs actually mean more to them now than when they first heard them. "As teenagers, they didn't, maybe, understand the songs, but now as they go back and listen to them later on in life they have a much deeper meaning," he says. "That has happened to a lot of people."

Hodgson says he is able to still able to enjoy playing the songs because "they do just have an evergreen quality – timeless quality."

"For me, the recordings feel old, but the songs don't," he says. "When I sing the songs live today, they don't feel like 30-year-old songs. They feel like current, very relevant songs. And I can only attribute that to the fact that they really did come from a really pure place in me when I wrote them.

"They weren't contrived—they really were kind of songs from my heart and soul, and maybe that's why they're timeless. … The ones that were really inspired –which is most of them, actually.

"And when I say 'inspired,' I don't credit myself for that. It's almost like I was able to get out of the way and something came through, and I went, 'Wow, that's beautiful.' And I really fell in love with it and played it and it's almost like a little love affair when it's being given birth to. The mind is kept quiet for a while and a deeper being, whatever you want to call it, comes through and something special happens."

Hodgson says he didn't have much input into the re-release of "Crime of the Century" other than to contribute an interview to the liner notes, as did Supertramp's other members. "I wasn't involved in the actual packaging, no," he says. "That's mainly the record company."

Asked whether he had any contact with keyboardist and co-writer/vocalist Rick Davies, Hodgson simply says he does not. Davies in recent years has revived the Supertramp named and toured without Hodgson. There apparently are no thoughts of a reunion.

"For me, connecting to people through the music I've written and a few new songs is what I'm doing right now," Hodson says. "And that's just what I'm being called to do, rather than spend four, five, six months in a studio making an album.

"I'll give them a taste, for the ones who want to hear something new. It's not gimmicky. It's just an incredible band playing incredibly well. There's a feeling that's generated -- how do you describe a feeling? People cry, people say, 'Oh my god, that was one of the most uplifting experience I've had in 30 years."

ROGER HODGSON OF SUPERTRAMP, 7 p.m. Nov. 9, Sands Bethlehem Event Center, Sands Casino Resort Bethlehem. Tickets: $25-$55, www.ticketmaster.com, 800-745-3000.

Copyright © 2014, The Morning Call
Click here for the original article: mcall.com

Back to top