Roger Hodgson / 16.07.2011, Marktplatz, Heinsberg
Roger Hodgson
Marktplatz Heinsberg
16.07.2011
Stil: Rock
Konzertbericht

---


Artikel vom 23.07.2011


Udo Gröbbels
Und es war Sommer, oder?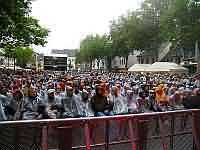 Sommer 2011. Na ja, kalendarisch zumindest schon, aber die Tatsachen an diesem Samstag Abend in Heinsberg zeigten alles andere als Sommer. Noch nicht einmal 20 Grad und Dauerregen, der nur in seiner Intensität etwas variierte, machten den Konzertfreunden beim ehemaligen Supertramp-Musiker schon erheblich zu schaffen. Dabei waren die sonstigen Voraussetzungen sehr gut, denn die opulente Bühne auf dem Marktplatz der Stadt im äußersten Westen unseres Landes versprach ein gutes Konzert. Aber ich fange am besten vorne an.
Heinsberg und die Stars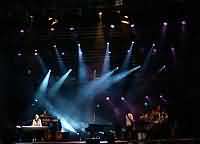 Im Schatten des großen Aachen hat es die Stadt Heinsberg nicht leicht mit interessanten kulturellen Angeboten für ihre Bürger und Besucher, doch mindestens einmal im Jahr kommt das gesamte Umland (inkl. dem benachbarten Holland) auf den Marktplatz, wo sich deutschlandweit bekannte Künstler für einige Tage ein Stelldichein geben. Freitag zuvor hatte noch der bekannte belgischen Singer/Songwriter Milow auf der Bühne gestanden, während am folgenden Sonntag die Deutschrocker von Revolverheld dort auftraten. An diesem völlig verregneten Samstag aber gab es etwas für das gesetztere Publikum und mit dem Gründer, Sänger und Songwriter der legendären Supertramp hatte man ein tolles As aus dem Ärmel gezaubert. Die Vorfreude und die Erwartungen waren nicht nur meinerseits enorm.
Platz für den Nachwuchs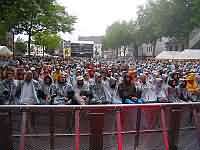 Da es bereits am frühen Abend ohne Ende regnete und Besserung absolut nicht in Sicht war, bekam jeder Besucher am Eingang schon mal einen Regenponcho aus Plastik überreicht, der mit dem Slogan 'Heinsberg lässt sie nicht im Regen stehen' bedruckt war. Gute Idee und Umsetzung, die leider auch benötigt wurde. Gegen 19.15 Uhr gab es mit Fräuleinwunder knapp 30 Minuten neuere und ältere Soulklassiker von drei Mädels plus Band der lokalen Musikschule. Nicht nur ich war über die Professionalität überrascht und mit Songs wie "Free Your Mind" von En Vogue oder alten Hits der Sorte "Son Of A Preacherman" von Dusty Springfield, heizte die Truppe schon mal gut an und mit einen herzlichen Applaus wurden die größtenteils noch sehr jungen Musiker verabschiedet.
It's Raining Again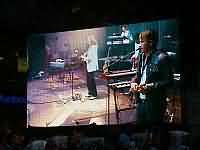 Nach einer etwas längeren Umbaupause ging es um 20.30 Uhr endlich mit dem vom Publikum sehnlichst erwarteten Headliner los, der nach der Ansage des Veranstalters entspannt und bestens aufgelegt die Bühne betrat. Direkt zur Eröffnung mit den beiden Klassikern "Take The Long Way Home" und "School" startete die Show schon sensationell. Roger plauderte zwischen einigen Songs immer wieder gerne, erzählte ein paar Anekdoten, schien sich wirklich wohl zu fühlen und machte Witze über das Outfit des Publikums, das wie gesagt komplett in Regenponchos verhüllt war (siehe Bild). Kommentar Roger: »Mistwetter heute, aber ihr seid ja bestens vorbereitet. Ach ja, "It's Raining Again" spielen wir heute auch«.
Alles Roger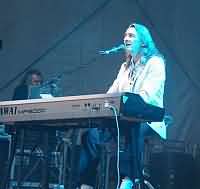 Auf der Bühne merkt man ihm seine 61 Jahre absolut nicht an und während andere Künstler im reiferen Alter hohe Töne oder schwierige Passagen meiden, bringt Hodgson alles im Original und trifft auch 2011 locker alle Töne. Diese Leichtigkeit trägt sich durch die ganze Show und so kommen auch Solo-Lieder, die dem Großteil der Zuschauer unbekannt sind, bestens an, wie z. B. die Reggae-Nummer "London" oder das ruhige " Lovers In The Wind". Auch für die treuen Supertramp-Fans gibt es ein paar Schmankerl wie das wunderbare "Sister Moonshine" (meiner Meinung nach eines seiner absoluten Glanzleistungen als Songwriter) oder "Child Of Vision". Sogar eine seltene Coverversion hat man im Repertoire, denn als die Band im März in Liverpool auftrat, wollte Hodgson unbedingt seine Liebe zu den Beatles zeigen, und so gab man dann auch in Heinsberg "Across The Universe" zum Besten. Leider wurde der Regen immer intensiver und obwohl der Funke auf das Publikum übersprang, hatte dieses genug damit zu tun, unter den Plastikponchos nicht komplett durchzunässen. Spätestens aber bei den Klassikern "Breakfast In America", "The Logical Song" und "Dreamer" war der Regen aber kurzfristig vergessen.
Churchill und die Zugaben

Höhepunkt war mit "Fools Overture" die letzte Nummer im regulären Set. Dieses zehnminütige Epos von Supertramps "Even In The Quietest Moments" aus dem Jahre 1977 ist als Studioversion schon grandios, aber live einfach nur der Hammer. Zwischendurch wurden Teile der legendäre Rede von Winston Churchill aus dem Jahre 1940 mit eingespielt, die ebenso allen Metal-Fans geläufig sind. Genau diese Zeilen der Rede verwendeten auch Iron Maiden beim Intro ihres Klassikers "Aces High". Supertramps Anti Kriegs-Epos kam an diesem Abend jedenfalls auch bestens an. Natürlich mussten Roger und Band nochmals zurück und zum Abschluss gab es dann neben einer abgefeierten Version von "Give A Little Bit" noch das versprochene Mottolied des Abends "It's Raining Again", bei dem Multiinstrumentalist Aaron Mc Donald u.a. am Saxophon nochmals alles gab und neben dem Chef auf der Bühne an diesem Abend den auffälligsten Part übernahm. Die restlichen drei Musiker hielten sich optisch dezent zurück und machten ihre Sachen hervorragend.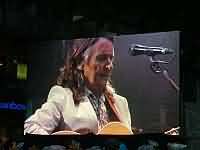 Gegen 22.30 Uhr endete nach knapp zwei Stunden ein wunderbarer Konzertabend, der alle Zuschauer, die nochmals die alten Supertramp-Klassiker hören wollten, absolut zufrieden stellte. Ein Konzert, bei dem es nicht um Soli, Improvisationen oder Ähnliches ging, sondern bei dem alleine der jeweilige Song im Vordergrund stand und dieser mit viel Können und Spielfreude dargeboten wurde. Ich weiß ja, dass ich mich an dieser Stelle wiederhole, aber wenn es auch noch trocken gewesen wäre, wäre es sicher noch schöner gewesen. So aber nervte der Dauerregen schon gewaltig , aber dennoch beide Daumen hoch für Roger Hodgson und Band. Tolles Konzert!

Ein herzliches Danke an Herrmann Rademächers von der Stadt Heinsberg für die Akkreditierung.
Roger Hodgson
Roger Hodgson bei MySpace
Heinsberg
DeMi Promotion
---
Rock Times


"Roger Hodgson / 07-16-2011, Market Place, Heinsberg"
Roger Hodgson
Market Place Heinsberg
07-16-2011
Style: Rock
Concert Review
Article dated 07-23-2011
Copyright Rocktimes
By Udo Gröbbels (freelance)
Translation: Elke Beckett
​
And it was summer, wasn't it?
​Summer 2011. Well, at least that's what the calendar says, but the facts on this Saturday night in Heinsberg showed that it was anything but summer. Not even 20 degrees Celsius (68 degress Fahrenheit) and continuous rain, which only varied a little in intensity made it not all that easy for the fans who attended the ex-Supertramp musician's concert. All the other conditions were very good, though - the luxurious stage in the far west of our country promised a good concert. But I should start at the beginning.
​
Heinsberg and the stars
​The city of Heinsberg, always in the shadow of the big Aachen, does not have an easy job in providing its residents and visitors with interesting cultural events but at least once a year all of the region (including the neighbours from Holland) is/are coming to the market place, which is taken over by well-known artists for a couple of days. On the previous Friday there was the Belgian singer/songwriter Milow and on the following Sunday the stage was taken by the German rockers Revolverheld. But on this completely rainy Saturday there was the more mature audience and Heinsberg did really pull an ace from up the sleeve with the founder, singer and songwriter of the legendary band Supertramp. The pleasant anticipation and expectations were enormous, not only for my part.
​
Space for new blood​
​As it had begun to rain without end early in the evening and as there seemed to be no improvement in sight, each visitor was handed a plastic rain cape at the entrance. The imprinted text read: "Heinsberg won't leave you out in the rain". Good idea, carried out well and unfortunately needed as well. At around quarter past seven, there was Faeuleinwunder (three girls plus band from the local music school) with about 30 minutes of newer and older soul classics. It was not only me who was surprised by the professionalism of the performance and with songs like "Free Your Mind" by En Vogue or old hits like "Son Of A Preacherman" by Dusty Springfield, the group did a good job of warming us up and the mostly very young musicians were given a warm applause.​​​
​​
​​It's raining again
​​After a break for rebuilding the stage that took a little while, finally at half past eight the time for the headliner had come and he was most eagerly awaited. After the organizer had announced him, he came onstage, relaxed and in very good mood. The openers, the two classics, "Take The Long Way Home" and "School" were just a​ sensational start. Roger loved to chat inbetween the songs, told a couple of anecdotes, seemed to be very much at ease and made jokes about the audience's outfit. As already mentioned, the audience was completely veiled by rain capes. Roger's comment: "​No nice weather today but you are well prepared. Oh, right, we'll be playing 'It's raining again' as well."
​
Everything Roger
(Alles Roger - is a common German phrase expressing that all is well, derived from the radio communication term "Roger" for "message received and understood")
​
He's up on stage and you could never tell that he is 61 years of age and whereas other artists in their mature years avoid high notes or tricky passages, Hodgson delivers it all as it was originally written and he easily hits all those notes. This easiness carries on throughout the show and thus also solo songs, which are unknown to the majority of the audience, get a great reception. Like for instance the reggae number "London" or the serene "Lovers In The Wind". There are also some treats for the loyal Supertramp fans, like the wonderful "Sister Moonshine" (in my opinion one of his absolutely greatest achievements as a songwriter) or "Child Of Vision". There's even a rare cover version in their repertoire. When the band performed in Liverpool in March, Hodgson wanted to show his love of the Beatles and thus they also performed "Across The Universe" in Heinsberg. It was a pity that the rain became more and more intense and although the audience was very enthusiastic (the spark was ignited), that audience was preoccupied with the task of not getting totally wet underneath their plastic capes. But by the time they played the classics "Breakfast In America", "The Logical Song" and "Dreamer" the rain was forgotten for a while.
​
Churchill and the encores
​The highlight was "Fool's Overture", the last number of the regular set. This ten minute epic from Supertramp's album "Even In The Quietest Moments" from 1977 is terrific as a studio version but live it's just a sensation. Inbetween we could hear parts of the legendary Churchill speech from 1940, metal fans are familiar with those as well. Just these exact lines from the speech are used by Iron Maiden for the intro of their classic "Aces High". Anyway, the Supertramp anti-war song was very well received that night. Of course Roger and band had to return once more and they ended the show with a celebrated version of "Give A Little Bit" and the promised motto song of the night, "It's Raining Again" during which multi instrumentalist Aaron MacDonald on the sax (among others) once more gave it all and - besides the boss on stage - MacDonald played the most prominent role that night. The other three musicians retained themselves optically in a discreet way and they did their jobs brilliantly.
​
​At around half past ten a wonderful concert night ended after about two hours and all ​viewers who had wanted to hear the old Supertramp classics once again were absolutely content. A concert that was not about solos or improvisations or something similar, but a concert where the focus was solely on the songs and those songs were performed with a lot of skill and with lots of joy of playing. I know, I am now about to repeat myself but if it had been dry on top of everything, that would have made things even more perfect. But as things were this continuous rain was really a pain in the neck but still both thumbs up for Roger Hodgson and band. Marvellous concert!
​
A heartfelt Thank you to Herrmann Rademaechers from the city of Heinsberg for the accreditation.
​
Roger Hodgson
Roger Hodgson bei MySpace
Heinsberg
DeMi Promotion