Roger Hodgson actúa en el Festival Jardins de Pedralbes

El exlíder de Supertramp mezcló canciones de su etapa de Supertramp con nuevas composiciones

04/07/2013

Josep Massot
Barcelona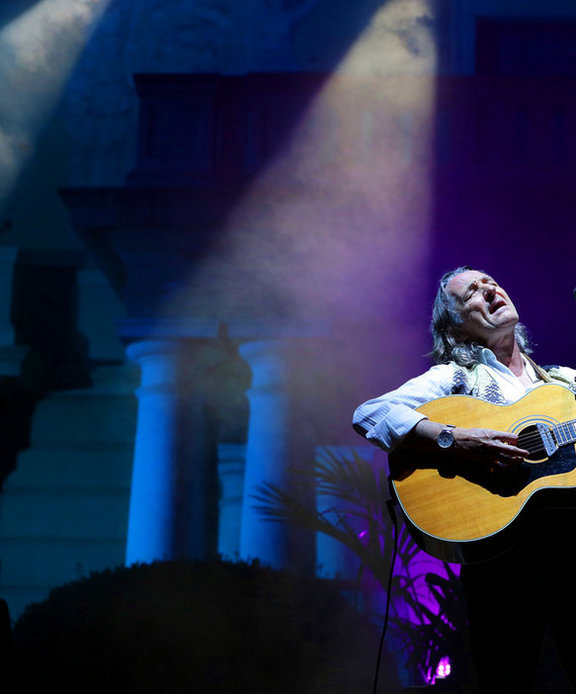 Se puede tener 63 años y seguir teniendo sueños de adolescente. Roger Hodgson hace ya treinta años que dejó Supertramp y sigue cantando sus viejas canciones de muchachos desesperados que se adentran en el incierto mundo de los adultos. Un eco de pasadas fiestas de media tarde o veladas de verano junto al mar resonó ayer el escenario del festival Jardins de Pedralbes cuando Hodgson pedía "give me, give me, a little bit of your love" o se definía "dreamer, you know you are a dreamer". Da igual la letra, suena la música y es tiempo de verano. Parte del recital rememoraba las canciones de Crisis? What crisis?, el álbum que lanzó a Supertramp como una de las bandas preferidas de las emisoras de radio para animar a la audiencia. Era 1975, en plena crisis del petróleo. Y la leyenda dice que Rick Davies adaptó como título una frase de la pelicula El Chacal, basada en la novela de Forsyth sobre el escurridizo terrorista Carlos: "¿Crisis? ¿Qué crisis? No te preocupes. No pasa nada". Hoy la crisis es terca y profunda y la música de Hodgson busca el mismo efecto balsámico y pasajero que un trozo de hielo masajeando una mandíbula contusionada.


"¿Cuántos vinisteis a mi anterior concierto?", preguntó Hodgson, y la platea se llenó de manos alzadas. Después, bromeó: "Allí veo a un bambino, ¿sabes quién soy?". Y la gente reía. "Bueno, en las próximas dos horas dejad vuestros problemas". ¿Hay vida más allá de Supertramp? Hodgson se separó de Davies cuando sacaron Breakfast in America, y ese el título que ha puesto para la gira de este año, en la que ha incluido varias canciones post-Supertramp, aunque mantengan su sabor. In Jeopardy, cantada después de Take the long way home. seguía la onda adolescente, del muchacho en fuga , lleno de dudas, con prisa para vivir: evadirse "cantando bailando, corriendo tan rápido como puedas". También incluyó la canción de amor aéreo, los amantes que viven en el viento Lovers in the wind o Death and a Zoo, donde plantea una dilema tan existencial como "oye, ¿qué harías atrapado entre la muerte y el zoo?"


Así que Hodgson tiene 63 años, pero la edad da igual para ponerse en la piel de un chico con preocupaciones colegiales (School). Es el juego de magia de la música que permite a Mick Jagger sentirse permanentemente insatisfecho o a Jessye Norman representar el papel de doncella ultrajada. Da igual, y el público tenía ganas de verbena y muchos, de recordar los momentos felices pasados con sus temas alegres. Una persona tiene la edad de la canción que le emociona o le hace disfrutar, la canción que detiene y relativiza el tiempo. ¿Qué crisis hay cuando suenan The logical song ("Cuando yo era joven, parecía que la vida era tan maravillosa. Un milagro, oh era hermosa, mágica.") Lady, Breakfast in America, Give a little bit, Sister moonshine, Two of us, It's raining again o Fool's Overture?.


El público –alguien pidió A soapbox opera– quería Supertramp. Y recordaba una de las mejores carátulas de la edad de oro de las carátulas, las de los años setenta: un musculoso chico en bañador toma un sol incierto sentado en una tumbona bajo una sombrilla naranja. Sobre una mesa de bar, un refresco y un diario doblado. Nada raro, si no fuera porque el entorno era un horizonte de amenazantes chimeneas chorreando humo negro y la playa no era de arena sino un basurero de desperdicios industriales.Ayer, había un jardín, era verano y la gente se divertía, silbaba, daba palmas, bailaba sentada, de cintura para arriba, y canturreaba. "Oh, lady, la, la, la, lá. Oh, la, la, la, lá..."
En el artículo original: lavanguardia.com
---
Please note - this may be a rough translation and the article may contain some inaccuracies.


Roger Hodgson acts in the Festival Jardins de Pedralbes

The former leader of Supertramp mixed with new compositions

July 4, 2013

Josep Massot
Barcelona


You can have 63 years and still adolescent dreams. Roger Hodgson left Supertramp after thirty years and still singing his old songs of desperate boys venture into the uncertain world of adults. An echo of past festivals afternoon or summer evening by the sea yesterday echoed the festival stage Jardins Pedralbes when Hodgson called "Give a little bit, Give a little bit of your love to me" or defining "Dreamer, you know you are a dreamer." Never mind the words, music and sounds is summer time. Part of the concert's songs recalled Crisis? What Crisis?, The album that launched Supertramp as one of the favorite bands of radio stations to encourage the audience. It was 1975, during the oil crisis. And legend has it that Rick Davies adapted the title a phrase from the movie The Jackal, based on Forsyth's novel about the elusive terrorist Carlos: "Crisis? What Crisis? Do not worry. It's okay." Today the crisis is deep and stubborn and music Hodgson seeks the same soothing effect and passenger a piece of ice massaging bruised jaw.


"How many before you came to my concert?" Hodgson said, and the audience was filled with hands raised. Then he joked: "There I see a bambino, you know who I am?". And people laughed. "Well, in the next two hours let your problems." Is there life beyond Supertramp? Hodgson Davies broke when pulled Breakfast in America, and that the title you have set for the tour this year, which has included several post-Supertramp songs, but keep its flavor. In Jeopardy, sung after Take the long way home. wave was teenage boy on the run, full of doubt, in a hurry to live: escape "singing, dancing, running as fast as you can." It also included the song of love air lovers living in the wind Lovers in the Wind or Death and a Zoo, which poses a dilemma as existential as "Hey, what would you do trapped between death and the zoo?"


So Hodgson is 63 years old, but age does not matter to get into the skin of a boy with concerns Collegiate (School). It's the game of magic of music that lets you feel permanently dissatisfied Mick Jagger or Jessye Norman playing the role of outraged maiden. Anyway, and the audience felt like verbena and many, to remember the happy times spent with his subjects happy. A person has the age of the song that excites you or makes you enjoy the song stops and downplays the time. What about when sound crises Logical Song ("When I was young, it seemed that life was so wonderful. A miracle, oh it was beautiful, magical.") Lady, Breakfast in America, Give a Little Bit, Sister Moonshine, Two of us, It's Raining Again or Fool's Overture?.


The public - someone asked A Soapbox Opera - wanted Supertramp. And remember one of the best covers of the golden age of the covers, the seventies: a muscular guy in a swimsuit takes an uncertain sun sitting in a lounge chair under an orange umbrella. On a bar table, a drink and a newspaper folded. Nothing unusual, if not because the setting was threatening a horizon of black smoke gushing fireplaces and beach was not sand but industrial. There was a garden, it was summer and people had fun, whistling, clapping, danced sitting, from the waist up, and sang. "Oh, lady, la, la, la, la. Oh, la, la, la, la ... "

For the original article: lavanguardia.com
Back to top