Adelaide, AU ~ April 5, 2013 ~ Reflection by Lee


Roger Hodgson plus Special Guests

I am still kicking myself that I missed the Supertramp concert when they visited here in '76. It's developed into sore spot that has continually reminded me of the naiveté of youth and the irritation of procrastination. Oh, let me diverse for a second. I can distinctly recall a moment whilst standing on the bank of the River Murray with my son at the age of about 5. We stood ready to leap into the water and during that brief moment of hesitation, knowing the comparative coolness of the water temperature, I taught him the meaning of the word procrastination. Yeh, we've all been there! It's nice to recall those little memories.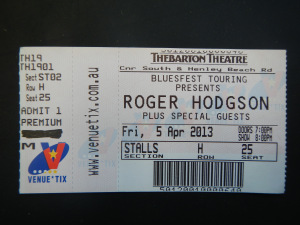 Back onto the subject -my sore spot. I sent for the doctor and one was sent. Finally, after years of patience, after years of viewing the YouTube clips, after years of telepathic messages via the Babaji, Roger Hodgson (one of the voices of Supertramp with Richard Davies) conducted the gathering, with his band, in Adelaide's Thebarton Theatre on this the 5th day of April in the year of 2013.

Roger opened the night himself without any earlier performer. He just walked on in behind a smile, sat down to his keyboard and pumped out a jaw-dropping Take the Long Way Home. I am not ashamed to say that during his next song School I wiped away a few tears. God sakes, I had to pull myself together, I'm a man.

The classics continued. He spoke humbly and gave his time generously between songs dedicating some to audience members for reasons varying from long distance travellers, birthday and even long-time fan support. He is the man I always expected him to be – warm and honest.

A small snippet of info for those not aware. There is an agreement with ex Supertramp member and songwriter that the songs Roger wrote he can continue to perform and the songs Richard Davies wrote will continue to be performed by Supertramp in its current form. This allows us to enjoy Rogers' performing such classics as Hide in Your Shell, Breakfast in America, The Logical Song, Lord is it Mine together with some of his solo numbers In Jeopardy, Lovers in the Wind and more.

A special mention needs to be made of the four piece band. They are clearly great musicians with a wonderful understanding of the nuances and timing of the songs performed. This was particularly evident during the song Fool's Overture performed after the interval and near the end of the two hour plus concert. Amazing stuff.

I am not a particularly Christian man however on this night heaven and earth rotated pretty close as Roger drew the breath of angels to deliver an ethereal performance unequalled in all my born days. Where does that voice come from?

I see now that in labeling the concert "Roger Hodgson and Special Guests" we were in fact, the special guests.
Thank you Roger.

Lee

p.s. Standing at the stage front as the concert finished Roger reached down as he was leaving and shook my hand – very cool!

For the original post, click here