Jazz Open Stuttgart
Roger Hodgson spielt auf dem Schlossplatz - mit Orchester

Matthias Ring, 07.07.2013 13:54 Uhr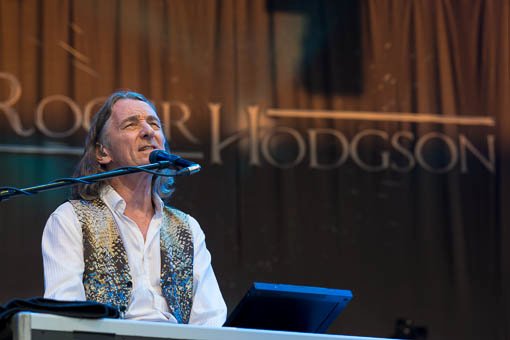 Der Ex-"Supertramp"-Frontmann Roger Hodgson hat sich auf dem Schlossplatz
ans Klavier gesetzt. Aber eine Band hatte er natürlich auch dabei. Und die
Stuttgarter Philharmoniker. Klicken Sie sich durch unsere Bilderstrecke!
Foto: 7aktuell.de | Florian Gerlach

Stuttgart - Vielleicht ist es im zwanzigsten Jahr der Jazz Open müßig darüber nachzudenken, wie hoch der Anteil an Jazz bei den Acts auf der großen Bühne des Schlossplatzes noch ist. Neue Impulse aber darf man auch vom Pop erwarten. Allein: wie sollen sich diese Impulse anhören mit Songs von einer Band, die es seit dreißig Jahren nicht mehr gibt, dargeboten von "the legendary Voice of Supertramp", aus deren Feder sie immerhin stammen?
Nun ist es vielleicht ebenso müßig darüber nachzudenken, wann bei solchen Versuchen von Pop meets Classic wirklich eine Bereicherung herausgesprungen wäre. Aus der jüngeren Vergangenheit fällt uns nur ein Beispiel ein, mit dem in eine neue Dimension vorgestoßen wurde: Peter Gabriel verzichtete bei seinem Experiment komplett auf die Band und ließ seine Songs völlig neu arrangieren.
Streicherteppich von den Philharmonikern


Bei Roger Hodgson mit Band und den Stuttgarter Philharmonikern aber kommt vom Orchester auf einem nicht schlechten Tribünenplatz im nicht ausverkauften Ehrenhof des Neuen Schlosses außer einer sommerlichen Brise nur ein dezenter Streicherteppich an, der meist gleichförmig klingt und manche Melodien einfach eins zu eins überträgt.


Es scheint so, dass Bernd Ruf, zu dessen Referenzen die Orchestrierung von Pur und Katie Melua zählt, in seinen Arrangements nach wie vor nur auf das Allernötigste setzt. So kann man sich einigen Klassikern der Popgeschichte zwar nostalgisch hingeben, denn Roger Hodgson ist immer noch gut bei Stimme.


Kitsch gegen Solopart am Piano


Den Anspruch jedoch, den Songs von Supertramp groß orchestriert noch mehr abgewinnen zu können, muss man als Abend der verpassten Möglichkeiten werten. Vielleicht bieten Lieder wie "Dreamer", in denen Hodgson – typisch Supertramp-Sound – mit der Rechten aus dem E-Piano die Sechzehntel heraushackt, einfach zu wenige Lücken für einen großen Klangkörper. Aber auch in den leisen Momenten von "School" etwa spielt das Orchester eine so geringe Rolle, dass es überflüssig wird.


Einzig in den durchweg getragenen Nummern wie "Lovers in the Wind" oder "Only Because of You" kommt eine breitere Instrumentierung zum Tragen – und wird zum Kitsch. Und eingesetzt wird das Orchester natürlich auch in einem Song, der es mit seinen klassischen Ambitionen schon im Original auf über zehn Minuten bringt: "Fool's Ouverture", die heimliche Hymne von Supertramp, die freilich im Schatten von all den gespielten Hits wie "Breakfast in America", "Logical Song", "Give a little bit" und "It's raining again" steht.


Einer der eindringlichsten Momente aber an diesem Abend ist bezeichnenderweise einer der stillsten. Es ist – eben – der Song "Even in the quietest Moments" von und mit Roger Hodgson: er, ganz allein auf der zwölfsaitigen Gitarre.
Wir zeigen Bilder von Roger Hodgsons Konzert. Klicken Sie sich durch!
Für die Original-Artikel: stuttgarter-zeitung.de
---

Jazz Open Stuttgart
Roger Hodgson plays on the Schlossplatz - with orchestra

Matthias Ring, 07.07.2013 13:54 Uhr
Translation: Elke Beckett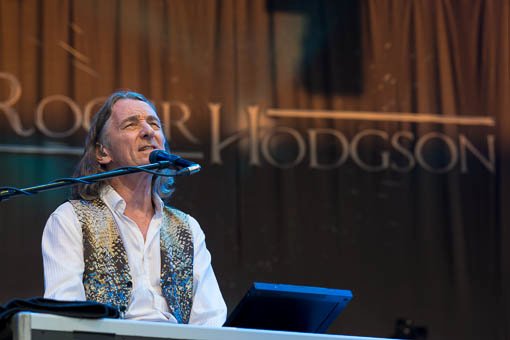 On the Schlossplatz, ex-"Supertramp" frontman Roger Hodgson sat down at the piano.
But, of course, he brought along a band as well. And the Stuttgart Philharmonics.
Photo: 7aktuell.de/Florian Gerlach

Stuttgart - with the Jazz Open being in the twentieth year now, it may be pointless to reflect on the question how much jazz there is left when it comes to the acts on the main stage of the Schloßplatz. But new impulses may also be expected from pop. However, how should those impulses sound when it's about songs of a band that does not exist anymore (for thirty years), presented by "the legendary Voice of Supertramp", who has penned them after all?
Now, it may be just as pointless to reflect on the question: when have such attempts of pop meets classic really led to an enrichment. We could only come up with one example from the recent past, which advanced things to a new dimension: In his experiment, Peter Gabriel did completely do without the band and he had completely new arrangements for his songs.
Carpet of strings from the philharmonics
But with Roger Hodgson with band and the Stuttgart Philharmonics, there's only an unobtrusive carpet of strings (and a summerbreeze) that can reach a seat (not a bad one) on the grandstand at the not sold out Ehrenhof of the New Castle. And it (the carpet of strings) mostly sounds monotonous and some melodies simply get transferred one-to-one.
It seems as though Bernd Ruf, whose references include the orchestration of Pur and Katie Melua, still focuses only on the bare minimum in his arrangements. In that way one may in fact nostalgically indulge in some of the classics of popmusic as Roger Hodgson's voice is still in good shape.
Kitsch versus solopart at the piano
However, the claim that one may be able to get even more out of the Supertramp songs by means of the huge orchestration must be looked at as an evening of missed opportunities. Maybe it's because songs like "Dreamer" - where Hodgson (in typical Supertramp sound) was hammering the semiquavers out of his e-piano with his right - offer too little gaps for a huge body of sound. But even in the quiet moments of "School" for instance, the orchestra plays such a minor role that it becomes redundant.
Only for the consistently solemn pieces like "Lovers in the Wind" or "Only Because of You" there is a broader instrumentation - and it turns into kitsch. And the orchestra of course comes into operation for a song which - with its classical ambitions - already reaches over ten minutes in the original version: "Fool's Overture", Supertramp's secret hymn, which - as a matter of fact - is outshone by all the hits that were played like "Breakfast in America", "Logical Song", "Give a Little Bit" and "It's Raining Again".
However, in a significant way, one of the night's most haunting moments is one of the quietest. It is just that song: "Even in the Quietest Moments" by and with Roger Hodgson: he himself, all alone on the twelve string guitar.
For the original article: stuttgarter-zeitung.de
Back to top