Roger Hodgson: Supertramp's Main Man is Back From His Little Break of ... 17 Years

Nov 04, 2012

When Hurricane Katrina hit, you probably heard a lot of Supertramp's effervescent old pop hit, "Give a Litt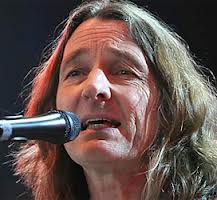 le Bit."
Roger Hodgson, now 62, singer-guitarist-keyboardist-co-songwriter in the band for 14 years, gave it to the Red Cross to help drum up relief dollars. Well, Sandy just devastated New Jersey, parts of New York City, and a swath of the Eastern Seaboard and we were on the phone with Hodgson, who plays a gig Sunday at Lynn Auditorium.

"I've actually just sent a message to Red Cross, to see if they want to use it in fundraising efforts because I know a lot of people are hurting," says Hodgson. "We're doing these shows and donating some proceeds and offered the song, as I have in the past. [Sandy gave us] a huge mess and I have a lot of compassion for what people are going through."

I tell him we just got brushed here, relatively speaking, in Massachusetts. But I was out at Cirque du Soleil Wednesday and having this great escapist fun and it felt a little odd. I guess it's the contradiction we live with – enjoying life while others are suffering.

"I sense that and I totally understand it," Hodgson says. "It didn't feel right to come in and do business as usual. It's far from business as usual."

The fact that it's business at all for Hodgson is, well, a bit unusual. He and his young backing quartet are on tour and it's taken a while to get to that point.

JSInk: Can you explain your long time off?

Hodgson: When I left Supertramp there were two reasons, I was a little disillusioned at that time with the music industry and the other thing was I had a family. So I made a very difficult decision to leave the band and make the family my priority. Eveen though I made a couple of albums in the home studio I'd built, I basically didn't tour for 17 years. And it was a good time. It was good to get away from the industry, to find myself again and kids taught me about myself. I'm glad I that I made that decision. I don't have any regrets today, but now that I'm returning to music under my own terms. I don't feel like I'm part of the music machine. It feels really different.

The music world changed drastically. It's a different machine, kinda rickety.

It's very different for me. I obviously did learn a lot about myself, because now
on stage I'm a whole different person to the shy introverted person I was in back with Supertramp. You can't stop me now. I'm talking, joking, having great time on stage.

Was it more formal then or were you just not comfortable talking?

It was a great adventure, but I was young and didn't have the self-confidence to talk to the audience so I basically hid behind my songwriting and the band. In a way I was a songwriter within a band. Back then I needed it and now I don't.

You and co-songwriter Rick Davies shared all the credits. But you worked separately right? Sort of like Lennon-McCartney

Very much, exactly like that.

Any regrets about that decision? With people not knowing who wrote what?

Yeah, I think if I had been better at business back then and had a crystal ball to look ahead, I would have done a few things differently. Here we are now, and my songs have stood the test of time – they're the hits and are still played all over the radio. So that might not have been the smartest business move but I didn't think in those terms I just did it for the love of music. And I think for me also, Supertramp was my passion – I was so much the driving force behind the band and for 14 years I poured my whole lifeblood into Supertramp. So it was kind of a shock to leave and think if I'm going to have a career in the future it's going to be under the name Roger Hodgson. But that wasn't a burning passion. It took a while to become comfortable under the name Roger Hodgson, but here I am touring and it's taken eight years to kind of be able to tour in America just because of a lack of name recognition. It's ironic that everyone has heard my songs on the radio, but they don't know the name Roger Hodgson and that's the biggest hurdle we've had to overcome.

Reminds me another Roger, Roger Waters, who when he left Pink Floyd and toured under his own name, found he couldn't sell out arenas when Floyd was still packing stadiums and he had trouble selling out hockey arenas.

Yep. It's very similar pattern except Roger Waters continued after he left Pink Floyd and I took a 20-year hiatus. [Hodgson's last studio disc was "Open the Door," in 2000.)

True. Now, this tour is called "Breakfast in America," which sold something like 20 million copies when it was released in 1979. Are you playing it all the way through?

No. The reason it's called 'Breakfast in America' is for name recognition. It's a suggestion my agent had to help people connect the dots. Yes, I'm playing all my songs from 'Breakfast in America," like "Take the Long way Home," "The Logical Song" and "Breakfast in America" etc. These songs meant so much to people, and I'm not ashamed it play them. It's wonderful to play them and take people on such a journey. If they want to hear "Dreamer" and "Give a Little Bit" and all this, [they will and] I've written plus some surprises.

Does it feel nostalgic to you or fresh and vital?

I think if they did feel nostalgic I don't know whether I could do it. For this, I go on stage every night and never get tired of singing them. There is an evergreen, fresh quality to them. Yes, people have memories associated with them, but I'm looking out of four generations plus, a lot of young people, so it seems like it crosses generations and brings generations together. It's wonderful, too, to have a legacy of songs like that. It has a nostalgic element, but the freshness I feel is far from it. They feel very current lyrically they feel very relevant to the times. "Give a Little Bit" is more relevant than when I wrote it, for example.

And "Logical Song," with its accusations – "they called you a radical, a liberal." Those are dirty words to half the country.

Totally. Times have not got easier. I don't think there's any less confusion now then when I wrote that song. There's a lot of people asking for direction in their life, asking "who I am."

I know you've talked about your relationship to God and spirituality. Is any formal religion part of it?

I've never really been into formal religions. I believe everyone's path to whatever you want to call it - God, inner peace, our true home - is different. Everyone has a unique path, but to put us all under one banner and say "this is the way," I don't buy into that. To me, when I was young I had a real thirst to find meaning and purpose in my life. My upbringing and schooling left me more confused than ever. It was strong enough to find some answers for myself that really worked. I do believe there's a much greater purpose than the American Dream or the English Dream or whatever they try to sell us in school. There's a much bigger purpose to life and a much deeper connection to what we call God. To me, God is love, as simple as that. I really believe we are here in this life to learn how to truly love. God is my closest, dearest friend. It's important when I'm doing things for the right reasons.

I've gone back and forth over the course of my life with belief and non-belief, I guess. I think a lot of it's based on wanting to believe that when it's over, it's not really over. We have somewhere else to go. Do you believe that?

I totally believe in reincarnation. And I think it's a fundamentally different. It changes your whole belief system. If you believe there's an afterlife and you come back and you're here to learn lessons. It makes you a lot less selfish. If you think this is the only life, you try to get the most out of it for yourself. I believe in the arc of life.

"The Logical Song" http://www.youtube.com/watch?v=MDiuQCz46dw.
"Give a Little Bit" http://www.youtube.com/watch?v=4SQGJmgnEI8

Tix: $85-$49. Starts at 7:30.

3 City Hall Square, Lynn, 781-581-2971 www.lynnauditorium.com http://www.RogerHodgson.com and http://www.facebook.com/RogerHodgsonOfficial.


For article online: jimsullivanink.com