Zeltfestival Honberg Sommer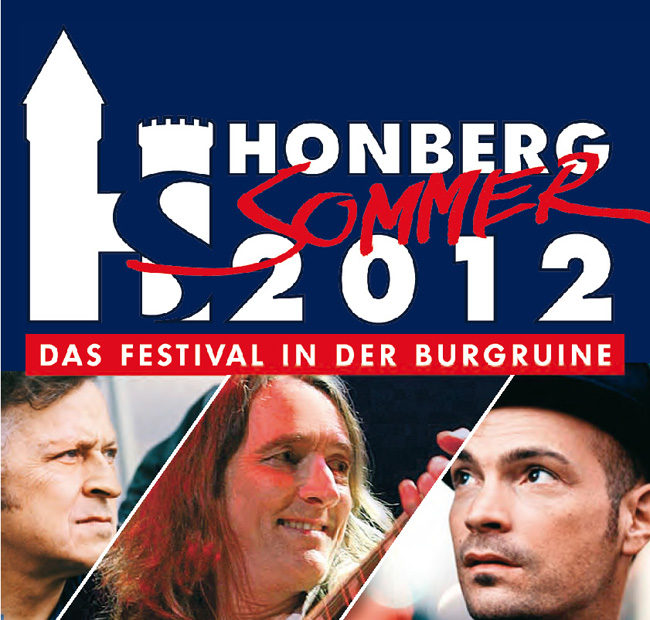 Roger Hodgson "Breakfast in America"
Festival Programm Seite 21
Kein Zweifel: Gäbe es eine Art Hitparade der schönsten Konzerte auf dem Honberg, stünde Roger Hodgson mit seiner Show von 2009 mindestens unter den Top 3. Auf der Bühne nur er und ein Saxofonist mit dem phantastischen Songmaterial aus Supertramp- Tagen und aus seiner Solo-Karriere. Viele baten uns, diesen außergewöhnlichen Künstler wieder zum Festival einzuladen, worüber sich Roger übrigens nach eigenem Bekunden sehr gefreut hat. Nach drei Jahren erfüllt uns das musikalische Mastermind den Wunsch nach einem zweiten Auftritt – und kommt dismal mit einer erstklassigen Band zu uns …
Hodgson gilt als einer der erfolgreichsten Songschreiber, Komponisten und Texter unserer Zeit. Er schrieb und sang die größten Hits von Supertramp, darunter Pop/ Rock- Perlen wie "Give A Little Bit", "The Logical Song", "Dreamer", "Take The Long Way Home", "Breakfast In America", "It`s Raining Again" und "School", um nur einige zu nennen. Während Roger Hodgsons Zeit bei Supertramp verkaufte die Band über 60 Millionen Alben weltweit. Auf dem Höhepunkt des Erfolgs entschloss er sich, mit seiner Familie in der Abgeschiedenheit der Natur zu leben und spirituellen Werten zu folgen. Einige Solo-Werke, darunter das legendäre Album "In the Eye of the Storm", erschienen in dieser Zeit. Aber erst 2002, als die Kinder erwachsen waren, began der Künstler mit ungebrochenem Erfolg wieder weltweit zu touren.
Im Juli 2012 kommt die Legende mit der unverwechselbaren Stimme zurück. Erleben Sie mit Roger Hodgson einen der wichtigsten Künstler der Pop- und Rockgeschichte. Einen Weltstar, dessen künstlerische Qualitäten als Sänger und Musiker ihresgleichen suchen. Lassen Sie sich auf eine emotionale Reise in die 80er entführen – mit einigen der größten Hits aller Zeiten.
---
HONBERG SOMMER FESTIVAL
Please note that translated quotes are often not Roger's exact words - this may be a rough translation and the article may contain some inaccuracies.
Roger Hodgson "Breakfast in America"
Honberg Sommer Festival Program Page 21


No doubt: If there was a kind of hit parade of the finest concerts on the Honberg, Roger Hodgson and his show of 2009 would range among the Top 3 at least. On stage it was only him and a saxophonist along with his fantastic song material from the Supertramp days, and from his solo career. Many asked us to invite this extraordinary artist to the festival once again. A fact that Roger by his own admission was very happy about. After three years, the musical mastermind has granted us the wish for a second performance and he is bringing a first-class band this time...
Hodgson is one of the most successful songwriters, composers and lyricists of our time. He wrote and sang the greatest hits of Supertramp, including pop / rock gems such as "Give A Little Bit," "The Logical Song", "Dreamer," "Take The Long Way Home," "Breakfast in America", "It`s Raining Again" and "School", to name a few. When Roger Hodgson was with Supertramp, the band sold over 60 million albums. At the peak of success, he decided to live with his family in the seclusion of nature and to follow his spiritual values. Some solo works, including the legendary album "In the Eye of the Storm," was published at that time. But it was not until 2002, when his children were grown, that the artist began to tour again with unbroken success worldwide.
In July 2012, the legend comes back with the unmistakable voice. Experience one of the most important artists of pop and rock history with Roger Hodgson. An international star, whose artistic qualities as a singer and musician are unparalleled. Let him take you on an emotional journey into the 80s - with some of the biggest hits of all time.
Festival Program