ROGER HODGSON The Legendary Rock Voice
Returns to Huntington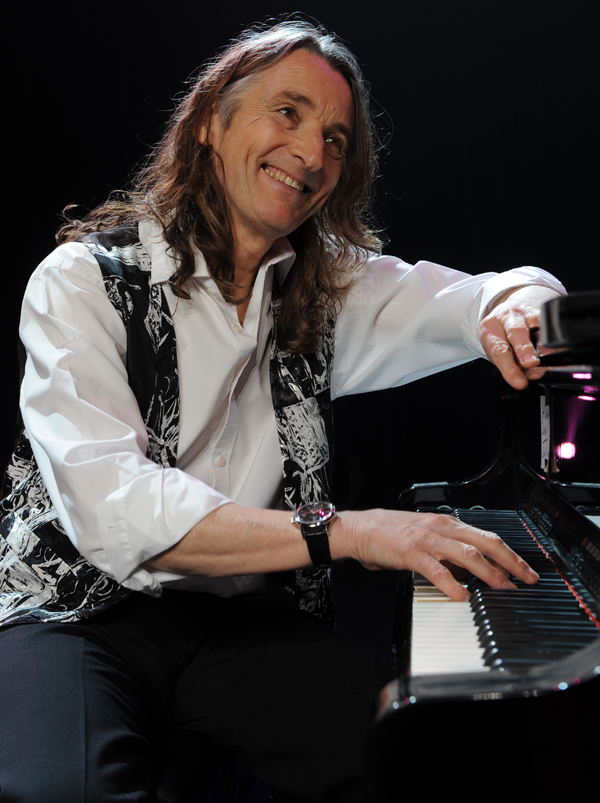 Roger Hodgson, Supertramp's co-founder and singer/songwriter and an area favorite, will bring his tour to The Paramount in Huntington on Tuesday, November 11. He will be joined on stage by his full band to perform his classic hits and a selection of songs from his solo albums.
For tickets and more information: paramountny.com.
Uniting generations at his concerts, Hodgson transports baby boomers back to their youth and gives younger generations a taste of why his heartfelt songs have endured. Hodgson's songs include such now-classics as "Take The Long Way Home," "Give A Little Bit," "The Logical Song," "Breakfast In America," "Dreamer," "School," "Child Of Vision," "Even In The Quietest Moments," "It's Raining Again," and "Fool's Overture." In concert, Hodgson also delivers select songs such as "In Jeopardy" and "Lovers In The Wind" from his five solo album releases.
Much like other veteran artists who have passed through the area recently such as Burton Cummings and Ian Hunter, seeing Hodgson as a solo artist is every bit as entertaining as it was to seem him as a part of his former band, Supertramp. Fans expecting anything less than a full-scale night of hits and memories from this charismatic performer need not worry.
"People tell me I am one of music's best kept secrets," said Hodgson. "I have many fans following me around the world because the show I am currently doing with my band is so special. Even many huge Supertramp fans are admitting that the band I have put

together actually sounds better than the original, so the audience is in for a wonderful surprise. This year, in addition to my popular duo and orchestral shows, I am performing with an excellent band of four very versatile musicians. They are high caliber musicians and passionate about the music."
A question that Hodgson is continually asked is why he left Supertramp at the height of their hitmaking powers in 1983.
"When I left Supertramp in 1983, it was to follow my heart, which was telling me it was time to make home, family, and spiritual life my priority," said Hodgson. "I wanted to be with my children as they grew up. I had become disenchanted with the music business. Supertramp had been my baby, my life for 14 years but I felt a completion. At that point I chose to have my primary focus be my family and not my career. I also pretty much left the music industry and took my family to a healthier place to raise my kids – up in the mountains of Northern California. I moved out of Los Angeles and built a home studio so I could continue to create music and although I made a few albums, I never toured behind them. My kids are now grown and I'm older and wiser and very happy to be touring again these last years ... Contrary to what people believe, Supertramp did not break up because I wanted to start a solo career or because of difficulties between me and Rick (Davies)."
Today, Hodgson seems healthy, wiser, and more than a bit enthusiastic about his current musical life.
"One of the things that I like most about making music is how it has brought people together from all over the globe and how many lasting friendships have been made through a common love of my songs," said Hodgson. "It is a very special and personal connection I have with many of my fans and that the fans have with one another ... At my concerts I'm now seeing three generations singing along with me, and it's wonderful to see more and more young people discovering my music." For more on Roger Hodgson: RogerHodgson.com or Facebook.com/RogerHodgson.
---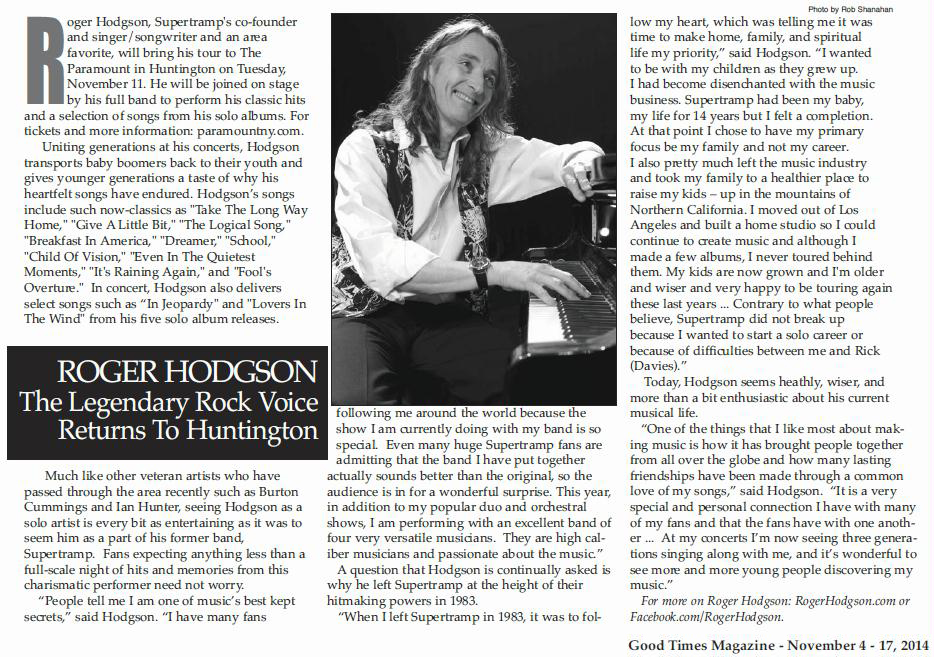 Click here for the original article:
Good Times Magazine
Back to top