Hodgson Enchants Audience with Supertramp Classics
By Patrick Langston, Ottawa Citizen September 3, 2011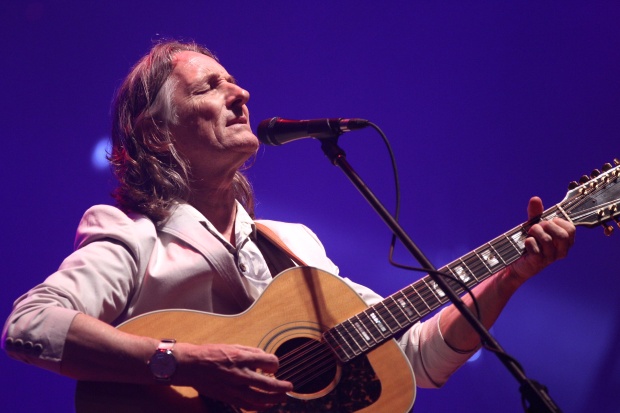 Roger Hodgson, formerly with Supertramp,
performed at the Gatineau Hot Air Balloon Festival,
held at Parc de la Baie, in Gatineau on Friday evening.
Photograph by: Jana Chytilova, The Ottawa Citizen
REVIEW: Roger Hodgson
The Gatineau Hot Air Balloon Festival
Reviewed Fri., Sept. 2

GATINEAU — Brimming with musicality and charm, Roger Hodgson, whose tenor voice once practically defined the
sound of British rockers Supertramp, achieved instant lift-off as the headliner at the Gatineau Hot Air Balloon Festival
concert Friday night.

The personable Hodgson at 61 can still sing rings around plenty of guys half his age. In fact, he didn't sound a whole
lot different — well, maybe on some high notes — from the fellow who co-founded Supertramp with Rick Davies
four decades ago and before leaving in 1983 helped put the band on track to sell 60 million albums.

Hodgson has played Ottawa a couple of times recently while the remaining members of Supertramp performed at
Scotiabank Place earlier this year.

From his opener Take the Long Way Home to the rarely played Lady, I Wish I Was in London and a crackerjack rendering
of The Logical Song, Hodgson was in grand form on Friday, alternating between keyboards and guitar, leading his
well-oiled band, and enchanting his large audience.

He won the hearts of the crowd early in the show by speaking French as best he could. "Bonsoir tout le monde.
Gatineau, Gatineau, c'est mon premier temps en Gatineau," he said, adding in English, "I'm very happy to be back
home here in Quebec ... you are my people" (cue mammoth applause).

"My favourite thing in life is to play music for people," he told us, and we believed him.
Between songs, Hodgson soldiered on in French as often as he could, jumping between the two languages as he
dedicated the mammoth Supertramp hit Breakfast in America to the festival's volunteers. Someone had taken the
trouble to discover the number of volunteers so he could mention it on stage.

It was a fine end-of-summer evening for the outdoor show. The festival in Parc de la Baie bordering the Ottawa River
has a carnival atmosphere: bright lights, cotton candy and burger and temporary tattoo stands, don't-do-this-if-you-
suffer-from-vertigo rides. It's a relaxed and festive event with an enviable joie de vivre.

Back at the show, Hodgson, who's got to be one of the most relaxed guys ever to play a rock 'n' roll concert, strolled
out on the thrust stage. Waving at his audience and smiling broadly, he snapped photos of his delighted audience
before returning to the keyboard for a soaring rendition of the inspirational Lord Is It Mine and an expansive
Child of Vision.

Hodgson also accompanied himself on acoustic guitar as he sang John Lennon's Across the Universe. Saying he'd
played the song at a recent Liverpool concert, he dedicated that song to the Beatles. Too bad the yahoo component
of the audience couldn't stop hollering even for three minutes.

He closed the show with the pure pop of It's Raining Again, prompting several audience members to unfurl their
umbrellas and twirl them in time.

Heart throb David Usher opened for Hodgson. He included Alone in the Universe, Some People Say and other
favourites in his set. Like Hodgson, he earned appreciative applause for his valiant efforts to introduce his French
tune Je Repars in his not-quite-perfected second language.

The festival continues through to Monday with main stage shows by Marc Dupré, Roch Voisine and others.
Information: www.montgolfieresgatineau.com.

© Copyright (c) The Ottawa Citizen

Read more: