It's Raining Again as Roger Hodgson delights Atlanta Botanical Gardens

August 19, 2013
By: Andrew Snook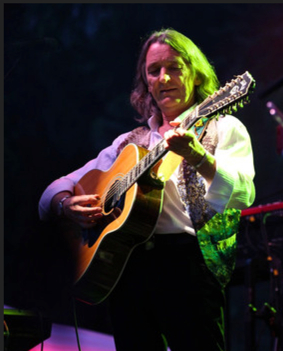 "Mesmerizing", "haunting", "beautiful", "magnificent" and "wonderful" were just some of the superlatives that fans used to describe Roger Hodgson's performance at the Atlanta Botanical Gardens on Sunday night.
On an evening when a steady drizzle fell, occasionally giving way to heavier showers, the Atlanta Botanical Garden hosted a crowd of about 2,000 who sat on the rapidly developing quagmire that had been the lawn, watching Roger Hodgson in concert. For those unfamiliar with the name, Hodgson wrote and sang some of the greatest musical hits of the 1970's when he was a driving force behind one of the biggest acts of that time, Supertramp.
Hodgson was in Atlanta as part of his "Breakfast in America" tour and despite the very wet lawn, the Atlanta Botanical Garden was the perfect location for this concert. This is one of the smaller venues on this tour and to be privileged enough to watch Hodgson and his band here was just wonderful. Hodgson provides an ethereal musical experience and the Atlanta Botanical Garden in the rain was the perfect environment for the evening's music.
Hodgson played for almost two hours and intermingled his Supertramp music with songs from his subsequent solo career. He opened with "Take The Long Way Home", and finished with "It's Raining Again". In between he played all the songs that you'd expect, "Dreamer", "The Logical Song", "A Fool's Overture", and "Give a Little Bit" among others while also interjecting songs that don't get as much playtime, "London" for example.
Throughout the show it was remarkable that Hodgson's voice has lost nothing since those days thirty years ago when he was lead singer for Supertramp. His voice actually has greater inflection and expressiveness these days and he used both of those to great effect throughout the evening. "Even In The Quietest Moments" and "If Everyone was Listening" were beautifully done.
Part of what made "Even in the Quietest Moments" so beautiful was Aaron Macdonald's accompaniment, first on saxophone and then on harmonica. That was just one instance when Macdonald's playing, as beautiful as it was, threatened to overshadow Hodgson's haunting vocals. Hodgson had previously suggested that this band were "second to none" and it might be true. Macdonald was joined by Kevin Adamson on keyboards, David Carpenter on bass guitar and Bryan Head on drums.
Hodgson also paid tribute to the band for their stamina as this was the third show the band had done in as many days and they were performing in Atlanta on the back of only two hours sleep as they traveled from a remote location in Quebec, Canada overnight.
In addition to the incredible catalog of beautiful music that Hodgson can draw upon, and in addition to his vocal range which is stronger than ever, it is the humility of his stage presence that draws the audience in and makes them a willing partner in the overall experience. Hodgson genuinely enjoys being on stage and genuinely appreciates the opportunity to recount personal anecdotes about the songs. Those anecdotes bring an extra level of insight and subsequent appreciation of the music.
Early in the evening Hodgson said it had been a long time since he'd played in Atlanta but that he couldn't remember exactly how long. A voice in the audience emphatically responded that it had been since May 15, 1979. At the end of the evening Hodgson promised it would not be as long before he returned. Drawing the loudest cheers from under their umbrellas, the crowd were encouraged by that fact, but also unanimous in their perspective that they'd like considerably less irony when Roger Hodgson played "It's Raining Again" upon his return.
Setlist
Take the Long Way Home
School
In Jeopardy
Lovers in the Wind
Breakfast in America
London
Sister Moonshire
A Soapbox Opera
The Logical Song
Death and a Zoo
If Everyone Was Listening
Child of Vision
Even in the Quietest Moments
Don't Leave Me Now
Dreamer
A Fools Overture

Encore
Give a little Bit
It's Raining Again

Next


Suggested by the author
Roger Hodgson, the voice of Supertramp, reflects on his life in music

For the original article: examiner.com
Back to top