Roger Hodgson brings voice of Supertramp to Chandler, February 26, 2012
Ted Hansen
Mesa Classic Rock Music Examiner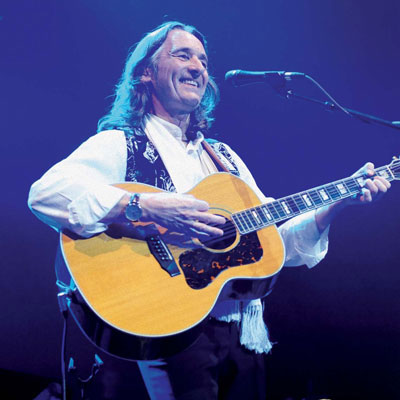 There's an odd phenomena with music fans that when a cool band becomes too popular, the band is no longer cool. So it was for Supertramp, the 1970's and 80's English progressive rock band who first caught the attention of American audiences in 1974 with their third album release, Crime of the Century, and its hit singles "Bloody Well Right" and "Dreamer." Supertramp's popularity rose with 1977's album Even In the Quietest Moments and its single "Give a Little Bit." But Supertramp's fame exploded with their 1979 release Breakfast in America and its string of singles "The Logical Song," "Goodbye Stranger," "Breakfast in America," and "Take The Long Way Home." Now everybody knew just how good they really were which meant the cool kids couldn't admit they liked Supertramp anymore (it's kind of like secretly admitting you liked ABBA). But time allows perceptions to change and now it's alright to admit you were a Supertramp fan all along. What better way to celebrate your appreciation than to witness the lead singer, songwriter, guitarist and keyboard player of Supertramp, Roger Hodgson, who will be appearing live on Sunday, February 26, 2012 at 7:30 p.m. at the Wild Horse Pass Casino's Ovations LIVE! Showroom in Chandler, Arizona.

Born in Portsmouth, England, Hodgson began writing songs at the age of twelve and became proficient at piano, bass, drums and even cello. Shortly after finishing school, Hodgson met Rick Davies and the nucleus of Supertramp was born. For the next fourteen years, Hodgson penned Supertramp hits such as "Dreamer," "Give A Little Bit," "The Logical Song," "Take the Long Way Home" "Breakfast in America," "School" and "It's Raining Again."
In 1983, after the release of Supertramp's Famous Last Words album and subsequent supporting tour, Hodgson parted company with Supertramp and chose to simplify his life. He began recording music at his home so that he could be with his family as they grew up. His first solo album "In the Eye of the Storm" was released in 1984 and became an international hit, selling over two million copies. In 1987, the same week that Hodgson's second solo album Hai, Hai was released, Hodgson took a severe fall and shattered both of his wrists. Doctors told him he would never play music again. They were wrong.

In 2000, Hodgson released his next studio album Open the Door and in 2001, after a long hiatus from touring, Hodgson hit the road and became a member of Ringo Starr's All Starr Band. Since then, Hodgson has continued to tour with his concerts featuring music from both his days with Supertramp and his solo material. His 2010 release, Classics Live, showcase his live performances.

As a philanthropist Hodgson has donated his time and signature song "Give a Little Bit" to help raise funds for Tsunami Relief, Red Cross, UNICEF, World Vision, and Hurricane Katrina efforts as well as other worthy causes.
Hodgson's appeal is mass and his fans constantly comment on the touching connection they seem to have with him through his concerts. Despite the fact that many of Hodgson's upcoming North American tour dates are sold out, tickets for the Wild Pass Casino show still remain and are available through the Wild Horse Pass Casino website. Remaining ticket prices range from $35.00 to $55.00 plus any additional taxes or fees. Discounts are available for active Gila River Player's Club Members Be cool. Blow off the Oscar's and catch this unique singer/songwriter.
To read the article on Examiner.com: click here