Supertramp's Roger Hodgson tells Grammy Museum audience he wanted to be a Beatle

Posted: March 1st, 2011 11:01 pm ET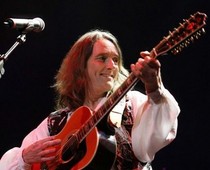 Roger Hodgson
Photo: Copyright Roger Hodgson Productions
Matt Hurwitz attended "An Evening With Roger Hodgson," the Grammy Museum event in Los Angeles Monday night starring the former Ringo Starr All-Starr Band member and member of Supertramp. This event was one of more than 70 in the last three years that included evenings with Ringo and also Dhani Harrison and thenewno2.

Besides the connection with Ringo Starr, the event had another Beatle link -- Ken Scott, who was engineer for the Beatles and produced several of Supertramp's albums, was in the audience and chatted with Hodgson during the event.
Here are some details about the show that Matt sent us:

Roger performed a number of his Supertramp classics in a "stripped down" manner - just him on a keyboard and an accompanist he has worked with for the last seven years. Everything from "Give a Little Bit," "Breakfast in America," "Fool's Overture" to "Take the Long Way Home." Really fantastic.
Roger, who chatted with museum director Bob Santelli, talked about the origins of Supertramp and his biggest inspiration - same as ours: He wanted to be a Beatle. Santelli had Hodgson walk the audience through his composition process, Roger explaining that the best of tunes come almost by themselves. "I just get out of the way."
He explained that he and his mother once found a dusty old harmonium, which they purchased in the 1960s. Roger composed a good many of Supertramp's hits on the instrument - which he still owns to this day.
Chiming in from the audience occasionally was Abbey Road/Beatles veteran engineer producer Ken Scott, who had produced several of the group's classic albums. The two talked about the creation of the unique soundscapes heard on Supertramp discs, many sounds of which had never been created before - long before the days of samplers.
Hodgson discussed his post-Supertramp days, time spent mainly raising his family in Northern California. He's currently playing a great many live gigs - both as described above and with a full band with orchestra - dates of which can be found on his website, rogerhodgson.com. He's also got his first album out in a decade, "Classics Live," which is a great representation of the show. It's available through the website.

Continue reading on Examiner.com: Supertramp's Roger Hodgson tells Grammy Museum audience he wanted to be a Beatle - National Beatles | Examiner.com http://www.examiner.com/beatles-in-national/at-grammy-museum-supertramp-s-roger-hodgson-reveals-he-wanted-to-be-a-beatle?cid=parsely#parsely#ixzz1G8PXtuLb