Roger Hodgson deslumbró con su elegante música

El músico inglés se presentó el miércoles en Metropolitano. Al frente de una banda compuesta por jóvenes y virtuosos músicos. Interpretó los clásicos de Supertramp que el público cantó y disfrutó.

19 abr, 2012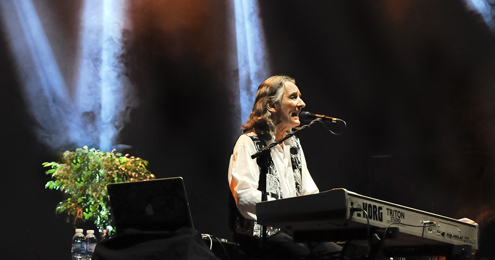 Foto gentileza de Fabiana Sylvester

Por Juan Aguzzi.

En un Metropolitano lleno exactamente hasta su mitad, que fue el espacio habilitado para la ocasión, se presentó anoche Roger Hodgson, la inconfundible voz de una de las bandas que hizo historia grande en el rock Supertramp.
El músico inglés subió al escenario acompañado de una banda que ejecutó con elegancia e intensidad los grandes temas de Hodgson tal cual sonaban en el gran grupo del que supo ser líder y uno de los compositores junto a Rick Davis, también vocalista, quien aportaba en el armado de temas. Fiel a una concepción sinfónica de su música, como la posta que tomó Supertramp cuando el rock sinfónico estaba decayendo a mediados de los 70, esta formación contó con cuatro teclados, dos tocados por distintos músicos, y los dos restantes, incluido un piano acústico de pequeña cola, por el propio Hodgson. El tecladista –uno de los cuatro jóvenes de la formación–, de origen canadiense, también se encargó de los saxos y clarinete, y tocó flautas y armónica y acompañó en percusión; un bajista y un baterista, ambos norteamericanos, dieron un soporte de una espesura monumental y compacta. De este modo, y con una simpatía y comunicación envidiables, que por supuesto el público acompañó con cánticos bien futboleros y de aguante y aceptación, algo que maravilla a los músicos extranjeros, Hodgson dio rienda suelta a un setlist que contenía por lo menos diez temas que buena parte de los presentes había escuchado y seguramente conformaba un caudal importante de su imaginario musical, y que en esta ocasión corearon entusiasmados o pidieron a viva voz su interpretación antes de que, generoso y dispuesto, el ex Supertramp los complaciera.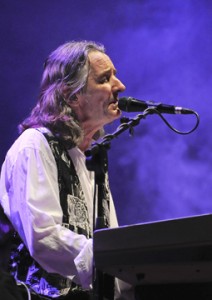 Foto gentileza de Fabiana Sylvester

Hodgson es un dúctil instrumentista y tiene la voz intacta; pasa de los teclados a las guitarras acústicas y presenta casi todas las canciones aludiendo al momento en que fueron compuestas o a los motivos de inspiración, refiriendo a sus sueños con chicas bonitas en California (porque no conocía las argentinas, aclaró) o al valor de la libertad que plasmó en la canción "Death and a zoo", que menta, a través de la figura de un animal, la oposición entre ser libre o estar enjaulado de por vida .

Sin duda, el lugar ganado con Supertramp permite a Hodgson ejercer un dominio de la escena y de la andanada rock-pop que despliega como un artificio cuidado hasta el último detalle, con muchos pasajes instrumentales, como lo demuestra el impresionante "Fool's Overture", es decir, la música de Hodgson parece apuntar fundamentalmente a generar climas, algo que ya fue originario de Supertramp y que esta banda traslada con eficacia y esmero, para hacer sonar las canciones tal cual prendieron en la gente.

Hodgson demostró que el tiempo no melló su voz y los registros agudos, casi de tenor, con que entonó varios de esos hits que atraviesan el tiempo y que tuvieron su bautizo con "Take the long way home" y School", fueron marcando el ritmo de un encuentro que por momentos se pareció a un festejo colectivo.

Así sonaron "Lovers in the wind", "Easy does it", "Sister Moonshine" –que por momentos parece un tema del Genesis comandado por Phill Collins–, la incomparable y anti generacional "Breakfast in America", a las que Hodgson fue introduciendo con algunas frases en un español bastante flojo y un inglés claro y preciso y dándoles un carácter íntimo para compartir con un público dedicado a escuchar atentamente cada frase de Hodgson. La insustituible "The Logical song", la danzarina "Dreamer", la más compleja y percusiva "Child of vision", fueron puntuando un encuentro musical que revisitó aquél de hace más de diez años atrás –cuando el músico inglés pisó por primera suelo rosarino– pero que volvió con una energía renovada, con una puesta impecable y muy vistosa, con músicos afilados en sus instrumentos y con la clara convicción de Roger Hodgson de estar haciendo lo que mejor sabe de la mejor manera.
---
ELCIUDADANOWEB
Please note that translated quotes are often not Roger's exact words - this may be a rough translation and the article may contain some inaccuracies.

Roger Hodgson dazzled with his elegant music

The English musician was presented Wednesday at the Metropolitan. Leading a band composed of young virtuoso musicians. He played Supertramp classics that audience sang and enjoyed.
Apr, 19th 2012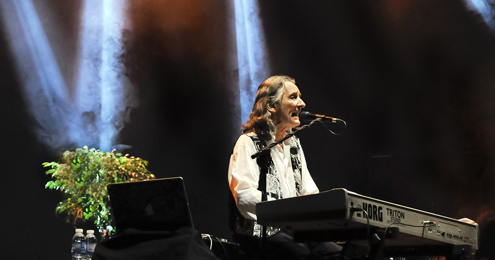 Photo courtesy by Fabiana Sylvester

By Juan Aguzzi.

In a Metropolitan full until exactly half , which was the space reserved for the occasion, was presented last night, Roger Hodgson, the unmistakable voice of one of the great bands that made ​​history in rock, Supertramp.
The English musician took the stage accompanied by a band that ran with elegance and intensity the major Hodgson themes as the same way they sounded in the great group that he knew how to be a leader and one of the composers together with Rick Davies, also a vocalist, who contributed in the building of the themes. Faithful to his conception of symphonic music, as the way that took Supertramp when symphonic rock was declining in the mid-70, this line-up had four keyboards, two played by different musicians, and the remaining two, including a small acoustic piano, by Hodgson himself . Keyboardist-one of four youth in the lineup-, a Canadian, was also responsible for the saxes and clarinet, and played flute and accompanied on harmonica and percussion; a bassist and a drummer, both Americans, gave a support of a monumental and compact denseness. Thus, with an enviable rapport and communication, which of course the audience accompained with good footballers chants and endurance and acceptance, something that amazes foreign musicians, Hodgson gave free rein to a setlist that contained at least ten songs that most of those present had heard and certainly satisfied a good deal of his musical imagination, and that, on this occasion, they excited chanted them or loudly ask for its performance, before,than generous and willing, former Supertramp pleased them.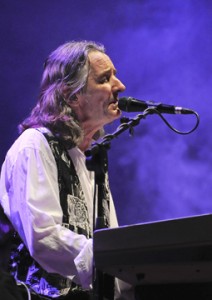 Photo courtesy by Fabiana Sylvester

Hodgson is a ductile instrumentalist and has his voice intact; he moves from keyboards to acoustic guitars and he introduces almost all the songs alluding to the time they were made ​​or the reasons for inspiration, referring to his dreams with the pretty girls in California (because he didn't know about the Argentine girls, cleared) or the value of liberty expressed in the song "Death and a zoo", that mentions, through the figure of an animal, the opposition between being free or being caged for life.

Without doubt, the place won due Supertramp allows Hodgson to practise a mastery of the stage and rock-pop that he displays as a carefully device until the last detail with many instrumental passages, as evidenced by the impressive "Fool's Overture", what means that Hodgson's music seems to point mainly to generate climates, something that was originally in Supertramp, and this band runs efficiently and carefully, to make sound the songs as they captivated people.

Hodgson showed that time didn't make an impression on his voice and high registers, almost tenor, with he sang several of those hits that go through time and had their baptism with "Take the long way home" and "School" were setting the pace of a meeting that at times resembled a collective celebration.
So sounded "Lovers in the wind", "Easy does it", "Sister Moonshine" – that sometimes seems a theme from Genesis, led by Phill Collins –, the incomparable and anti generational "Breakfast in America", that Hodgson introduced them with some phrases in a rather weak Spanish and a clear and precise English and giving them an intimate character to share with an audience dedicated to listening carefully every Hodgson's sentence. The irreplaceable "The Logical song", the dancer "Dreamer", the most complex and percussive "Child of vision", were scoring a musical encounter which revisited that one, of more than ten years ago – when the English musician stepped on for the first time on Rosarian soil – but returned with renewed energy, with a flawless and very colorful scenery, with great musicians on their instruments and with the conviction of Roger Hodgson to be doing what he better knows to do and in the best way.