Roger Hodgson Inspires at The Paramount - Huntington, NY 11-11-14
Posted by Meghan Ritter | December 26, 2014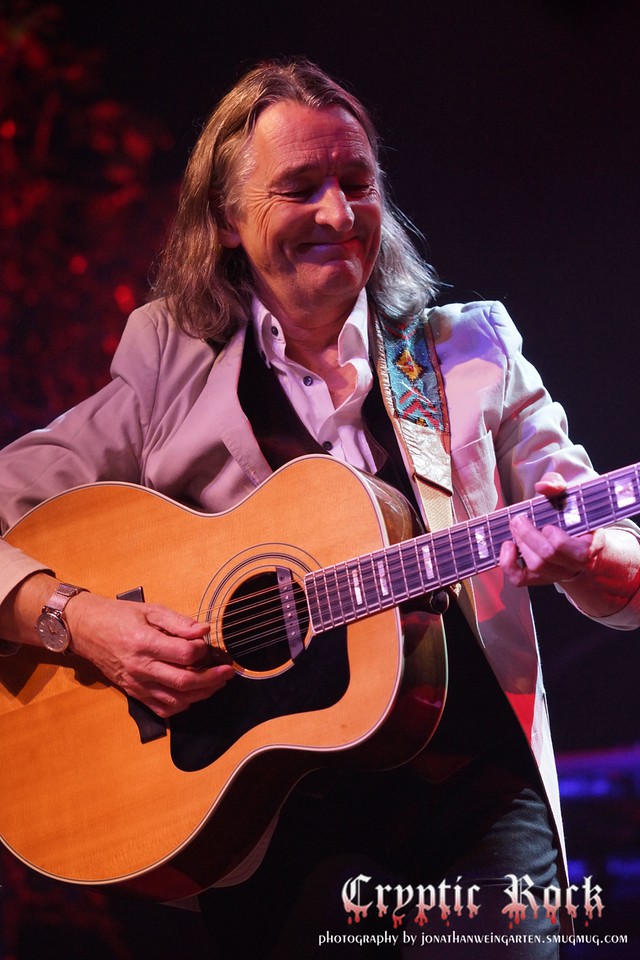 During the 1970s, English Rock band Supertramp owned some of the biggest hits of the decade. Led by singer-songwriters/co-founders Rick Davies and Roger Hodgson Supertramp brought Progressive Rock with catchy, radio-friendly elements to life. The band sold over sixty million albums and stamped themselves as one of the best Rock acts of all time, until Hodgson parted ways with Supertramp in 1983 to concentrate on his family and pursue his spiritual values. A largely self-taught musician, Hodgson first picked up the guitar while attending boarding school. A teacher showed him three chords, and Hodgson took it from there. He began writing songs immediately, and has been doing so ever since. Eventually adding piano – Hodgson took turns with Davies playing keyboards for Supertramp – drums, bass guitar, flute, and cello to his instrumental repertoire, Hodgson is the consummate musician, and his popularity, both as a member of Supertramp and as a solo artist, is widespread. On Tuesday, November 11th, Hodgson stopped at The Paramount in Huntington, NY to play in front of a large group of eager fans.
Hodgson's solo shows typically take on one of two formats: either Hodgson switches between instruments accompanied only by Aaron Macdonald, or he performs with the backing of a full band. The Paramount show took on the latter format, and, although it is not as intimate as the two-man show, Hodgson truly shines as a performer when not encumbered by bearing the bulk of the melody. Along with MacDonald, who provided saxaphone, harmonica, and keyboards, Hodgson was joined by Bryan Head on drums, Kevin Adamson on keyboards, and David J. Carpenter on bass. All accompanying musicians also provided backing vocals, with the exception of Head.

Hodgson played on with a range of fan-favorites, including "Breakfast in America," "Lady," and "Rosie Had Everything Planned," among others. As the evening wore on, it became apparent to all spectators how important Hodgson's presence was during his fourteen year stint with Supertramp. On hits like "The Logical Song," he still sounded amazing as his powerful vocals raised the spirits of all the fans. Mixing in the solo track "Death and a Zoo" from his 2000 album Open the Door provided an excitement equal to that of the Supertramp songs and highlighted a special moment in the night. Keeping the mood warm, comfortable, and most of all intimate, Hodgson closed out the set with "Dreamer" and "Fool's Overture." Receiving a standing ovation from the entire venue, he returned after an intermission for a tremendous encore of "Give a Little Bit." To many considered one of the most uplifting songs of the '70s, "Give a Little Bit" had the audience singing and dancing along until the very last note.

Every song has a story, and Hodgson proved that in addition to being an excellent musician, he is also a capable raconteur, as he related a number of anecdotes about his songs throughout the show. He admitted that he was suffering from what he called a "New York cold," but no one would ever have known had he not said anything about it. His voice was flawless, and he hit every high note with apparent ease. The Paramount offered the perfect setting for this intimate show, and for many it was the first time seeing Hodgson live in nearly four decades. It was a journey into Hodgson's music that brought the fans back to a special place. Hodgson even graciously stuck around after the performance to meet some very happy fans. It is rather shocking that Hodgson and Supertramp have yet to be inducted into the Rock and Roll Hall of Fame, but their importance to the history of Rock is apparent, and their time will most certainly come. With his warm demeanor, expert musicianship, and vast collection of hits, this Rock legend is still going strong, and for fans of uncomplicated Rock-n-Roll, Roger Hodgson offers a show worth seeing. Check him out as he continues his extensive world tour into 2015.


Click here for the original article: Roger Hodgson Inspires at The Paramount Huntington, NY 11-11-14

Back to top