"La Suisse m'impressione"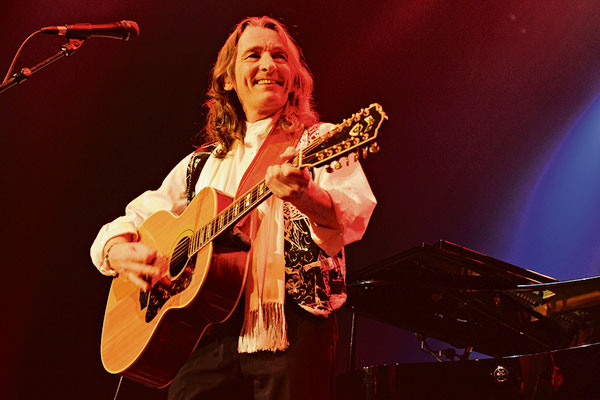 Roger Hodgson, ex-chanteur et compositeur du groupe «Supertramp», se produira sur scène, à Crans-Montana (VS), le 10 mars. De «Breakfast in America» à «Take the Long Way Home», les fans seront servis.

Pablo Davila
mardi
29.01.2013, 10:20 heure
Coopération.

Votre musique est toujours si positive qu'elle agit comme une médecine sur nos consciences. Qui êtes-vous, un chaman?
Roger Hodgson.
Pour moi, un chaman, ou un grand artiste, est celui qui a appris à être un canal qui véhicule quelque chose de plus grand que lui-même. J'ai toujours pensé que la musique est de la nourriture pour l'esprit, pour le cœur et pour l'âme. Et je crois que nous avons seulement gratté la surface des possibilités que nous réserve la musique pour guérir et encourager, inspirer. En fait, c'est quand je me laisse posséder par l'amour du chant et de la musique que la magie fait son irruption. C'est alors que les gens sont touchés par ce qui me traverse.
Vous savez, la vie n'a jamais été si dure et impitoyable que de nos jours. Je ressens une grande gratitude de pouvoir offrir, par mes concerts, un soulagement aux défis permanents que la plupart de nous doivent affronter au quotidien.
Pas facile de prendre un «Breakfast in America» quand on s'appelle Roger Hodgson… Comment faites-vous?
Ce n'est pas si difficile que ça, vous savez. Je jouis d'une certaine célébrité, mais elle n'est pas importante au point de m'empêcher de vivre ma vie privée. Je n'ai jamais recherché la célébrité, mais plutôt de servir au mieux mon prochain. La célébrité dont vous parlez m'est seulement utile dans le sens où je peux mieux servir un grand nombre de gens.
Vos fans affirment avoir l'impression que vous chantez «pour eux». C'est le secret de votre succès?
Ce n'est pas seulement une impression… J'aime les gens, et j'aime la vie, et je pense qu'on ressent cet amour lors de mes concerts. Quand je chante, je ressens pour ma part très fortement le lien qui m'unit au public. Mes chansons ne sont rien d'autre que des morceaux de mon cœur, offerts à celui qui les écoute.

En 1987, vous vous êtes brisé les deux poignets dans un accident. D'où avez-vous tiré la force pour continuer, alors même que la médecine moderne vous condamnait à un handicap à vie?
Oui, cet accident, et le diagnostic très négatif des médecins, a profondément changé ma vie. D'abord, j'ai sombré dans une profonde dépression. Je sentais que tout était fini. Mais un jour, j'ai décidé de ne pas accepter ce verdict. J'ai parlé à Dieu et à la vie, et je leur ai dit que, si je ne pouvais plus être au service de l'humanité à travers ma musique, eh bien, je préférais ne plus vivre.
Je crois que cette décision, prise avec une absolue détermination, ce vœu, mes prières et la résolution de devenir complètement responsable de ma vie, ont guéri mes poignets et leur ont donné leur complète mobilité, malgré le fait qu'ils étaient brisés en cent morceaux.
Vous n'en voulez pas à Rick Davies, qui a continué avec le groupe Supertramp en jouant vos plus grands hits sans votre autorisation?
Quand j'ai quitté le groupe en 1983, j'avais passé un accord oral avec Rick Davies: il pouvait continuer avec le nom de Supertramp, à condition de ne pas chanter mes chansons en concert. Il n'a pas respecté cet accord, et j'en ai été très triste et blessé. Mais la vie est trop courte pour ressasser le passé et se coltiner des ressentiments de la sorte. Rick a fait un choix, moi, j'ai fait le mien, et ma vie actuelle me rend vraiment heureux. Je suis heureux de ne pas chanter les chansons des autres, mais les miennes.
Composez-vous différemment que par le passé, maintenant que vous n'avez plus rien à prouver?
Non. Avec l'expérience, je peux entrer plus facilement dans cet état de réceptivité qui permet l'émergence de l'inspiration, c'est tout. Et vous avez raison, je n'ai plus rien à prouver. Je ne ressens plus le besoin de réussir une grande carrière.

Vous avez une soixantaine de morceaux inédits. Pourquoi ne les avez-vous pas enregistrés? A cause de la pression des médias, etc.?
C'est vrai, j'ai un trésor d'une soixantaine de morceaux inédits, et quelque part en moi j'ai très envie de les partager avec le public. La vérité est que je n'en ai pas le temps: je suis tout le temps en tournée. Je ne peux même pas accepter toutes les invitations qui me parviennent, de partout dans le monde.

Les titres de vos chansons ressemblent à des titres de roman. Vous n'écrivez pas?
Ecrire n'est pas dans mes projets. Je pense que je suis meilleur compositeur qu'écrivain. Concernant mes lectures, je relis en ce moment Autobiographie d'un yogi (de Yogananda, ndlr) et Le livre tibétain de la vie et de la mort.

Vous êtes un fan de la Suisse, je crois… non?
Je suis à chaque fois impressionné par la beauté de ce pays, et comme les Suisses en prennent soin. Oui, j'ai toujours eu le rêve d'avoir une maison ici, un jour…
Pour l'article complet: coopération-online.ch
---
Please note that translated quotes are often not Roger's exact words - this may be a rough translation and the article may contain some inaccuracies.

"Switzerland impresses me"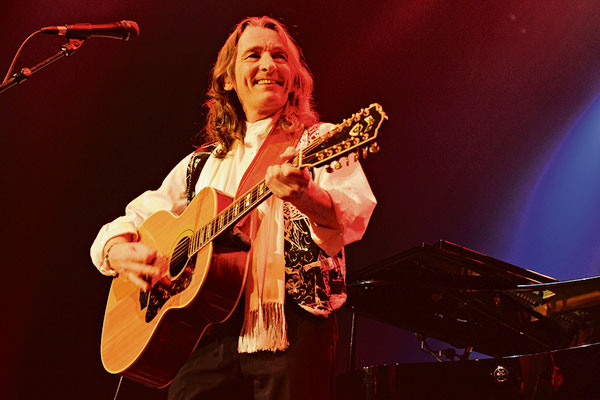 Roger Hodgson, former lead singer and songwriter of the band "Supertramp" happen on stage, Crans-Montana (VS), March 10. Of "Breakfast in America" to "Take the Long Way Home", fans will be served.

Pablo Davila

mardi

01.29.2013, 10:20

Cooperation. Your music is always positive if it acts as a medicine on our consciences. Who are you a shaman?
Roger Hodgson. For me, a shaman, or a great artist is one who has learned to be a channel that conveys something greater than himself. I always thought that music is food for the mind, the heart and soul. And I think we've only scratched the surface of possibilities that we reserve the music to heal and encourage, and inspire. In fact, this is when I have let the love of singing and music that makes its magic burst. It was then that people are affected by what through me.
You know, life has never been so hard and ruthless today. I feel great gratitude to offer through my concerts, relief ongoing challenges that most of us face daily.

Not easy to take a "Breakfast in America" when called Roger Hodgson ... How do you do?
It is not that difficult, you know. I enjoy a certain celebrity, but it is not severe enough to prevent me from living my private life. I never sought fame, but rather to better serve my neighbor. The celebrity you are talking about me is only useful in the sense that I can better serve a large number of people.

Your fans say they feel that you sing "for them." This is the secret of your success?
This is not just an impression ... I love people and I love life, and I think we feel the love in my concerts. When I sing, I feel very strongly for me the link that unites me to the public. My songs are nothing more than pieces of my heart, offered to the listener.

In 1987, you have broken both wrists in an accident. Where did you draw the strength to continue, even though modern medicine you condemned to a life-long disability?
Yes, this accident, and the very negative diagnosis doctors, has changed my life. First, I fell into a deep depression. I felt that everything was over. But one day, I decided not to accept this verdict. I talked to God and life, and I told them that if I could not be at the service of humanity through my music, well, I prefer not to live.

I believe that this decision, taken with absolute determination, hope, and my prayers resolution be completely responsible for my life, my wrists have healed and gave their complete mobility, despite the fact that they were broken in a hundred pieces.

You do not want it to Rick Davies, who went with the group Supertramp playing your greatest hits without your permission?
When I left the group in 1983, I had an oral agreement with Rick Davies: he could continue with the name of Supertramp, provided they do not sing my songs in concert. He did not respect this agreement, and I was very sad and hurt. But life is too short to dwell on the past resentments and wrestle so. Rick has made a choice, I did mine, and my current life makes me really happy. I am happy not to sing the songs of others, but mine.

You compose differently than in the past, now that you have nothing more to prove?
No. With experience, I can more easily enter a state of receptivity that allows the emergence of inspiration, that's all. And you're right, I have nothing to prove. I no longer feel the need to achieve a great career.

You have sixty unreleased tracks. Why do not you registered? Because of the pressure media.?
It's true, I have a treasure of sixty unreleased tracks and somewhere I really want to share with the public. The truth is that I do not have time, I'm always on tour. I can not even accept all the invitations I receive from around the world.

The titles of your songs like securities novel. You do not write?
Writing is not in my plans. I think I'm better composer writer. On my reading, I read now Autobiography of a Yogi (Yogananda, ed) and The Tibetan Book of life and death.

You are a fan of Switzerland, I think ... right?
I am always impressed by the beauty of this country, and as the Swiss caregivers. Yes, I always had the dream of having a house here one day ...

For complete article: coopération-online.ch

Back to top