Roger Hodgson: Door 'Closed' on Supertramp Reunion
by Gary Graff, Detroit | March 29, 2012 6:20 EDT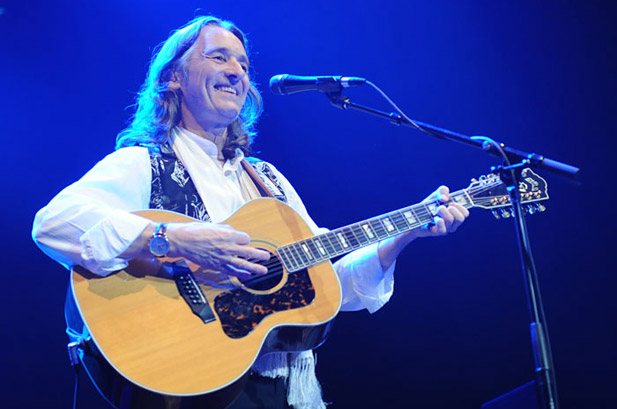 Former Supertramp co-frontman Roger Hodgson has taken the long way to his first full-scale U.S. tour, the occupational hazard of being in a "faceless" band better known for its songs than its individual members.
"The name Roger Hodgson is not particularly well-known," Hodgson, in the midst of a massive world tour that stretches into November, tells Billboard.com. "When I left the band (in 1983) I hadn't done anything to kind of get an identity for myself; it was really only die-hard fans who knew my name."

Hodgson credits his agent with the tour title, which he says "is working. It connects the dots for people that I was the guy who sang those songs -- 'The Logical Song,' 'Breakfast in America,' 'Take the Long Way Home,' 'Dreamer.' People everywhere know my voice, know the songs, the songs are still played all over the radio, yet you say Roger Hodgson and they say 'Roger who?' That's been the hardest job, to tell the truth."

Hodgson has done some of that work already in Europe and Canada, where he's been touring regularly. The latter also spawned the DVD "Take the Long Way Home -- Live in Montreal," which Hodgson has also released a digital album called "Classics Live."

"I feel like now people, or at least more people, know the name and associate my songs with the name, which is great. But it's still got a ways to go in America," Hodgson notes. "I'm very fortunate to have a wealth of material now that people that people have a deep relationship with. And the greatest thing for me as an artist is I never get tired of singing these songs. They really do have an evergreen quality. I would never have known they'd stand the best of time so well."

The Breakfast In America tour title, however, should not indicate that Hodgson will be playing that album in its entirety. When Hodgson left Supertramp he and co-founder Rick Davies agreed that they'd not perform each other's material in subsequent performances -- and Hodgson has been openly critical of Davies for violating the understanding.

There were overtures about reuniting in 2010 for the 40th anniversary of Supertramp's first album, but Hodgson says that "unfortunately the door was closed there. Nothing came of it." He adds that "all's quiet on the Western front right now. That was probably the last opportunity for us to do anything together again. And to tell you the truth, I've been very, very happy doing what I do. I feel like I'm able to give what I want to give in my shows, but I know there's certain magic and mystique and a lot of memories connected to the name. I gave it my best shot."
Facebook Group: Fans for a Real Supertramp Reunion
Hodgson -- whose last studio album, "Open the Door," came out in 2000 -- continues to write new music as well and says "I always have a backlog of material, 60 or 70 songs." What will happen with them, however, is up in the air. "Unfortunately, I don't have time to make an album nowadays," he says. "I try to get music out by playing it live and create ways for fans to get a hold of it and pass it around. So I'm contemplating what to do with (the songs). There are some really good ones, I think. At some point I'll put them out."
Visit Hodgson's website for tour dates and more information.
To post comments & read full Article: Click here