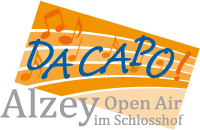 Da Capo-Veranstalter ziehen in Alzey positive Bilanz
Von Thomas Ehlke, 03.09.2014

Das angestrebte Ziel sei auf jeden Fall erreicht worden. Besonders angetan zeigt sich Burkhard vom Gastspiel des Supertramp-Frontmanns Rodger Hodgson. "Da sind wir in neue Dimensionen vorgestoßen", stellt der Bürgermeister mit Blick auf die Prominenz des Künstlers und die Zahl der verkauften Karten fest. 1750 Fans verfolgten nach Angaben von Marcus Stier das Hit-Spektakel. "Trotzdem konnte man sich noch gut bewegen. Das macht das Festival aus: Wir holen nicht das Letzte aus der Platzkapazität raus. Professionelles Programm und familiäre Atmosphäre – so soll es auch bleiben", bringt es Burkhard auf den Punkt.

---
Translation by Elke Beckett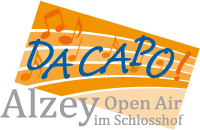 Da Capo-Organizers in Alzey positive balance
By Thomas Ehlke, September 3, 2014

The target was definitely met. The Mayor (Burkhard) was particularly pleased with the performance of Supertramp frontman Roger Hodgson. " We've advanced to new dimensions here" states Burkhard regarding the artist's prominence as well as the number of tickets sold. 1750 fans have attended the "hit spectacle" according to Marcus Stier (organizer). Burkhard sums it up like this: "Despite that number, people were still able to move. That's the special thing about the festival: We don't squeeze out the utmost of the space capacity. Professional programming and intimate atmosphere - that's how it shall stay."
Back to top