Geburtstagsständchen in der Meistersingerhalle

Roger Hodgson kommt nach Nürnberg - 10.03.11
Nürnberg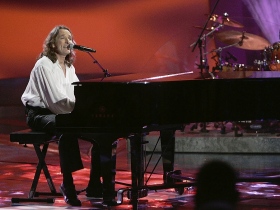 Roger Hodgson gastiert am kommenden Dienstag in der Meistersingerhalle.
Foto: oh


Gründungsmitglied Roger Hodgson verließ Supertramp schon im Jahr 1983 und hat seitdem eine erfolgreiche Solokarriere aufgebaut. Dennoch lässt ihn seine Ex-Band nicht los, weil er deren von ihm verfassten Hits heute noch spielt, wie auch auf seiner neuen CD "Classic Live" zu hören ist. Vor seinem erneuten Nürnberg-Gastspiel am kommenden Dienstag (Meistersingerhalle, 20 Uhr) sprach die NZ mit Hodgson.

NZ: Mr. Hodgson, Sie sind in der ganzen Welt unterwegs – inwieweit können Sie an frühere Gastspiele erinnern, beispielsweise an solche hier in Nürnberg?

Roger Hodgson: Ich erinnere mich durchaus an bestimmte Dinge bei verschiedenen Shows. Ich kann mich zum Beispiel daran erinnern, dass es fürchterlich regnete, als ich mit Supertramp in den 70er Jahren erstmals beim Reading Festival in England auftrat. Es gab einen Kurzschluss in meinem Verstärker, und ich musste deshalb über meinen Übungsverstärker spielen.

Der war schlecht geerdet, und ich bekam einen elektrischen Schlag, als ich ans Mikro ging, um zu singen. Oder ich erinnere mich an meinen letzten Auftritt mit Supertramp im Münchner Olympiastadion.

Als ich von der Bühne aus verkündete, dass es mein letztes Konzert mit Supertramp sei, herrschte eine eigenartige Stimmung. Was Nürnberg angeht, erinnere ich mich an meinen Auftritt in der Meistersingerhalle im März 2009. Damals waren Fans aus mindestens acht verschiedenen Ländern da – sie überraschten mich, indem sie während der Show plötzlich "Happy Birthday" anstimmten.

Es kommt ja oft vor, dass Publikum mit mir mitsingt – aber das war das erste Mal, dass die Leute vor der Bühne für mich sangen! Ich muss wohl nicht extra betonen, dass mich das sehr berührt hat. Was für mich eine der wichtigsten Sachen beim Musikmachen ist, ist die Tatsache, dass meine Lieder Menschen zusammenbringen, dass sie – wie ich aus meiner Fanpost weiß – lang anhaltende Freundschaften gestiftet hat.

NZ: Warum haben Sie jetzt ein Live-Album veröffentlicht?

Hodgson: Meine Fans haben mich seit Jahren gebeten, eine CD mit Live-Aufnahmen herauszubringen, und so habe ich Ende 2010 die ersten zehn Songs von "Classics Live" auf meiner Homepage www.rogerhodgson.com veröffentlicht. Ich wollte außerdem einen Konzertmitschnitt machen, weil ich heute besser singe als vor 30 Jahren, als ich diese Lieder mit Supertramp aufnahm.

NZ: Wie sieht es mit neuen Songs aus?

Hodgson: Ich genieße es, zu touren und für meine Fans in aller Welt aufzutreten. Hier und da streue ich den einen oder anderen neuen Song ein, der dann auch mitgeschnitten wird. Diese Live-Aufnahmen will ich dann irgendwann geballt herausbringen. Ich will das Touren nicht für sechs Monate unterbrechen, die ich bräuchte, um ein neues Studio-Album aufzunehmen.

NZ: Nach welchen Kriterien haben Sie die Stücke für die Platte ausgewählt?

Hodgson: Man kann sich mein Dilemma vorstellen, weil ich so viele Songs habe, aus denen ich wählen kann. Die Leute wollen natürlich die Supertramp-Hits hören, auch meine Solo-Hits wie "Lovers In The Wind" oder "Only Because Of You". Ich habe alle Konzerte meiner 2010er Welttour mitgeschnitten, von Babelsberg über Paris bis Belo Horizonte und Caracas – und so sind Fans in aller Welt Teil dieser Platte geworden.

Rodger Hodgson tritt am Dienstag, 15. März um 20 Uhr in der Nürnberger Meistersingerhalle auf.
---
Singing Happy Birthday in the "Meistersingerhalle"
Roger Hodgson is coming to Nuremberg - 03-10-11
Nuremberg - Roger Hodgson will be giving a concert at the "Meistersingerhalle" next Tuesday.
Co-founder Roger Hodgson has quit Supertramp back in the year 1983 and has since then built a successful solo career. But he can't let go of his old band because up till today he plays the Supertramp songs which he wrote, as can be heard on his new CD "Classics Live". Before he will return to Nuremberg next Tuesday (Meistersingerhalle, 8 pm), NZ spoke with Hodgson.
NZ: Mr. Hodgson, you are traveling all over the world - to which extent do you remember former performances, for instance the ones here in Nuremberg?
Roger Hodgson: I definitely do remember certain things from different shows. I can for one remember the dreadful rain when Supertramp was for the first time performing at Reading festival in England. There was a short circuit in my amplifier and I then had to use my practicing amp.

The latter was not earthed very well and so I got an electric shock when I moved up to the microphone in order to sing. I do as well remember my last performance with Supertramp in Munich, in the olympic stadium.
When I anounced from up on stage that this would be my last concert with Supertramp there was a strange atmosphere. As far as Nuremberg is concerned, I remember my performance in March 2009. Back then there were fans from at least eight different countries - they surprised me by suddenly singing "Happy Birthday" to me during the show.

It often happens that the audience is singing along with me - but that was the first time that the people in front of the stage were singing to me! I guess there's no need to stress that I was very touched by that. To me, one of the most important things in making music is the fact that my songs are connecting people, that they have caused long-lasting friendships - as I know from fanmail.
NZ: Why have you released a live-album now?
Hodgson: My fans have been asking me for years to publish a CD with live recordings and so, at the end of 2010, I have released the first ten songs of "Classics Live" on my homepagewww.rogerhodgson.com. Besides, I wanted to do some concert recordings because I sound better today than 30 years ago when I recorded these songs with Supertramp.
NZ: What about new songs?
Hodgson: I enjoy touring and performing for my fans all over the world. Here and there I do add some new songs which then also get recorded. I'd like to release those live-recordings all at once sometime. I don't want to stop the touring for six months, which is the time I would need to record a new studio album.
NZ: How did you choose the tracks for the new album?
Hodgson: I guess you can imagine my dilemma because I have so many songs to choose from. People of course want to hear the Supertramp hits, as well as my solo hits like "Lovers In The Wind" or "Only Because Of You". I have recorded all the shows of my 2010 world tour, from Babelsberg to Paris to Belo Horizonte and Caracas - and like that fans from all over the world have become part of this record.
Roger Hodgson will be performing in the Meistersingerhalle Nuremberg on Tuesday, March 15th, 8:00pm.