By Bernard Perusse, Montreal Gazette - April 29, 2009
Photo: Allen McInnis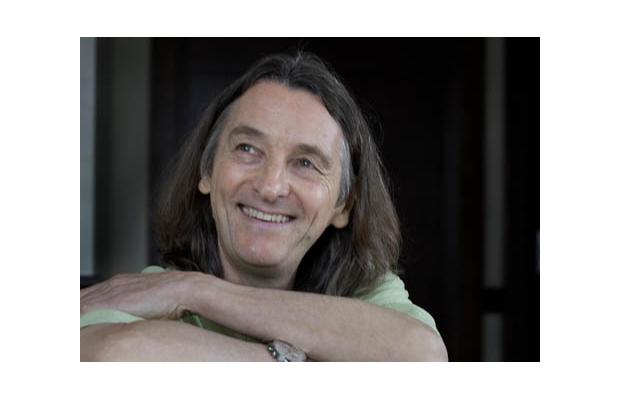 You'd be hard-pressed to find a Montreal music lover over the age of, let's say, 45 who doesn't remember Supertramp's two nights at Jarry Park in 1979. Those not among the 75,000 who attended inevitably seem to know someone who did. When group co-founder Roger Hodgson, who wrote most of the British group's biggest hits, performed at Salle Wilfrid Pelletier of Place des Arts three years ago, he was dramatically reminded – before playing a note on his piano – that the affection from his fans here had never cooled.
"They wouldn't let me start," Hodgson remembered during a recent Gazette interview at the St-Sulpice Hotel in Old Montreal. "They gave me a standing ovation for five, 10 minutes. I had a lump in my throat. I sat down to start and they wouldn't stop, so I stood up again – and I sat down. I did that twice. It was quite phenomenal."
Hodgson said that while he considers the band's 1974 album Crime of the Century to be its defining work, the golden years were peaking in 1979, when they played Jarry Park and their international breakout album Breakfast in America was released. The recording went on to sell 18 million copies worldwide.
"It was an amazing journey," Hodgson said. "It was much more than a band. It was a huge travelling family of 20 or 30 people, and people were very touched when they were around it. When Breakfast in America hit, the world did change dramatically for all of us. Suddenly, everything was magnified on every level. That came with its challenges: one of them was how to keep it all together. At the same time, we were all getting into families. I had two small children." (Hodgson's son, Andrew, is now 27 and his daughter, Heidi, is 29.)
The reasons for Hodgson's departure from Supertramp in 1983 have been the subject of speculation. Some of it has centred on personal conflicts over Sue Davies, the wife of Supertramp keyboard player Rick Davies, who was managing the group.
With 26 years of hindsight, however, Hodgson cited the demands of family and a need for the spiritual fulfillment he wasn't getting from being a rock 'n' roll star. While he didn't deny that peace and harmony were in short supply within the Supertramp camp when he left, he maintained that none of the politics would have affected his decision.
"I had to turn my attention to raising my children. Otherwise, I'd be looking back 20 years farther on, with a lot of regret that I missed out on their childhood and all the rich experiences that go along with that," he said. "It was a ballsy decision – and one that was not easy to take. Believe me, the fans came down on me, the industry came down on me, the band came down on me."
When Hodgson broke both wrists in a fall in 1987, doctors told him he wouldn't play again.
"Who I was as a man, as a musician, as a human being – the value I put on myself – was suddenly taken away," he said. "I had a lot of introspection and healing to do, which was actually very good for me."
Hodgson said the recovery led him to seek answers in what he calls his compass – spirituality, although not of the organized-religion variety.
"I was really trying to find my happiness, my peace, my sense of purpose, my sense of belonging," he said.
"For many, many years, I found that in music, but music became a crutch for my feelings of self-worth – and meanwhile, as a man, I was totally dysfunctional. So I had a lot of healing and growing to do on that level."
The last album Hodgson recorded with Supertramp was, prophetically, titled … Famous Last Words ... . His departure from the group, he said, came with an agreement: Davies would keep the name and Hodgson would keep his songs – mega-hits like Give a Little Bit, The Logical Song and Dreamer – for his own use.
Twice during the interview, Hodgson said Davies did not hold up his end of the bargain. The Hodgson-less Supertramp continued to perform his songs.
"That's my only grievance over the years," Hodgson said. "That was a broken promise by Rick. When I left, he agreed that that wouldn't happen. That hurt; that was hard."
Complicating matters was the fact that the two had shared writing credits on all songs, like John Lennon and Paul McCartney. Hodgson said he has come to regret the arrangement, which still gives Davies a piece of the hits Hodgson penned.
"When you're young, all you're trying to do is just have fun in a rock 'n' roll band and make it – and there's no money coming in anyway," he said. "You're not born with a business mind. That's something I had to learn the hard way. You learn, generally, by making mistakes and getting taken."
Yet Hodgson said he has not shut the door on rejoining Supertramp. "Rick claims that he's asked me countless times, but I've never actually received one communication."
On his side, there are clearly no negative feelings about the group.
"Together, we created a substantial body of music, some of which still sounds good today and some of which sounds a little dated," he said. "What I'm most happy about is that the songs I've written have stood the test of time.
"I get sheer joy from singing these songs night after night. Even lyrically, they're still very relevant. Look at Give a Little Bit. I mean, boy, do we need love or do we need love in this modern world?"