Taking the long way home to music
After 20 years as a stay-at-home dad, Supertramp's Roger Hodgson is back with a solo act
Lynn Saxberg, The Ottawa Citizen
Published: Thursday, April 30, 2009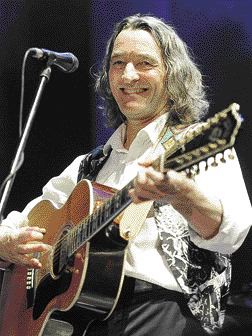 Parting ways with Supertramp was one of the most difficult decisions of Roger Hodgson's life, says the 59-year-old singer-songwriter, but he felt it had to be done for his family's sake.
"I had two small babies and realized I just couldn't do both well," said the British musician in a recent interview. "Supertramp had totally consumed my energy, my time, my whole passion for 14 years, and suddenly there was something else that I realized I had to take seriously and devote time to."
It was 1983 when he decided to depart. The band had been together for more than a decade, plying distinctively melodic songs written and sung by Hodgson or musical partner/co-founder Rick Davies. They were international superstars, riding high on the success of a string of albums, starting with Crime of the Century in 1974, followed by Crisis? What Crisis? Even in the Quietest Moments, Breakfast in America and Famous Last Words.
Spurred by interest in Quebec, a province of committed prog-rock aficionados, the band was especially huge in Canada. It sold albums by the millions. Based on sales of Crime of the Century and Breakfast in America, it's estimated that one in 15 Canadians owned both albums.
After the split, Davies kept on working under the Supertramp name, while Hodgson focused on raising his son and daughter. For years, he figured he was just another stay-at-home dad.
Eventually, 20 years went by and the kids grew up. So when it came time for Hodgson to consider rejoining the workforce, he was blown away to see that the product of his Supertramp years -- his songs -- had carried on without him, worming their way deep into the public consciousness. Tunes Take the Long Way Home, Give a Little Bit, The Logical Song, and Dreamer still connected with listeners, and helped them deal with life.
Hodgson resurfaced to a built-in audience that had been waiting to hear him sing. It seemed all he had to do was jump on stage -- no one even minded when he did it on his own, the rest of the band nowhere in sight.
The one-man performance that Hodgson has developed is an intimate affair. In addition to his clear, soaring voice, the songs showcase his instrumental ability on piano and guitar. Between songs, he provides insight into the genesis of his songs.
Early in the solo journey, a DVD, Take the Long Way Home, was filmed of a 2006 concert in Montreal, a city filled with devoted Supertramp fans. "I knew that I was returning to a place where my songs had been really accepted and loved very deeply," Hodgson said, still surprised by the amount of love he found there. There were extended standing ovations before he played a note.
Going back to the stage, alone, has been a humbling experience that made Hodgson realize the power of music, and his own gift. "Every song has something in that they're not trivial songs," he says. "Because they came from a deep place in me, they touch a deep place in a lot of my audience. I'm singing songs that have been a part of people's lives for many, many years and they have a relationship with these songs. "
For the sensitive, long-haired father, it was a "spiritual rebirth" of sorts. "It's not a specific faith or religion, it's just an inner connection and an inner commitment to living values and staying connected with my heart," he explains. "I really believe that if I live my life from my heart then I'm connected. When I don't, I'm not. That's very much a large part of living a spiritual life."
Hodgson has also noticed that the more content he is, the better the performance. "When I do feel connected and my heart feels open, it's amazing how easy it is to hit the notes, how in tune I am," he says.
He never stopped writing songs, by the way, and estimates he has about 60 new tunes. The veteran musician is beginning to work them into the live show, but has not yet made a plan to release them.
As for the children, they're fine, and no, there's no sign of grandchildren. "That's going to be strange," Hodgson says, and you wonder if being a grandpa will make him disappear for another decade.