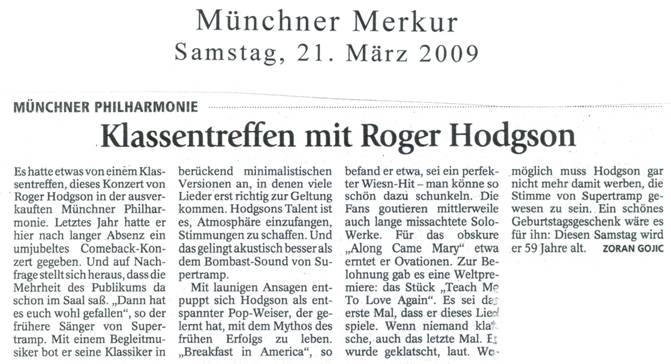 ---
Class Meeting with Roger Hodgson
(Münchner Merkur, 21th March 2009)
Written by Zoran Gojic
English translation by Claudia Yildiz
It was similar to a class meeting, this concert from Roger Hodgson in the "Münchner Philharmonie" which was sold out. Last year he gave a highly acclaimed comeback concert after a very long absence in Munich. And it turned out that the majority of the audience visited last year's concert too. "So I guess you liked the show?" said the former singer of Supertramp. Together with an accompanying musician he presented his classic hits in a minimalistic version in which they really came into its own.
It is Hodgson's talent to catch the atmosphere and to create varying moods. And that succeeds much better with the acoustic sound than with the bombastic sound of Supertramp.
Making jocose announcements, Hodgson turns out to be a wise man of the pop music, who has learned to live with the myth of early success.
"Breakfast in America" he said would be a perfect song for the "Wiesn" (note from the translator: the "Oktoberfest" or Munich Beer Festival) to which one could sway rhythmically.
Meanwhile the fans even appreciate his solo works which had been ignored for a long time: there were standing ovations for the mysterious song "Along came Mary". As a reward for the audience he played the song "Teach me to love again" as a world premier. It were the first time he played that song he said and if no one is clapping it would also be the last time. They clapped very loudly.
Perhaps Hodgson doesn't need to say any longer that he is the voice of Supertramp. That would be a nice birthday present for him: he turns 59 this Saturday.