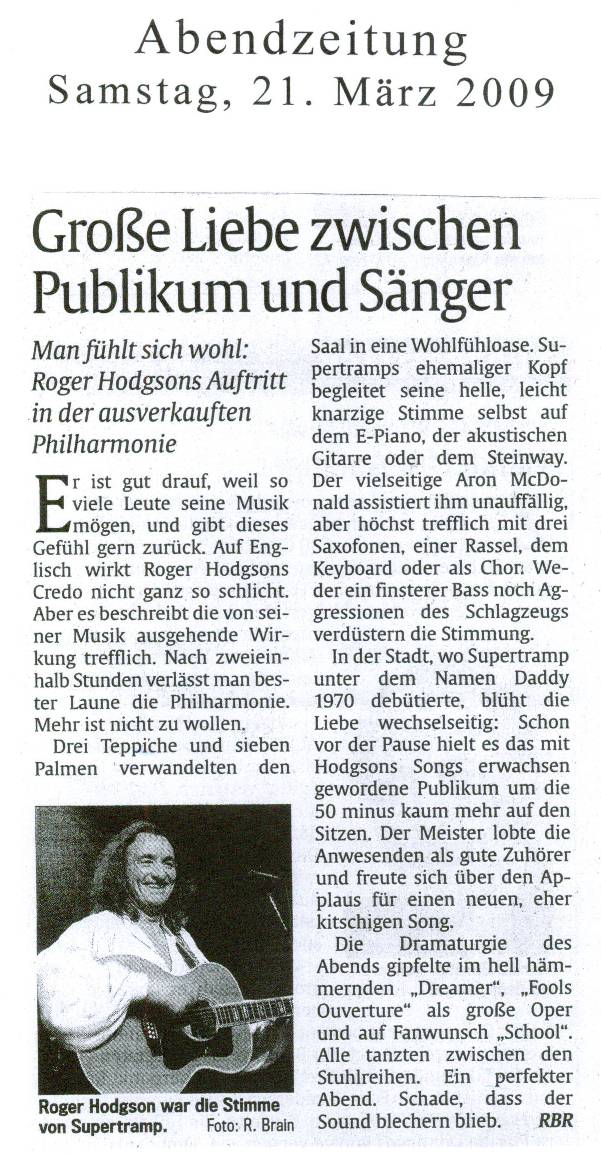 ---
Adoration between the audience and the singer
Abendzeitung, March 21th 2009
Written by R. Brain
English translation by Claudia Yildiz
You feel comfortable: Roger Hodgson's performance in the sold out "Philharmonie"
He's up to scratch, because lots of people love his music and he loves to give this feeling back to them. In English this credo sounds not as unadorned as in German. But it describes in a splendid way the appeal (impact?) of his music.
After two and a half hours you leave the "Philharmonie" in a gorgeous mood. You don't need anything more.
Three carpets and seven palm trees changed the hall into an oasis of well being.
The former leader of Supertramp accompanied his silver voice with e-piano, acoustic guitar and the "Steinway". The multitalented Aaron McDonald assisted him unobtrusive but very felicitous with three saxophones, rattles, keyboards or with backing vocals. Neither a murky bass nor an aggressive percussion darkened the atmosphere.
In the same town where Supertramp had its debut as "Daddy" in 1970, the love reciprocates between the singer and the audience: already before the intermission the concert attendees who might be about 50 years old and some years younger and who grew up with Hodgson weren't able to sit down on their seats any longer. The master spoke in high terms of the attendees and was pleased about the applause for a new and rather corny song.
The dramaturgy of the evening culminated in songs like "Dreamer", "Fools Overture" as a big opera and "School". Everyone was dancing between the theatre style.
It's a pity that the sound stayed a bit tinny.