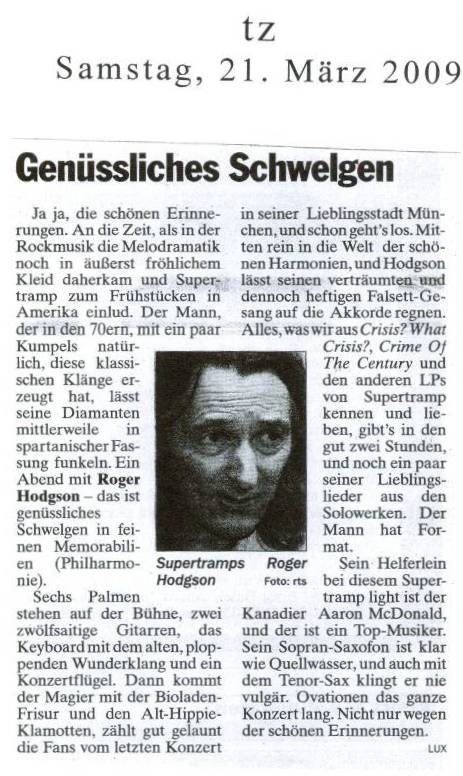 ---
Tz, March 21th 2009
English translation by Claudia Yildiz
Oh well, the good memories. The reminiscence of a time where rock music showed us the bright sight of the things and where Supertramp invited us to make breakfast in America.
The man who produced these sounds together with some of his buddies in the 70's, shows us his sparkling diamonds in a rather spartan version nowadays.
An evening with Roger Hodgson means to wallow in pleasure in good old memories. There are six palm trees on stage, two acoustic guitars, the keyboard with the well known miraculous sound and a grand piano. Then appears the wizard with his "bio-hairstyle" and the hippie clothes, counts the fans from the last concerts in his favourite city Munich and then here we go. Right into the thick of the beautiful harmonies and Hodgson lets his dreamy and intense falsetto voice fall down on the chords.
In the next two hours we can enjoy all the songs we love from "Crisis? What Crisis?", "Crime of the Century" and all the other albums from Supertramp. And he plays also some of his favourite songs from his solo work. This man has real size.
His little helper at this Supertramp-light version is the Canadian Aaron McDonald – and he is a top musician. His soprano sax is as clear as spring water and even with the tenor sax he doesn't sound vulgarly.
Standing Ovations during the whole concert. Not only because of the good old memories.