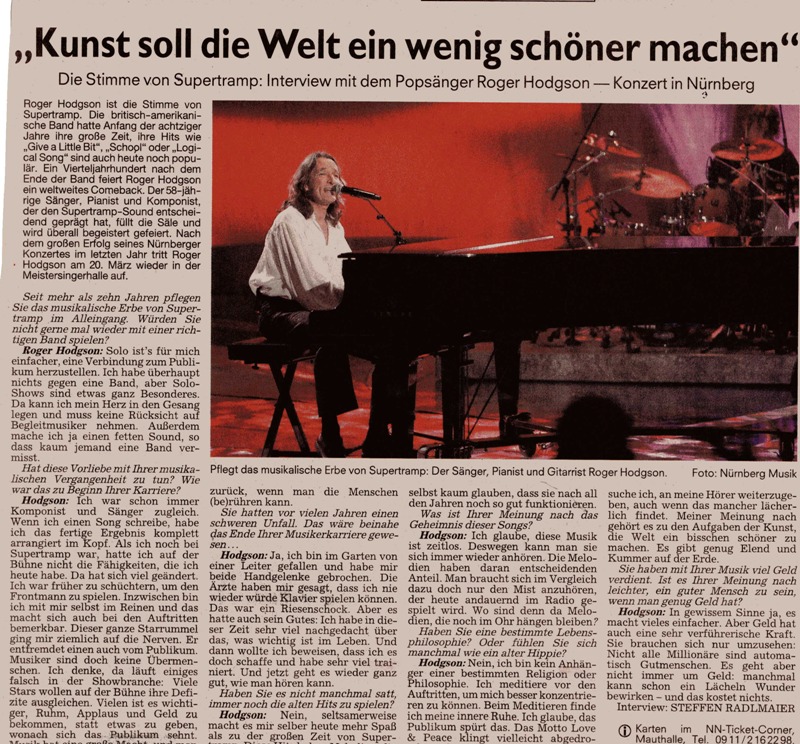 Art shall make the world a bit more beautiful
The voice of Supertramp: an interview with the pop-singer Roger Hodgson
by Steffen Radlmeier
(English translation by Claudia Yildiz)
Roger Hodgson is the voice of Supertramp. The British-American band was on the height of their success at the beginning of the eighties. Hits like "Give a little bit," "School," or "Logical Song" are even today very popular. A quarter century after he left the band, Roger Hodgson is celebrating a worldwide comeback. The 58-year-old singer, piano player and songwriter whose voice mostly characterized the sound of Supertramp is everywhere celebrated with enthusiasm. After the great success of his concert in Nuremberg last year, he is performing again in the "Meistersingerhalle" on March 20th.
For over 10 years you are cultivating the musical heritage of Supertramp alone. Wouldn't you prefer playing with a band?
R.H.: It's easier for me to be in contact with the audience when I'm playing solo. I don't mind playing with a band, but solo shows are something special. I can follow my heart while I'm performing and I don't need to regard other musicians who are backing me. Besides that, I'm making a huge sound, so scarcely anybody misses a band.
Has this preference to do with your musical past? How was it at the beginning of your career?
R.H.: I've always been as well a singer and a composer. When I'm writing a song I already have an idea of whole the arrangement too. Playing with Supertramp, I didn't have the same abilities on stage that I have today. A lot has changed since then. I was too shy to be the frontman. Today I'm at peace with myself and you can feel that in my performance too. All this fuss about my person was a pain in the neck. It alienates you from the audience. Musicians are no supermen. I think there's a lot going wrong in the show-biz: a lot of the stars want to compensate for their deficits when they are on stage. It's more important for them to become famous and to earn a lot of money instead of giving the audience what it is longing for. Music has a great power, and by touching the people's heart, they can give you so much back.
Many years ago you had a serious accident and that almost meant the end of your career as a musician…
R.H.: Yes, I fell and broke my two wrists. The doctors told me that I would never be able to play the piano again. That was a huge shock for me. But it was in a way positive too: I had time to think about what is important in life. And then I wanted to prove that I can make it and practised a lot. And as you can hear it, I made it and I'm doing very well today.
Aren't you sometimes tired of playing your old hits again and again?
R.H.: No, strangely enough, I'm enjoying singing these songs more now than in the Supertramp times. These hits have melodies that are going straight to the heart and to the brain. I hardly can believe it, that they work out so well after all those years.
What do you think is the secret of your songs?
R.H.: I think this music is timeless. Therefore, you can listen to it over and over again. The melodies have a large share on that. Just listen to the radio and the garbage they are playing there all the time. Where are the catchy melodies?
Do you have a special philosophy of life? Or do you sometimes feel like an old hippie?
R.H.: No, I don't follow any religion or philosophy. I meditate before the concerts to remain concentrated. With meditation, I can find my inner peace. I think the audience feels that. Perhaps the slogan "Love & Peace" sounds stereotyped, but actually that is what really matters in life. That's what I'm trying to share with the audience, even if someone may find it ridiculous. In my opinion that's the purpose of art: to make the world a bit more beautiful. There's enough misery and grief in the world.
You have earned a lot of money with your music. Is it easier to be a good person when you have enough money?
R.H.: Well, in a certain manner it is, it makes a lot of things easier. But money also has a tempting attraction. You just have to take a look around: not all millionaires are automatically good persons. And money doesn't always loom large: sometimes a smile affects a miracle – and it costs nothing.