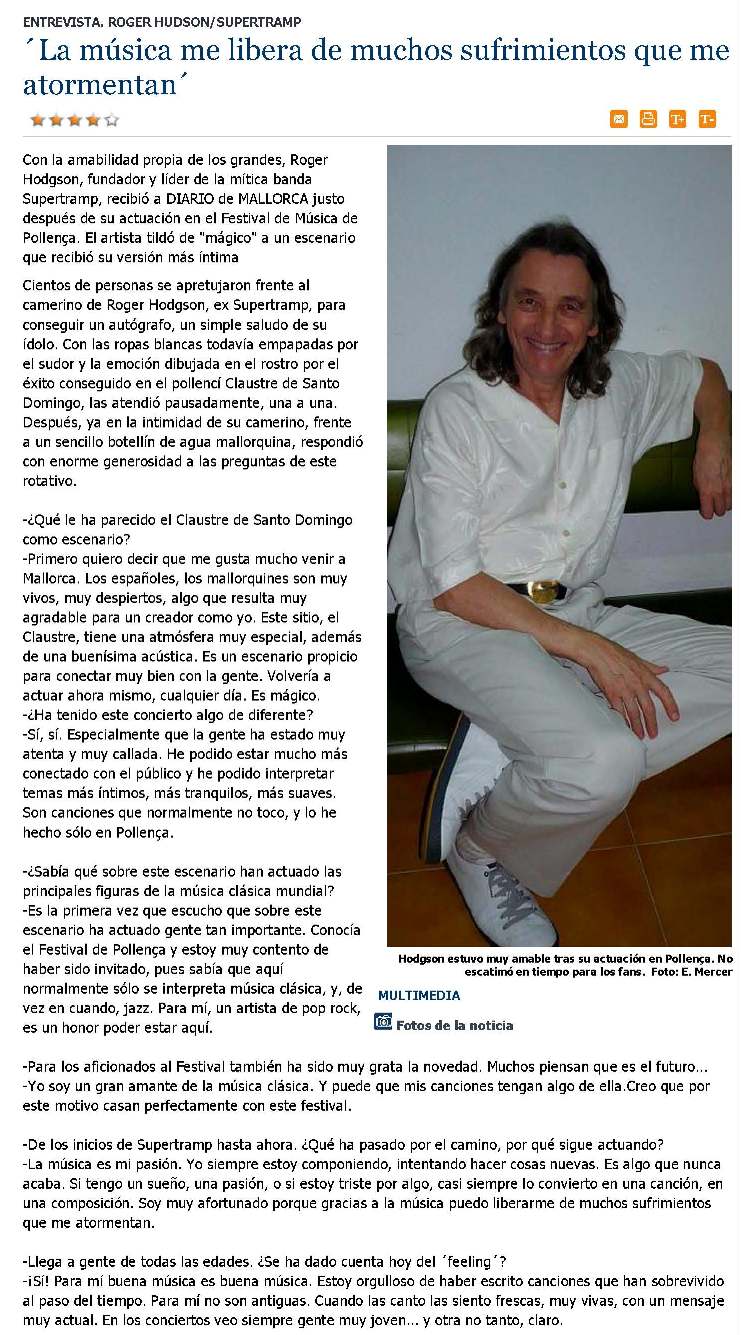 ---
"MUSIC RELEASES ME FROM MANY SUFFERINGS WHICH TORMENT ME"
Interview posted in "DIARIO DE MALLORCA"
July 15th 2008
With the typical kindness of a great person, Roger Hodgson, founder and leader of the mythical band Supertramp, met us after his show in Pollenca Music Festival. The artist said it was "magical" the stage on which he had showed his more intimate version.
Hundreds of people squeezed together before the backstage to get an autograph or just a greeting from their idol. With his white clothes still wet of sweat and with his face touched by his success at Claustre de Santo Domingo, he paid attention everyone with no hurry. After that, into his dressing room and with a simple little bottle of water, he kindly answered the questions from this paper.
QUESTION: What do you think about Claustre de Santo Domingo as a stage?
ROGER: First of all I want to say I love coming to Mallorca. People from Spain, people from Mallorca, are very awake, and this is something very pleasant for a creator like me. This place has a very special atmosphere and a great acoustics. It's the perfect stage to connect with the people. I'd perform here again anytime. It's magical.
QUESTION: Was something different in this concert?
ROGER: Yes, yes. All the people have been very mindful and very quiet. So I could be more connected with them and perform more intimate, placid and soft songs. I've played in Pollenca some songs I usually don't play.
QUESTION: Do you know that on this stage have performed great artists from world classic music?
ROGER: It's the first time I hear that on this stage have performed people so important. I knew Pollenca Festival and I'm very happy for playing here, because I knew here usually only classic music and sometimes jazz are performed. So for me, a pop rock artist, it's a honour being here.
QUESTION: Fans of the festival think it's very good news. Many people think it's the future...
ROGER: I love classic music, and maybe my songs have something of it. I think that's why my songs match with this festival.
QUESTION: What happened from Supertramp beginnings up today? Why do you still play?
ROGER: Music is my passion. I am always writing music, trying to do new things. It's something that never ends. If I have a dream or a passion or if I'm sad for something, I usually put it into a song. I'm very fortunate because thanks to music I can release from many sufferings that torment me.
QUESTION: You have fans from all the ages. Did you realize that feeling today?
ROGER: Yes! For me good music is just good music. I'm very proud for have written songs that have stood the test of time. For me they are not old songs. When I sing them I feel them fresh, alive, with a very topical
message. In the shows I always see very young people... and other people not that young, of course.
QUESTION: Is this new formula different from Supertramp formula?
ROGER: Yes, it's possible, because I'm older and wiser. And I'm happier. I still need to search God, love, beauty... I put all that into my songs. I'm far away from materialist world.
QUESTION: Are you the same person on the stage and out the stage?
ROGER: I try to be calm in my private life. I like to walk alone through the nature. But I also like to connect with the people and I love to sing for my friends privately. I think I have the best job in the world.
QUESTION: Your connection with Aaron MacDonald, your mate on the stage, is perfect. How did you meet?
ROGER: He is with me for the last four years. I met him in Canada where he played in an orchestra. I brought him with me to Europe and we started to work together. He is a very good musician and he is learning to play many different instruments. And he also loves singing. We are very close.