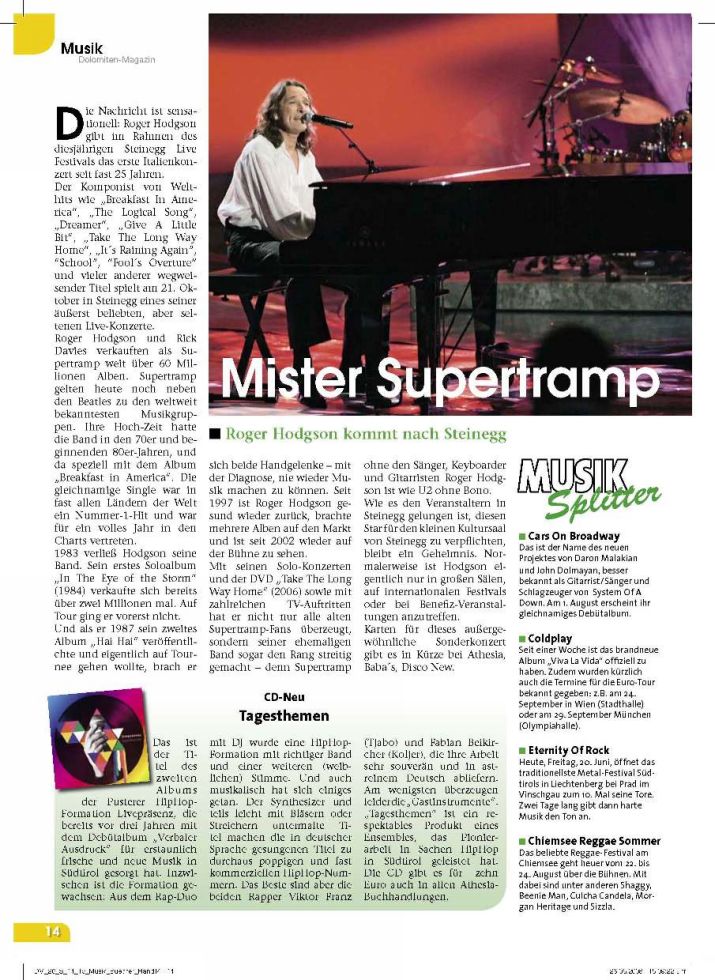 ---
Translated By Stephanie Litfin
Mister Supertramp
Roger Hodgson comes to Steinegg
The news is sensational: Roger Hodgson will give a concert at the Steinegg Live Festival. His first Italian concert in 25 years!
The composer of hits like "Breakfast in America," "The Logical Song," "Dreamer," "Give A Little Bit," "Take The Long Way Home," "Itīs Raining Again," "School," "Foolīs Overture" and many other groundbreaking songs will give one of his well-liked, but rare live concerts in Steinegg on the 21st of October.
Roger Hodgson and Rick Davies, better known as the band Supertramp, sold more than 60 Million Albums. Beside the Beatles, Supertramp still counts as one of the best known bands worldwide. The bandīs highlight was between the mid 70īs and beginning 80īs, especially due to their album "Breakfast in America." The same-named single was a No. 1 hit in most of the countries worldwide, and remained in the charts for a whole year.
In 1983 Hodgson left the band. His first solo album, "In The Eye Of The Storm" (1984), has sold around 2 Million, but he didnīt go on tour.
After the release of his second album, "Hai Hai" (1987), while he wanted to go on tour, he broke both of his wrists and was diagnosed that he would never be able play any instruments ever again. Since 1997, Roger Hodgson has recovered from his bad injury. He released some more albums, and since 2002, heīs back on stage again.
With his solo concerts, the DVD "Take The Long Way Home" (2006), and many TV appearances he didnīt only convince old Supertramp fans, but also competed with his former band - because Supertramp without their vocal artist, keyboard player and guitarist is like U2 without Bono.
How the organizers managed to get this superstar to Steinegg will remain their secret. Normally, Hodgson is only playing in big concert halls, on international festivals and charity events.
Tickets for this extraordinary concert will soon be available at Athesia, Babaīs, Disco New.