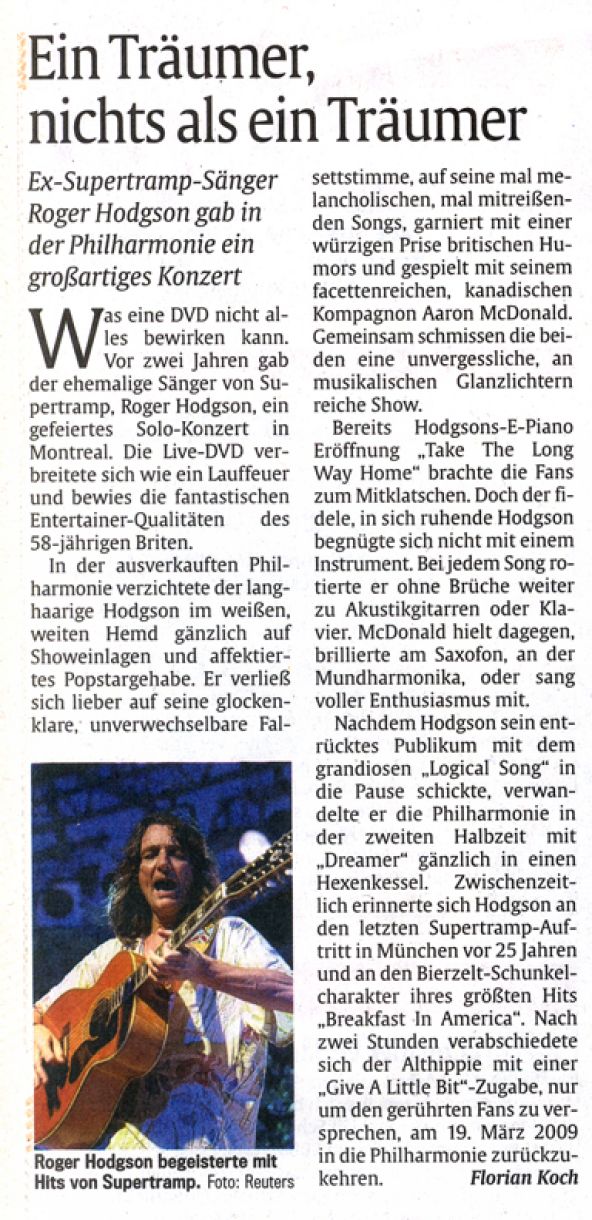 ---
Dreamer, nothing but a Dreamer
Ex-Supertramp singer Roger Hodgson gave a great concert at the Philharmonie Munich. Itīs amazing what a difference a DVD can make. Two years ago, Roger Hodgson, the former singer of the band Supertramp, gave a remarkable solo concert in Montreal. The live DVD spread like wildfire and proved the fantastic entertainer qualities of the 58-year-old British man. In the sold out Philharmonie, the long-haired Hodgson, in his white shirt, has forgone the special show effects and typical pop star behaviour. He relied on his clear and distinctive falsetto voice, his sometimes melancholic, sometimes barnstorming songs, garnished with a pinch of British humor and accompanied by his multifaceted Canadian co-partner, Aaron MacDonald. Together they presented an unforgettable show.
Hodgsonīs piano opening song "Take The Long Way Home" already had the audience singing and clapping. But the merry, quiescent Hodgson not only played one instrument. After every song, he switched between the acoustic guitars and the piano, while MacDonald played saxophone or harmonica or sang along full of
enthusiasm.
After his "Logical Song" the audience took a break before the next song, "Dreamer," rang in part two of the
show. In the meantime, Hodgson remembered the last gig with his former band Supertramp in Munich 25 years ago and the incredible effect their greatest hit "Breakfast In America" had on the audience. After two
hours, he said goodbye, singing "Give A Little Bit" for a second time, and promised the fans that heīll be
back in the Philharmonie at the 19th of March 2009.
Florian Koch