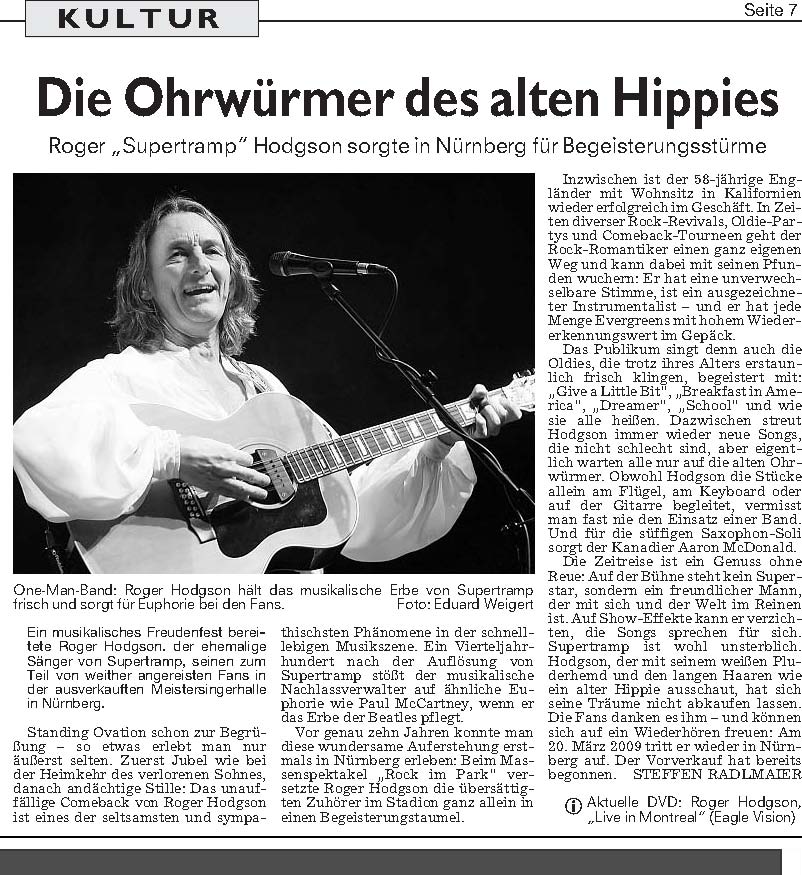 English Translation: Sabine Cassar-Alpert
The earworms of the old hippie Roger "Supertramp" Hodgson caused furor in Nuremberg
A musical feast of joy was given by Roger Hodgson, the former vocalist of Supertramp, to his fans who in part came travelling from far away to the sold-out Meistersingerhalle in Nuremberg.
Standing Ovation already at the greeting – that is an extreme rarity. At first rejoicing like over the return of the lost son, then reverent silence: The inconspicuous comeback of Roger Hodgson is one of the strangest and most congenial phenomenons in the fast-moving music scene. A quarter of a century after the break-up of Supertramp, the musical testamentary executor meets with similar euphoria as Paul McCartney when he nurtures the heritage of the Beatles.
Exactly ten years ago, this wondrous resurrection could be witnessed for the first time in Nuremberg: During the mass spectacle "Rock im Park" Roger Hodgson put the cloyed audience into a furor all by himself.
In the meantime, the 58-year-old Englishman with permanent residence in California is again successfully in business. In times of several rock revivals, oldie parties and comeback tours, the rock romantic goes his very own way and is able to make the most of his pounds: he possesses an unmistakable voice, is an excellent instrumentalist – and he has a mass of evergreens of high recognition value in his luggage. And so the audience sings enthusiastically those oldies with him, which in spite of their age sound amazingly fresh: "Give a Little Bit", "Breakfast in America", "Dreamer", "School" and whatever their titles are. In between Hodgson scatters new songs time and again, which are not bad, but actually everyone is only waiting for the old earworms. Although Hodgson accompanies the pieces by himself on grand piano, keyboard or guitar, one rarely misses the input of a whole band. And the quaffable saxophone solos are being taken care of by the Canadian Aaron McDonald.
The time travel is an indulgence without remorse: On stage there is no superstar, but a friendly man, who is at peace with the world and himself. He can afford to forego show effects; his songs speak for themselves. Supertramp is probably immortal. Hodgson, who with his white wide shirt and long hair looks like a hippie, hasn't let anyone buy his dreams off him. The fans are grateful to him – and they can already look forward to the next time: On March 20th, 2009, he will once again perform in Nuremberg. Advance bookings have already started.
STEFFEN RADLMAIER