---
Not raising the voice in the land of showbiz
Roger Hodgson, singer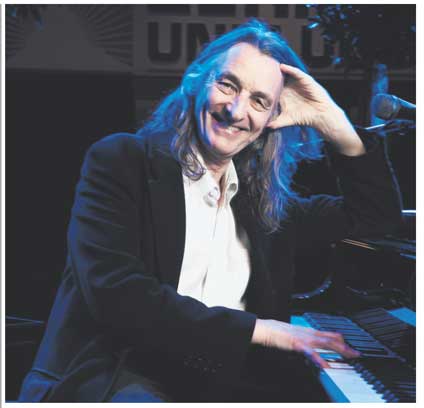 Text: Francois Barras
Photo: Sedrik Nemeth
Roger Hodgson speaks as he sings. Without raising his soft tenor voice, a voice which contributed to the success of his group, Supertramp. His shoulder-length hair is a reminder of his hippie heyday but meeting him in his hotel room dressed in sweatsuit and slippers proves (if you needed that proof) that the 61-year-old musician has left behind the aesthetic affectations of stardom ages ago. "The first gold record takes your breath away. The twentieth, you don't even notice." Between 1970 and 1983 Supertramp with Hodgson to the fore has sold more than 40 million albums. The man in slippers is a multi-millionaire. But he no longer pays attention to that either. His eyes which gaze at you with a slightly tired gentleness don't lie. Neither does his story.
"My father is responsible for my love of music. As a kid I sat down next to him and he would play me folksongs. When I was 12 my parents divorced. My father left his guitar to me, it became my life." Roger Hodgson doesn't have any difficulties recalling his youth. His greatest hits which were played acoustic earlier that night at the Zermatt Unplugged festival were carved out like so many other teenage dreams. "I wrote Dreamer in my mother's house. I put my most personal feelings into my songs. I never believed that they would be listened to by millions of people."
He founded Supertramp with Rick Davies in 1969. Success came slowly but surely. Dreamer, Give a Little Bit, The Logical Song... The hits garnished seven albums during a phase where the prog rock band developed into a monster stadium act in the UK, culminating in the release of Breakfast in America (1979). "Success is a trap. I got lost in it. My identity as a human being was absorbed by the musician's identity, I only thought in terms of audiences, critics, the life of the band. Surprisingly The Logical Song talked about that even before I encountered success: 'Please tell me who I am!'"

In 1983, Roger Hodgson made an arrangement with the other band members which appears staggeringly naive in the ruthless world of showbusiness: he quit "his" Supertramp but left the name to his former band mates. Only condition: his compositions, more than half of their repertoire, should no longer be played by the band. Only the Rick Davies songs should be played in the future. A handshake sealed the promise...
"I remember being onstage with the band but that's a memory from another life."
"Leaving Supertramp was a challenge. I have put 14 years of my life into the band, not into Roger Hodgson as an artist. It was then hard to find out that my name did not mean much to people." Officially tired of the music business he wanted to take care of his two young children and he moved to Northern California where he still lives and he gradually built a solo career. "I lead a very simple life. I don't own a house in every country. I work without agent, my manager is a friend. I play when I'm asked to." A question then: Hasn't he picked the wrong job? Too nice to be a pop star? The nature of his success was also his discomfort: being a composer of songs of absolute sincerity he left the band and had to endure the label/cliché "nice" which would collide with punk rock at the end of the 70s.
Show-business seems to demand a minimum of cunning which Hodgson seems to lack. He who declares to be " an absolute believer but without church" is not disrespectful towards his former companion Rick Davies even though the latter broke his promise. Since 1998, when Supertramp reformed (without Hodgson), they are playing all the hits. "He was not honest about the anniversary tour 2010 which got sold as the 'original thing'. I was unhappy for the fans. There will never be a reunion, I know that it would not be the magic of back then." Regrets? "None. I remember being onstage with the band but that's a memory from another life. I've made peace with myself. You are always alone the moment you go to sleep. And if you die, you can't take the audience with you."
Bio:
Born March, 21st 1950 in Portsmouth (GB)
Ten important dates:
1969 Founded Supertramp with Rick Davies
1979 Breakfast in America sells 18 million copies
1982 leaves the band
1984 first solo album In the Eye of the Storm
1987 second solo album "Hai Hai"
1987 A week after "Hai hai" is released, he breaks both of his wrists: his doctor tells him he'll never play again, he fully recovers after several years of intense physical therapy.
1997 third solo album "Rites Of Passage" is released, recorded live in Nevada City, CA.
2000 fourth solo album "Open The Door" is released.
2006 the DVD "Take The Long Way Home" recorded live in Montreal is released.
2010 "Live Classics" is released on www.rogerhodgson.com